I'll begin my first throwback Thursday travel post with one of my fondest memories, our trip to the Sahara Desert. It's a long one, but a good one.
I was with my dear friend, Michael, a travel companion I have not met the likes of since and who I have sadly not been in touch with in a long time. Looking back at my notes, I realize that there was much about our Sahara journey that could have left my memory sour, but something about having a good companion with you keeps the memory sweet.
It was the beginning of Summer, and Michael and I had loose plans to explore as much of Morocco as we could before we had to fly back home. The beginning of our trip brought us to the colorful city of Marrakech. Having no solid plans and really enjoying this city meant lazy mornings for us, with a daily breakfast in one of the many open air cafes. One of these days, we were fortunate enough to eaves drop overhear a nearby conversation about getting to the desert… THE desert. The desert of all deserts, the Sahara!
When I heard the strangers talking, I started wondering why it hadn't crossed my mind to take this trip to the Sahara Desert, a place I have been fascinated with for as long as I can remember. But I quickly got over this fact, possibly by convincing myself that I probably thought it would be too difficult even to try. Then I proceeded to find out how difficult it would be after all and then do it, no matter how hard it would be! It had suddenly become an urgent obsession! It needed to happen ASAP!
So, with very little travel information gotten by the strangers and a surprising lack of planning, we made our way into the desert. The journey is probably worth a story of its own, but I'll summarize for the sake of this post. I don't remember how long it took to get there, or how we did it exactly, but it was a huge pain in the butt… as all great destinations are! There was my foggy sickness on a bus winding through the mountains, some creepy towns full of what seemed to be made up only of men, and some questionable travel advice by sketchy locals. But in the end, we boarded our final vehicle, which turned out to be one of the most enjoyable taxi rides ever, because it felt so authentic. And, well, because we were finally IN the desert!
We decided to stay in a Kasbah recommended by a local, which was not our usual method of choosing places, but it looked so cool! It was also supposed to be cheaper than some others, so we gave in, despite the price being higher in the end. My first surprise was the astronomical price for camping excursion deeper into the desert, which probably only ended up being about $20 US dollars. But when you've been traveling in a country where $5 is a lot to pay for a hotel room, this seems like a rip-off! Rip-off or not, we had just missed our opportunity to catch the camel train to camp, so we opted for a sunrise camel tour instead.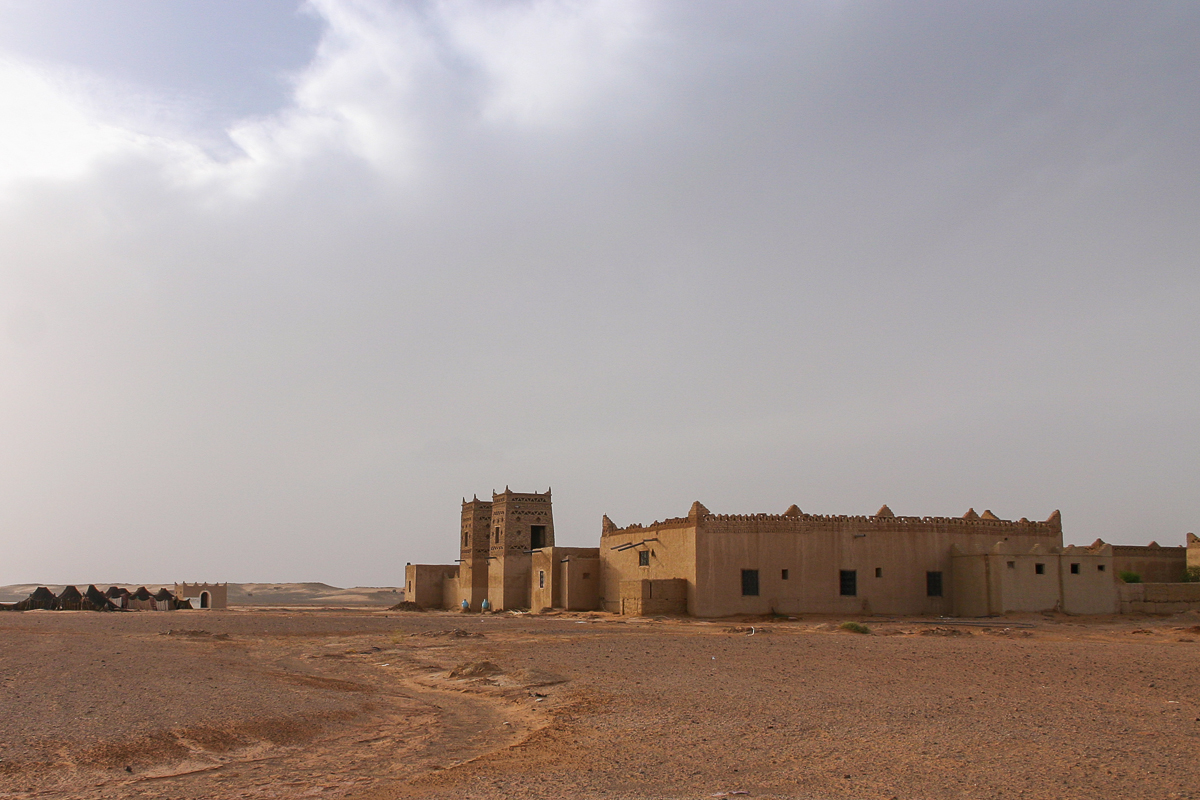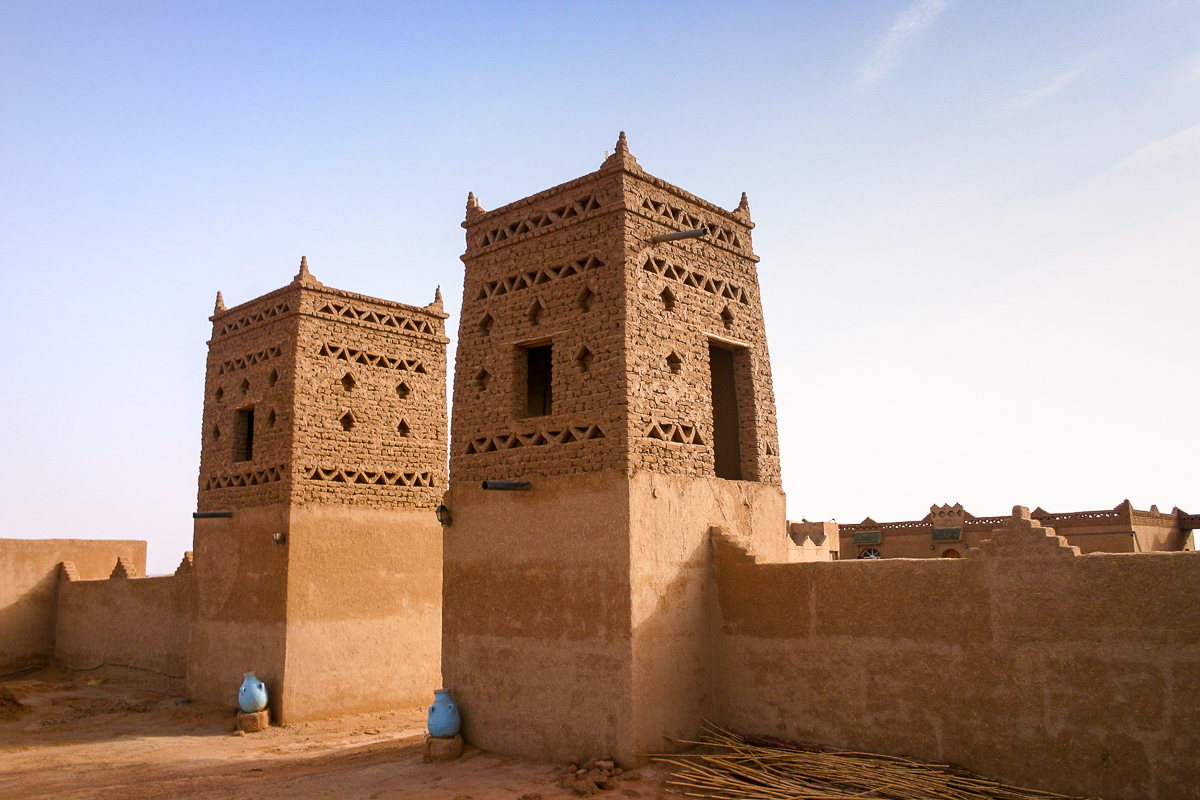 With the sun beginning to sink and the searing heat barely starting to fade away, the dunes were calling for us to climb them before nightfall. With my broken Spanish I managed to convince our taxi driver/Kasbah cook to borrow his canoe to get to the dunes. Canoe, you ask? Yes, well, apparently the desert had recently had a huge rainstorm which flooded the base of the dunes. I was annoyed at first to find my perfect vision of the Sahara desert ruined by bad timing and unfortunate weather, but it was actually very beautiful.
So, we took the canoe across the lake. And what normally would have taken 5 minutes in a canoe, took 20 minutes with push brooms for paddles. After such a miserable effort to get to the desert, and with the dunes so close, yet so far away, this was the last straw. The last straw did not break the camel's back though (since they had gone camping), but it did the opposite. It made us really happy. Despite Michael's furious "paddling", we were going slow enough to take in our surroundings, laughing hysterically at the ridiculousness of it all as I baled buckets of water out. For me, it was an almost euphoric feeling, probably partially due to the release of stress. Eventually, we made it to the other shore, which was the base of the dunes. It was actually cool enough at this point in the evening to enjoy running around comfortably. I abandoned my camera quickly because of the fading light and I was happy to just be in the moment. And what a memorable moment it was, being there, in the Sahara desert. Finally. It was everything that I wanted it to be and that feeling will stay with me always.
But all things must come to an end, and with the darkening skies, and a massive lake to cross with brooms for paddles, we needed to get out of there! We boarded our un-seaworthy vessel and continued the hilarity, the height of which happened as a rainstorm dumped water into our already sinking boat! We did survive, obviously, and with a very funny series of photos to document the crossing.
The evening dune jaunt and canoe trip were not the end of our fun in the desert though. We had a nice meal at the Kasbah, followed by a local tribe of drummers who literally rocked the Kasbah! Another amazing moment to be sure! In the morning, we rode our camels out past the edge of the lake for a subtle desert sunrise, and I walked back preferring my feet over the uncomfortable rocking of my cranky camel. Then Michael and I went out one more time to the dunes. After seeing postcards of people skiing down dunes, I was bound and determined to "sled" with my sleeping bag since the Kasbah skis were broken. Despite my determination, and the highest, steepest dune I could find, it simply did not work!
After a sweaty, woozy afternoon on the dune playground, we had to catch our ride back to the bags that we had left behind in the last town we had stayed in. To this day I regret more than just about anything, not simply paying for the camping and staying one more night. I was worried about our bags since we had only meant to leave them for one night, and I was stubborn about the high price of another night of Kasbah accommodation. I want to kick myself every time I think about this error in judgement. Lesson learned!
My travel advice: If an experience could be invaluable, pay for it! It may seem like a lot at the time, but it could be well worth the cost. It could also not be, but you never know until you try. It's still an experience to be remembered, and some experiences are well worth that risk of losing money.
If you liked this post, check out these: