So you want to fill that big empty space on your wall and you've found a photo that you like. Great!
But then what? How do you custom order a photo, properly sized for your own walls?
Maybe you get stuck on where to put it, what size it should be, how much it costs, or exactly how to order. Whatever the reason, the result is usually giving up and moving on. Sound familiar?
Well, I want to make the custom ordering process easier for you.
First…
All you have to do is take a picture with your phone, following steps 1-3 below. The rest is a breeze.
Next…
Just send it in by email (tracie@tracietravels.com) OR bring it directly to me (at my upcoming events and markets). Then, I will be able to show you a preview like the one below, along with prices for a few size options.
Finally…
If you like what you see, you can make the order! Just let me know and we'll go over payment options before you complete the order. I offer payment plans for large or multiple pieces, and I do take credit card payments via PayPal, or Square in person.
If you're attending the Harvested Holiday Market on Nov. 16th and are thinking about a custom piece, please be prepared to make the order then and there to receive in time for Christmas. If you make an order online and want to receive it before Christmas, please reach out soon! All Christmas orders must be completed before November 16th.
*Please note that custom orders will vary in price depending on size, materials, and delivery location, so I can't share those here. If you are attending one of my events, I will have a price list to refer to with limited sizes and materials for local deliveries.*
PS:
"Pick & Choose" Custom Orders
At my upcoming events I will be offering a new way to custom order art for your walls from my "Pick & Choose" collections. It's even easier than the process above because the options are limited to canvas squares of 16×16 or 20×20, framed or unframed. That's it!
You can "Pick & Choose" from any of the 3 location themed collections: Iconic Seattle, Washington, and Southwest.These "Pick & Choose" custom orders will be discounted only during the events, and 2 or more canvases must be purchased to qualify.
*You can preview your "Pick & Choose" canvases just like any custom order, but you must bring or send in a room image photo first.*
Here are the latest themed collections for "Pick & Choose" orders. Please note, these are thumbnail examples. For higher resolution examples, please peruse my photo galleries.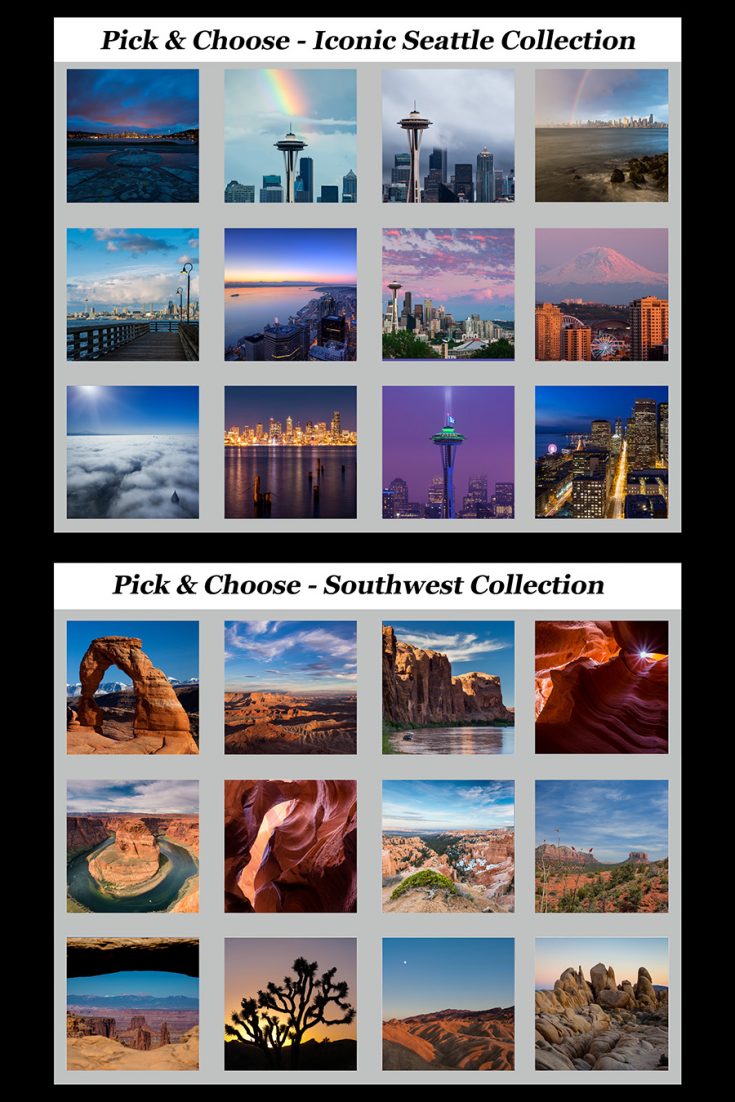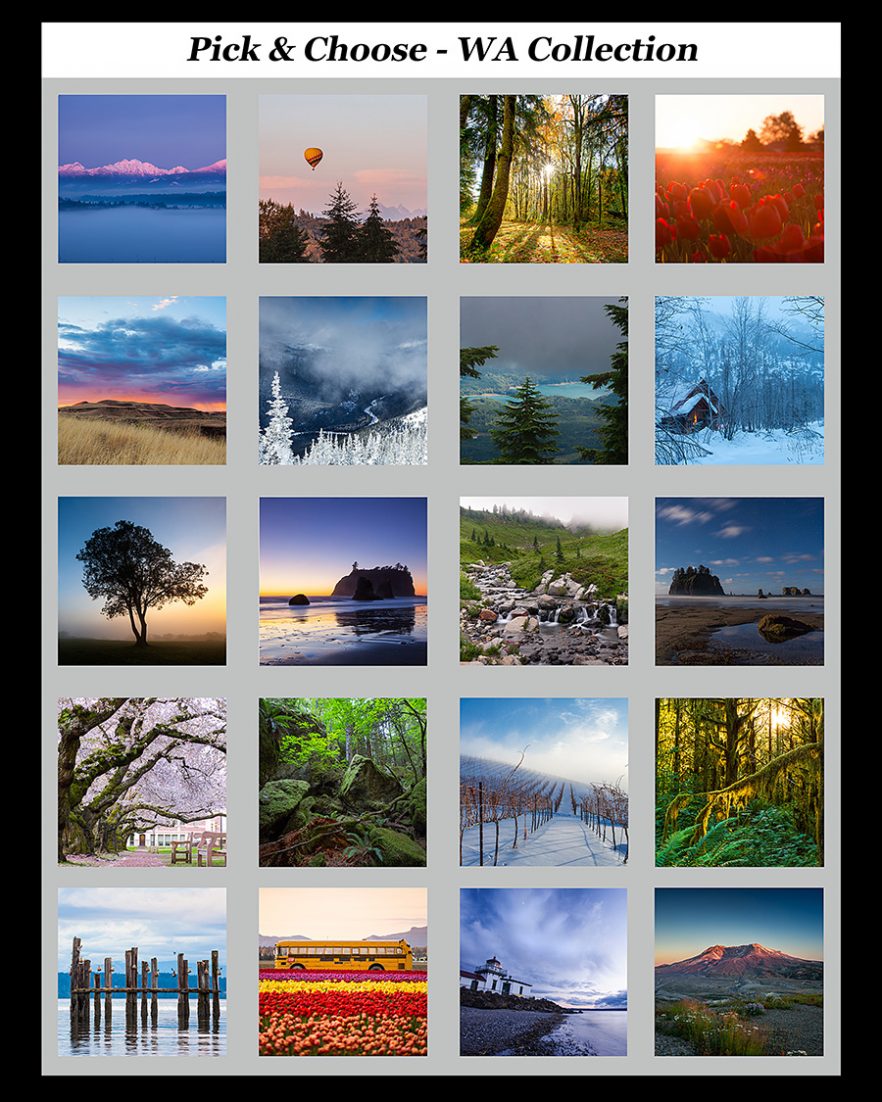 Here are the event-only prices for "Pick & Choose" collections: