Boun Pi Mai (Lao New Year)
Anyone who has followed me in my adventures knows that I am in love with Laos and prefer it over it's neighbor, Thailand. Nothing against beautiful Thailand, but for me there is just something more peaceful about this country and it's people, less tainted by tourism. Considering my affection for Laos, it is no surprise that I found my first experience there, the Pi Mai festival, to be such a delightful introduction to the country.
The middle of April is Lao New Year, or Boun Pi Mai, the most widely celebrated holiday in the country. Pi Mai is similar to the better known Songkran celebration in Thailand, and happens around April 14th-16th, which is the hottest time of year. The Lao people take time off from work to celebrate with parades, ceremonies, and other events. The most notable of all festivities is the splashing of water on each other, an act of symbolic cleansing to start the new year.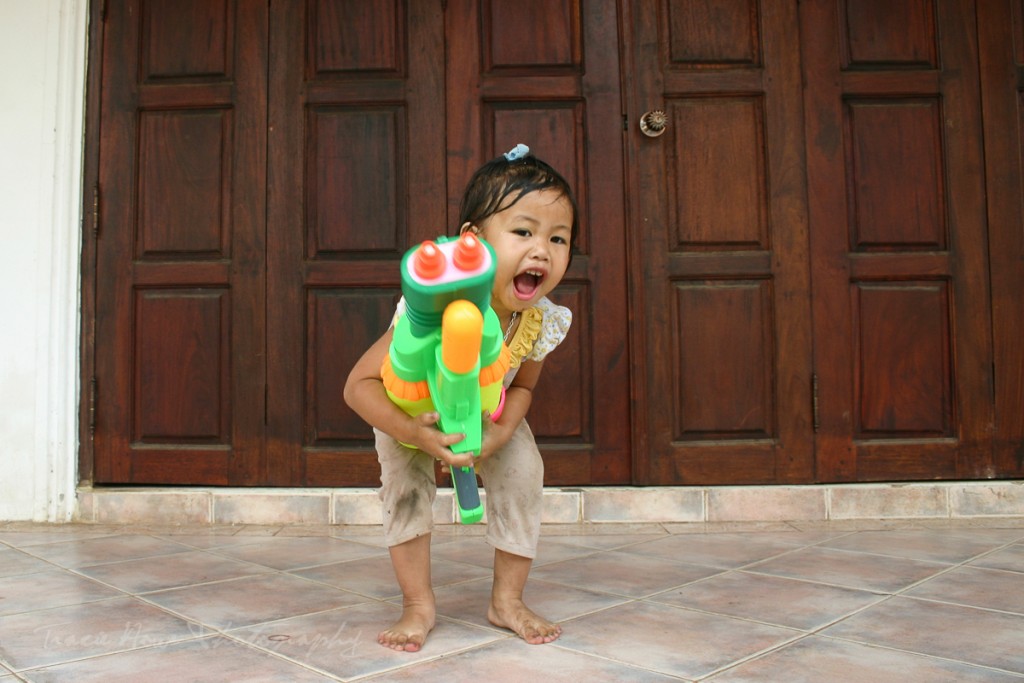 A giant water fight in Luang Prabang
I was fortunate to find myself in Luang Prabang, the epicenter of celebrations, during Pi Mai. I had no idea what would be in store for me while I was there, but upon my first drench, I was thrilled to be a part of the joyous festival. Everyone from locals to tourists make a huge effort to take part. Vehicles parade down the street loaded with water-gun-armed people, just asking to be attacked. Others line the streets with buckets and hoses waiting for a target to zip by on a motorbike.  It's a giant water fight, where anyone and everyone is fair game!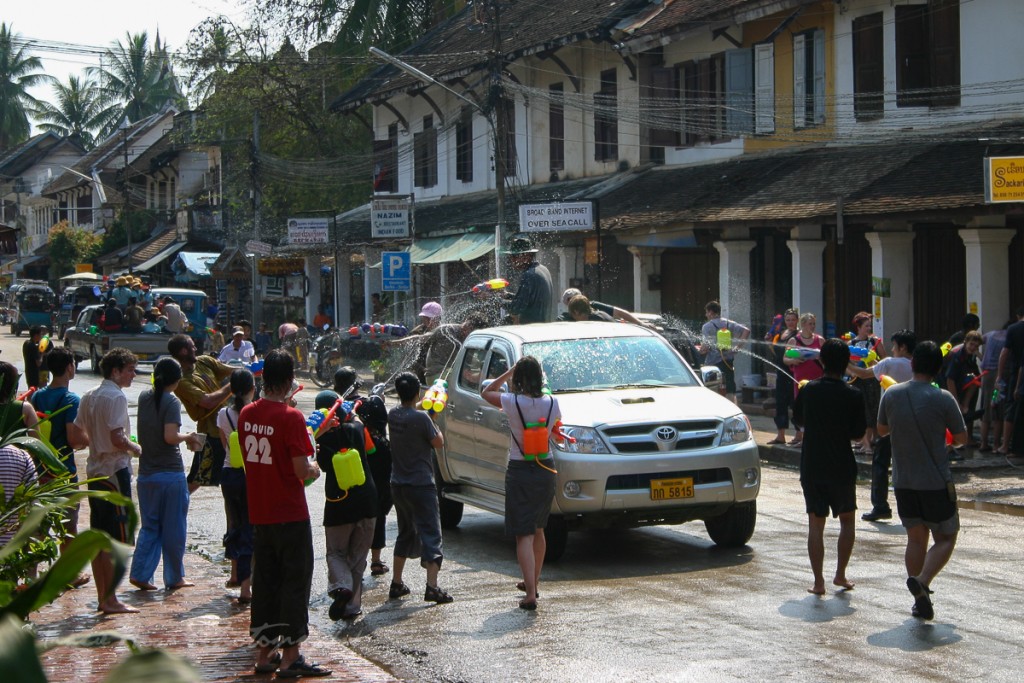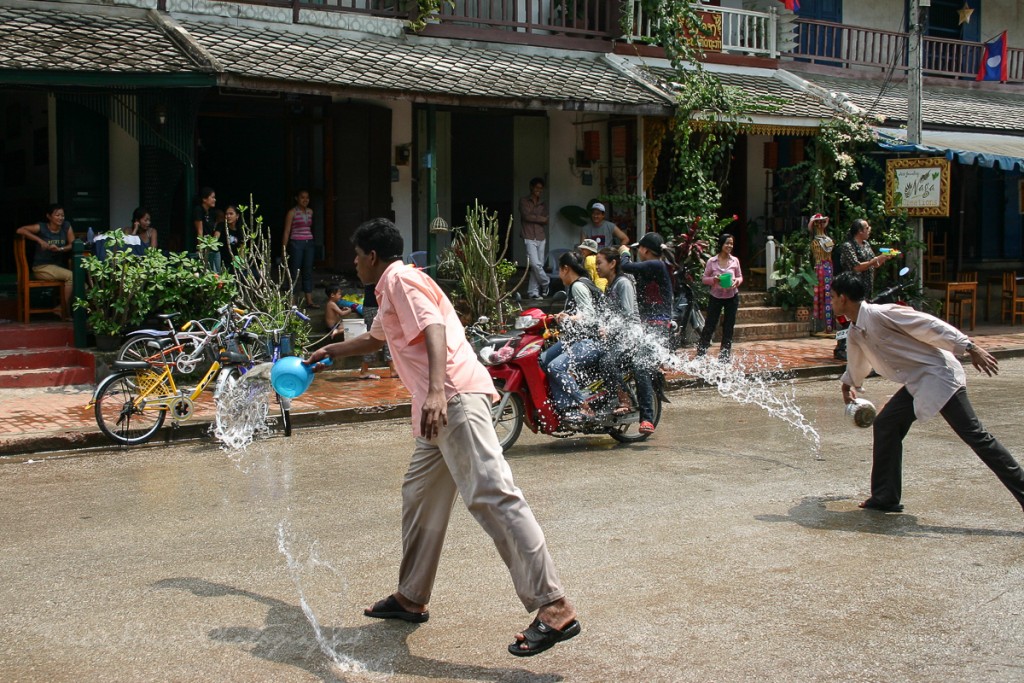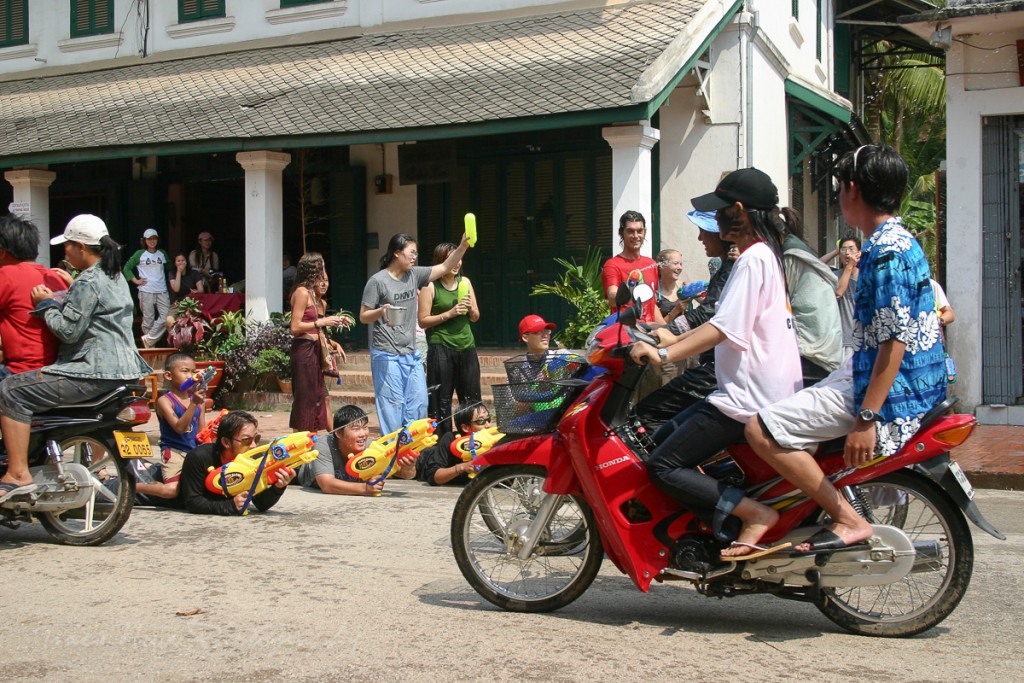 Having arrived unprepared, my companions and I quickly sought out some water guns for sale, puny in comparison to most that we saw. But the idea was to take part, not to defend ourselves. In truth, you couldn't walk down a busy street without getting soaked by a stranger. I certainly tried! As refreshing as it was in that blazing heat, some days (like when I was sick with TD), I just didn't want to get wet every time I left my room. You have to be stealthy and choose your route carefully when attempting to avoid a soak. And don't think you're safe with the monks. They won't spare you either!
Most of the time, however, I was happy with every opportunity to cool off. Even if that opportunity came as a surprise attack! Those monks can be sneaky!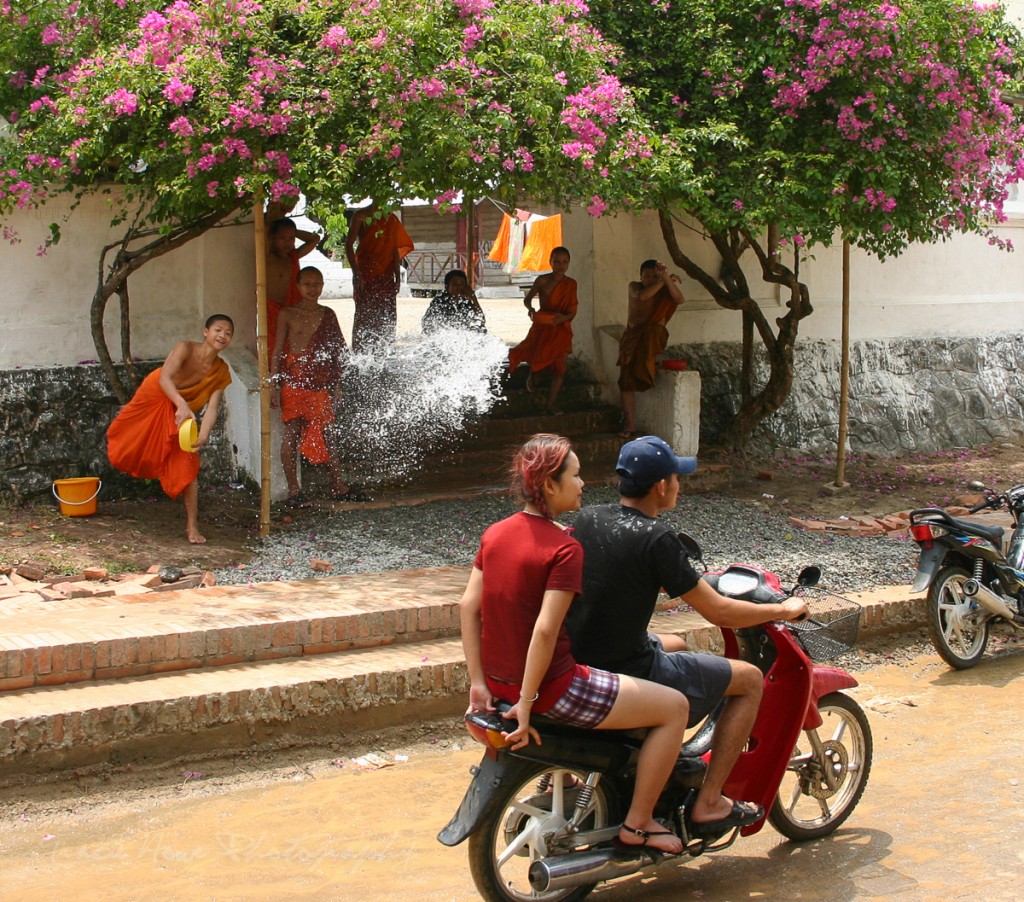 Boun Pi Mai was such a unique way to feel a part of the community, celebrating alongside cheerful locals and fellow travelers alike. If I ever get a chance to go back to my beloved Laos, I certainly hope to go during Pi Mai. And I'll be sure to pack a super soaker next time!
---
Photography Tips:
Don't expect to be spared a soaking because you have a fancy camera with you. I suggest walking around with your camera protected in a waterproof or plastic disposable bag. Play along for a bit and then stop to take photos from a safe vantage point. You won't be as tempting a target anyway if you're already soaked and you've been there for a while. Everyone loves a fresh, dry victim! ;)
If you liked this post, check out these: