After the hustle and bustle of Bangkok, I was long overdue for peaceful isolation amongst the beaches. I had been dreaming of visiting Krabi ever since I had failed to visit on my last trip to Thailand and I finally had my chance.
Specifically, we were planning a visit to Railay in the Krabi area, but that was not without its challenges. Fortunately for you, I have a bit of a guide guide to visiting Railay below so that you can avoid some of the trouble that we ran into! And hopefully, you won't experience the smokey haze like we did.
Getting to Krabi and Railay West
The train journey from Bangkok was not a pleasant one, despite booking a first class sleeper. In retrospect, a plane would have been a better choice and barely more expensive. We ended up spending a lot of money on train food, which I did not enjoy. It was hard for me to eat something prepared on a train teeming with cockroaches. Nevertheless, we survived even though my stomach suffered for it later.
After a shuttle to some sort of transportation hub, we were on our own to get to Railay West, our beach of choice on Krabi's Railay peninsula. We got a taxi to the town's waterfront and then caught a longtail boat that stopped to drop off others at various beaches. The Railay area is treated like an island because of the monstrous jungle covered rocky landscape. The best way to get to and from the "mainland" is by boat, but it is easy enough to walk from one Railay beach to another as you can see on this map.
Where we stayed
Embracing my newly self-proclaimed flash-packer status (at least while Dave was here and paying for it), we stayed in one of the many small resorts lining the beach. I was pleased to find that none of the resorts on West Railay were towering blocks of buildings ruining the view. Instead they were all relatively low to the ground and spread out behind the beach, mostly obscured by the jungle. Where we were staying at Sand Sea Resort was considered to be the most budget friendly option on West Railay. We stayed in one of their cute little bungalows, which was clean and quaint. My only complaint was with it's proximity to some public facilities and the trail to the next beach. Any noises behind our bungalow went directly into the bathroom, which made your private toilet time seem very public. Our place had a restaurant, two pools, and a nice beach view from one of the pool areas.
Later, we had to move hotels after deciding to extend our stay.  This move brought us to Railay Princess Resort and Spa on East Railay beach. This resort had all the features of the previous one, but I especially enjoyed the infinity pool which I had all to myself one evening!
My photography woes
The heat wasn't too unbareable, but we did always have the option of jumping into some body of water if we got too hot. Unfortunately the agricultural fires that were blowing into Thailand from Indonesia had been destroying the skies until after we left the country. The aqua blue waters were of course still there, but they were muted by the smoky dull gray skies above. I hardly saw any blue sky while I was there, and as photographer I was incredibly disappointed. I still took photos, but I wasn't happy with too many. Here are just a few from West Railay.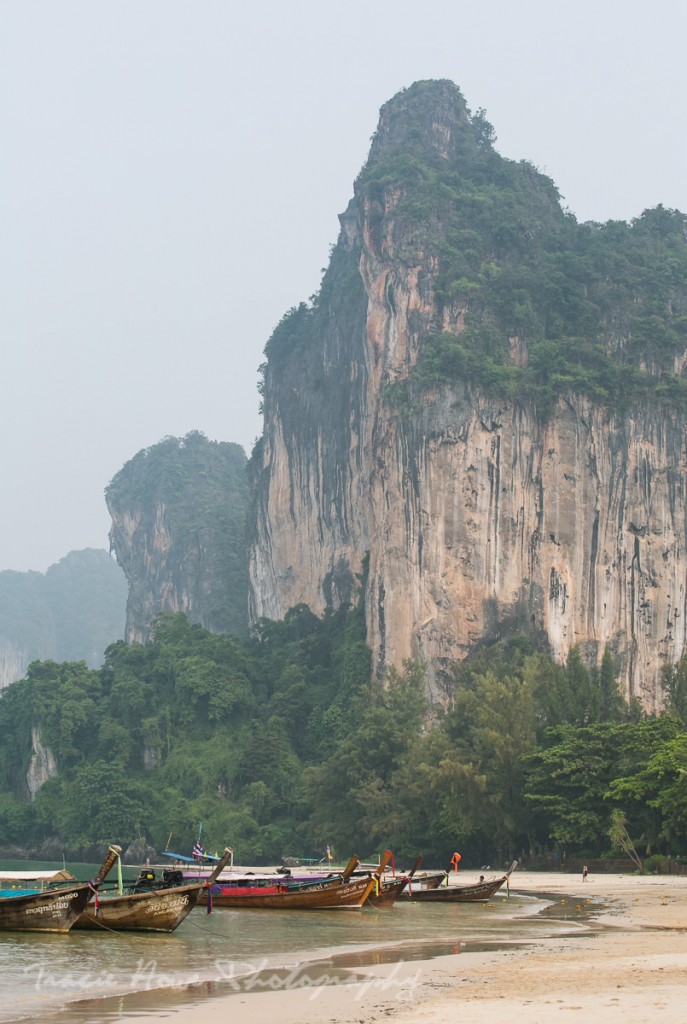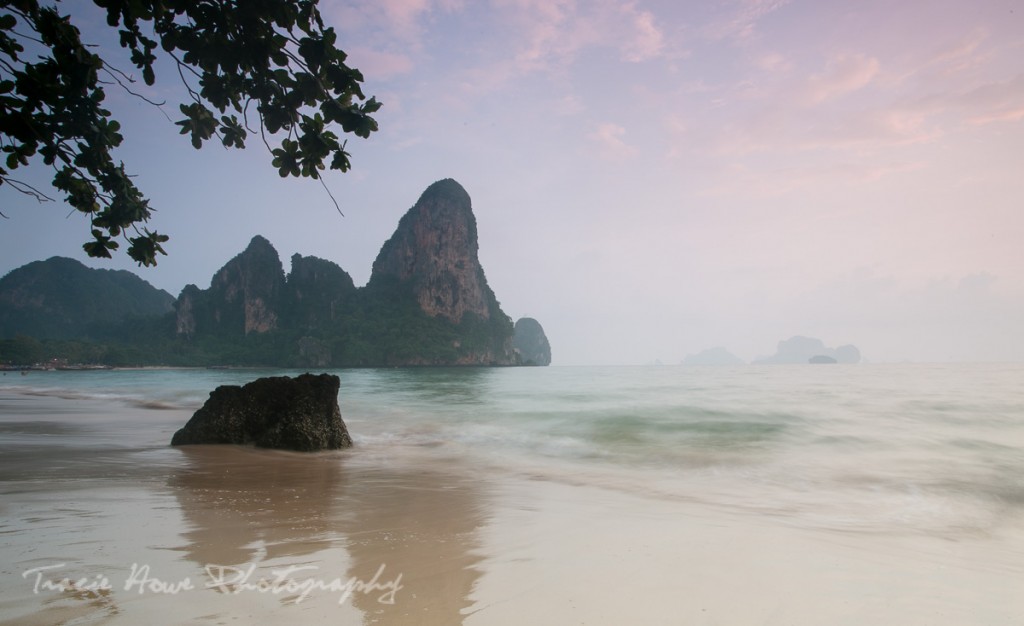 Exploring the various beaches
We tried to make the most of our time there, but I did have to take a few days to recover from food poisoning (I suspect the train food). We enjoyed exploring the different beaches, all of which we could access by walking from Railay West. We first discovered a mysterious rocky path from Railay West leading into the jungle. It ended up leading us to Ton Sai Beach where rock climbers were dangling at the end of the trail. The humid hike gave us a good excuse to take a dip in the sea. While we were swimming Dave spotted some monkeys high up in the trees. They swung down closer and closer to us until they were eating right next to the beach. They were Dusky Langers, also known as Dusky Leaf Monkeys, and I didn't have my camera to capture them (I was annoyed about the sky so I left my camera behind). No worries though, I got plenty of photos of the same monkeys even closer in an up coming Langkawi post! After that day we saw monkeys more often, but these were Macaques, which are considered to be pests to the locals.
Another day we walked to Railay East which has Mangroves lining its beach. This makes for an ugly, muddy beach when the tide is out, but I thought it was quite pretty when the tide was in. However, I didn't get many good photos of this area when the tide was in because it was always pretty dark at that time. From Railay East we continued to Pranang Beach which touts the Princess Cave. The Princess Cave displays a shrine of phalluses placed there by local fishermen. I've read a few different stories behind the cave offerings, but they are basically meant to provide good fortune and fertility. Beyond these caves you can continue climbing around into a pretty rocky area. I went back to explore this a bit on my own as it reminded me of a small canyon. Another draw to this area is along the trail between Pranang Beach and East Railay. There is a very steep climb way up into the jungle that is supposed to have a nice lagoon and a beautiful view. I tried climbing up the muddy, roped path, but I got too nervous and turned back before I was even half way. Too steep for me without being harnessed in!
Snorkeling by Kayak and by Tour
One morning we rented a kayak from our beach and took our snorkels to explore. We paddled through a cool little cave passage at the edge of our little bay and continued on to round the corner to Pranang Beach. We explored the Karst Rocks around there and snorkeled a bit, but the fish and the coral wasn't very nice.
After that we decided to book a snorkeling tour. We wanted a shorter tour, but all that was left were the all day 7 islands option so we had to book that. It ended up being a whirlwind of island hopping, a little bit of snorkeling in not too great water, and very poor organization. We were supposed to take a longtail boat, but we somehow got mixed up with the big boat group. That meant a lot more shuttling around because the big boat couldn't go ashore. I do not recommend doing the same tour. They had good intentions, but it was too much packed in for one day and too many people from our tour and all the other companies providing a similar experience.
Final thoughts
Overall the our stay at Krabi was very nice. Never very busy (except on the tour) because we were there during shoulder season. It was a great place for families, couples, and climbers. It would have been been great for photographers if the haze was not so persistent during our time there, but I still had a lot of fun. It's a magical place!
Travel Tips:
Pranang is also known as Phra Nang. Railay is also known as Rai Leh. Tham means Cave and Ao means Beach. Just in case you start Googling these places, this might be helpful to know in advance. ;)
The tour companies DO NOT like you talking to other tour companies. I was chatting with a woman from one who said if she caught someone doing that, she would basically ignore them. I guess they don't get "shopping around".
Fly! Don't take a bus or train if you can help it.
If you do book ground transportation to or from Railay with a company, be sure to find out exactly how many legs of the journey are included and where exactly you will end up.
Book ahead where you want to stay. This was not a busy time, but the Sand Sea Resort had no room for us when we wanted to extend our stay. Also it's helpful to know that Railay East is meant to be the cheaper option over Railay West or Pranang. All re nice in different ways though.
Photography Tips:
When there is no underwater life to be found, try taking a partly submerged photo of the landscape as another option. You might as well make use of an underwater camera.
There's not much you can do in camera to solve the dull color issue caused by hazy skies. In post-processing try increasing the contrast, clarity, and saturation just a bit. Try not to overdo it or it will look fake.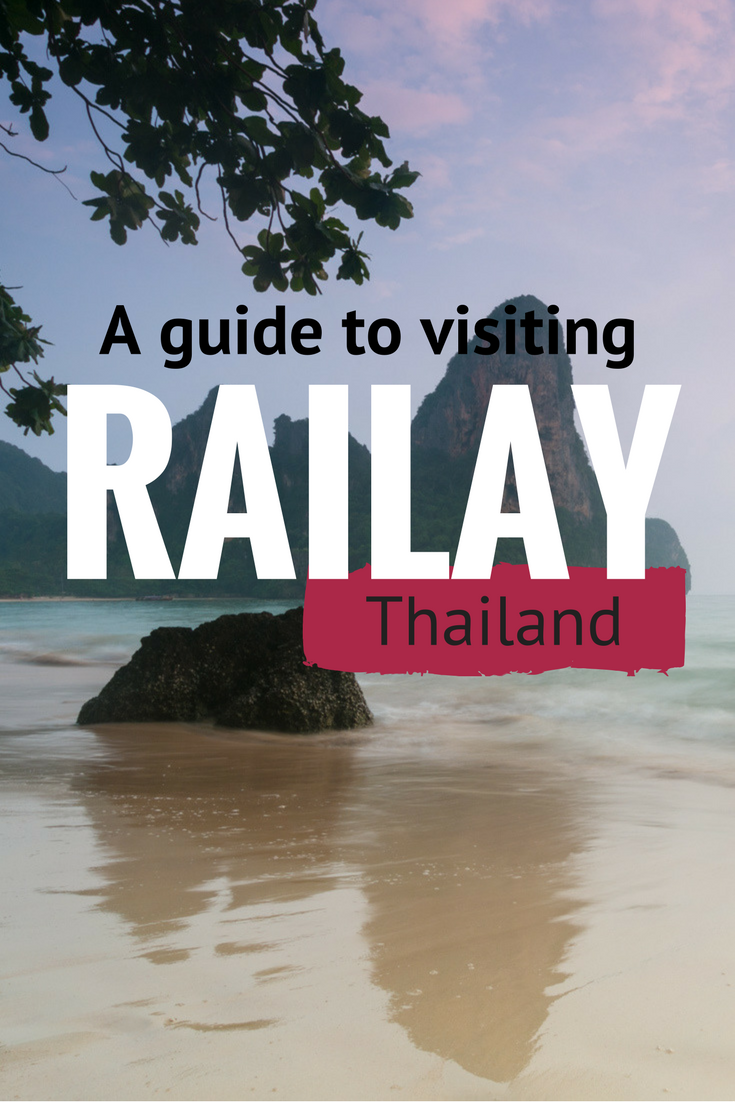 If you liked this post, check out these: