First, let me explain why we only had 3 days in Baja Sur…
I was flying down to Baja Sur, the bottom part of Mexico's Baja peninsula, to shoot a destination elopement. It was taking place in Cabo San Lucas, which is really just a hop skip and a jump from Seattle, so I managed to convince Dave to come with me. He couldn't take off much time from work, so we decided to just make a long weekend out of the trip – just about 3 days excluding the elopement shoot time.
Normally we would be trying to do as much as possible, but this time was different. Not only would I be shooting the elopement, but I had a blogging tour in La Paz that was going to take up most of a day, AND I had broken my foot a week prior! Needless to say, I couldn't push myself to do too much more, but I was still able to enjoy the entire 3 days in Baja Sur anyway. So, I wanted to share what you can do with only 3 days in Baja Sur if you are short on time too!
Los Cabos
Between shooting the elopement and our sea lion tour in La Paz, we had one full day in Los Cabos that was obligation-free. Los Cabos is the area that includes both Cabo San Lucas and San Jose del Cabo, and we were staying somewhere in the middle.
We decided to experience a bit of the resort lifestyle on this trip. I think the decision was based on the fact that this would be a really short trip (why not splurge?) and that we had never really taken a honeymoon since getting married in March.
Besides, there was a really cool resort that I was interested in! A hotel or resort has to be pretty unique to draw me to stay there, and Hacienda Encantada was just that. It had genuine Mexican character from the inside out, not to mention infinity pools right next to the rugged coast! This place was gorgeous and just what we needed! I'd love to go back and spend more time there.
It was fortunate that we had left one day open in our schedule, because shooting an elopement in a boot (in the sand!) on the day we flew in was exhausting and I needed a break! Dave and I are normally pretty active on our trips, but this time we were grateful for a change of pace. We took much of that first full day to relax by the oceanside infinity pools and grab a hilltop brunch with a spectacular view.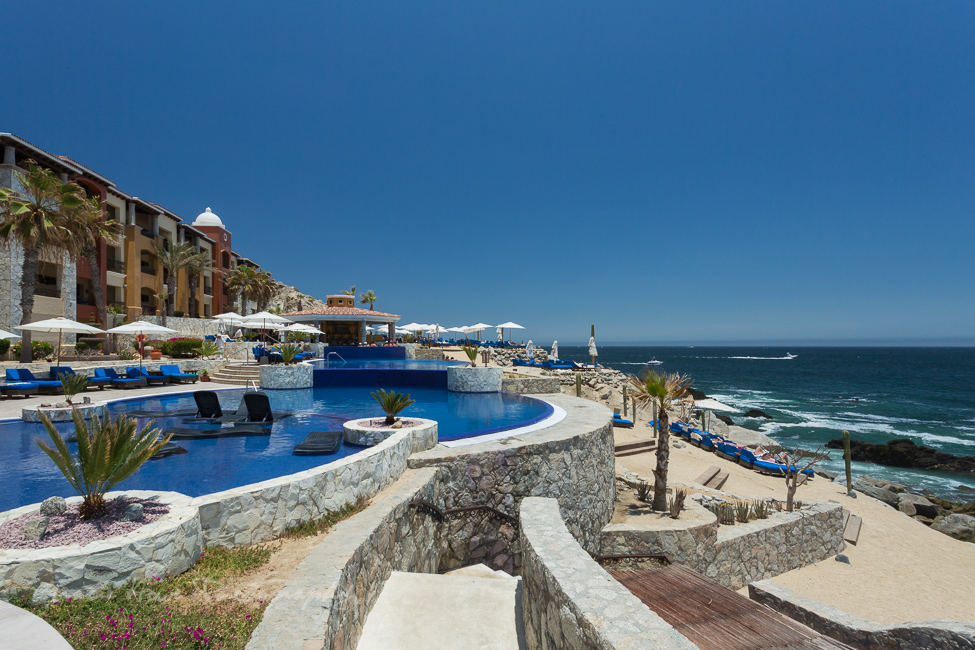 Of course, I eventually got antsy (as I do) and had to leave the resort for a bit. After all, we were only in Los Cabos for a short time! There was an entire list of possibilities, but again, I wanted to take it easy because of my broken foot. We had adventurous plans the next day anyway. Instead of heading into Cabo San Lucas, I convinced Dave that the smaller, artsier San Jose del Cabo was probably more our speed.
San Jose del Cabo is a great place for aimless wandering. It's chock full of restaurants, shops, galleries, and all the things that make "walking around" enjoyable. We checked out a few small galleries, contemplated buying some souvenirs, and eventually found ourselves starving.
At this point my foot was aching pretty badly, so we ended up choosing a restaurant based on proximity – Tropicana Inn Los Cabos. It turned out that this restaurant was actually quite good and it made me curious about the accommodations! The interior reminded me of what some Mexican restaurants look like in America, but much moodier and more authentic. The food was amazing! And the staff were all incredibly nice and charming. After stuffing ourselves, we headed back to the resort to prepare for our next day in La Paz.
La Paz
We got up bright and early and were greeted with a beautiful pastel sunrise as we left the resort. Our Red Travel Mexico sea lion tour was based out of La Paz, so we had to leave early to be there by 9am.
You can read all about that memorable adventure in this post!
After our full day out on the water, we checked into our Airbnb, also known as Casa Juarez. Our gracious host, originally from Italy, showed us to our cute, colorful little suite. As much as we wanted to check out the amenities and start exploring La Paz, all we could manage was a shower and a long nap.
Waking from our naps rejuveniated and feeling slightly less sunburned (Despite all the sunblock, I swear mom!), we headed out to find some food. We once again agreed that proximity was important. Fortunately, Restaurante Los Magueyes was within a few blocks of Casa Juarez and they also had very good food. It may cater to tourists a bit, but the locals also seemed to enjoy it. I ate the "Mexican flag enchiladas" that our amiable server told us about. They were delicious! This was followed by a flaming dessert that we demolished after some "oohing" and "ahhing". Yum!

Stuffed and feeling tired again, we headed back and slept like babies. The morning found us refreshed and ready for breakfast. Casa Juarez provided THE single best breakfast I have ever had included with a stay. There were many tiny little pastries, fruit, granola, and pretty much anything else you could imagine that is NOT like a continental breakfast. Very tasty!
After breakfast we only had a short time left to explore La Paz before leaving for the airport. Short trip, right?! Walking was pretty grueling for me in the heat, but I managed to make it to the waterfront for a stroll. We popped into a few shops and even took a cheesy photo in front of the La Paz sign. It's such a pretty waterfront, I only wish I could have seen more.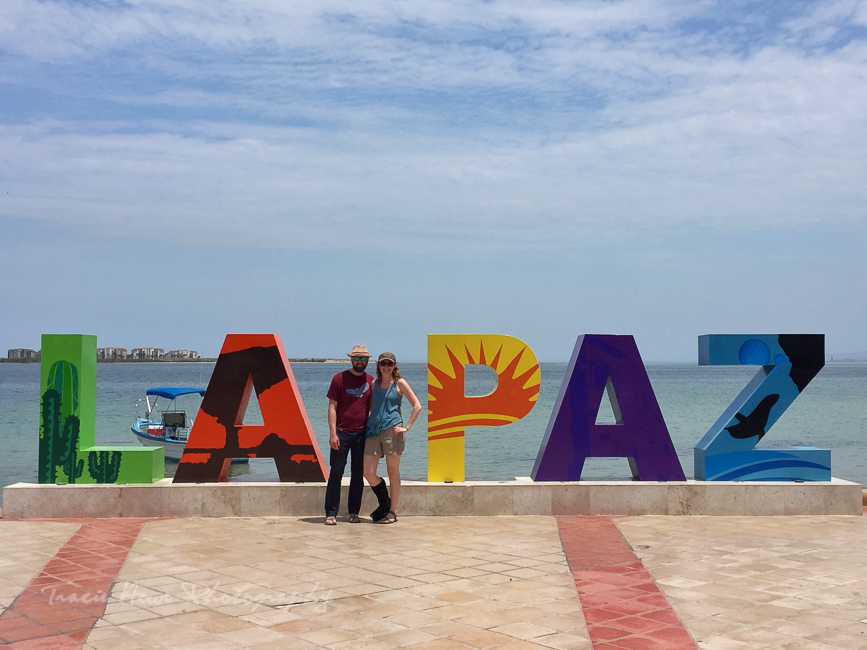 When I needed a break we stopped for a quick snack and then headed back to gather our things at Casa Juarez. I dangled my feet in the pool while waiting for Dave to grab our rental car.
It was there, next to the pool that I hadn't gotten a chance to swim in, that I was struck by how quickly our time had flown by. It was a shame really, but sometimes long weekend trips are all you can fit in… especially with American work schedules. Darn you, Dave! The good thing about fast-paced trips like this is that you can get the impression of a place and then come back to your favorite spots! I'll definitely be back to experience more of La Paz, stay at Casa Juarez again, and maybe even indulge one more time at Hacienda Encantada. ;)
*As always, all opinions and photos are my own and based on my experiences unless stated otherwise. Red Travel Mexico sponsored us for the sea lion tour, however I was not financially compensated for this post. A special thank you to Go La Paz for the assistance! *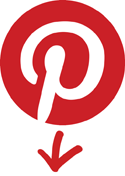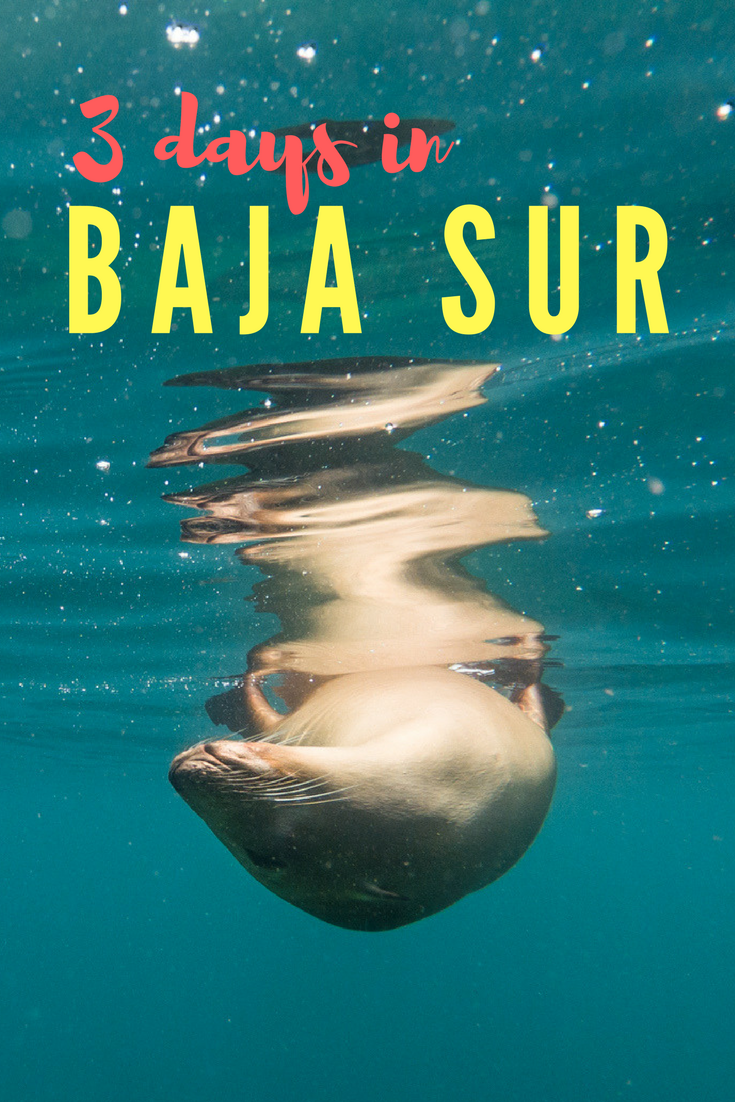 If you liked this post, check out these: