<<< Catch up on Day 5 (Part 2 about is the Northern Lights)!
It was another rough night of coughing in the van, but I managed to sleep a little better than in previous nights of coughing. This trip has shown me that if I am excited and stimulated enough, which I have been in Iceland, then I can do with very little sleep or food. However, more food meant a little more energy and I was in need of a big breakfast in preparation for the hike we had planned.
We stopped at Vik, a cute little town with its church perched up on top of a hill, a town we didn't get to stop in on the way East. We thought we could load up on food at the grocery store/gas station, but it had limited hours on Sundays. So with my stomach heart set on a good breakfast and enough energy for the hike, I bought us a pricey meal at a local hotel. I had been noticing that breakfasts in Iceland tended to stray from what I would normally consider breakfast food. At least, in this case, there was a variety of local foods along side of what I'm used to for breakfast. There were bell peppers, some unidentifiable grains, cold cuts and cheese, and some sauces that appeared to contain fish, which I wasn't adventurous enough to try. I made two waffles and ate them with various cheeses and fruits that I found. Not too bad for a $30 breakfast!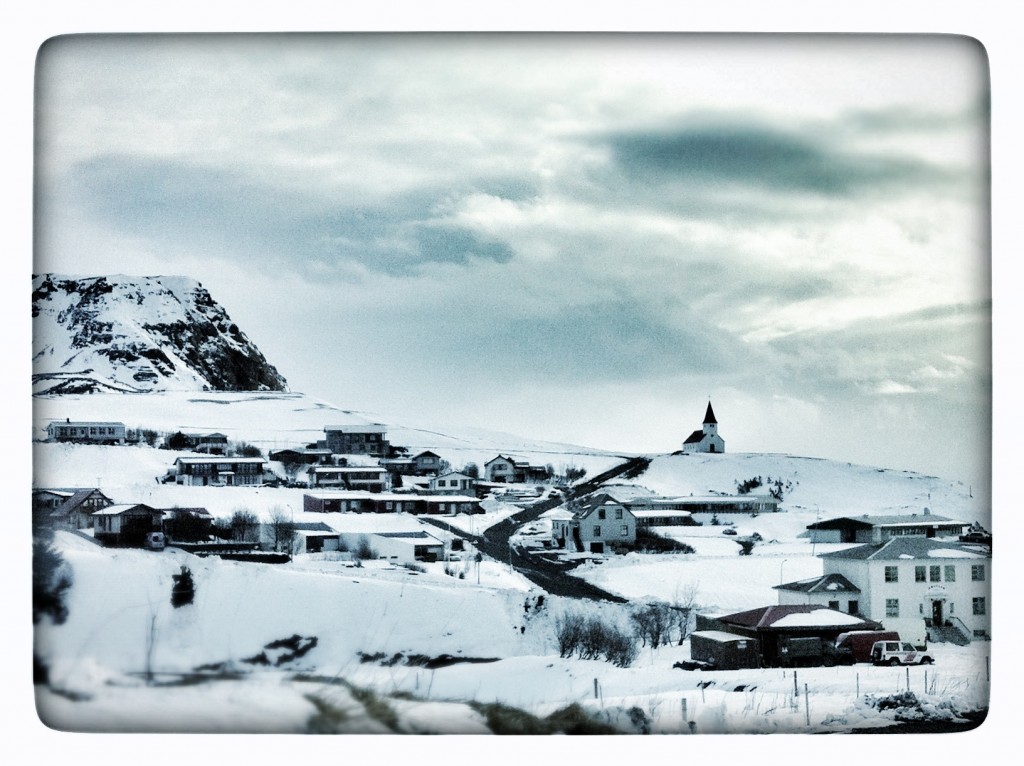 Skógafoss hike
We had fallen in love with Skógafoss and wanted to go back to hike the upper part as far as we could in one day. It had snowed again, so the landscape was dusted with a pretty layer of white, which added to the majesty of the falls. We started up the long staircase to the top and quickly lost sight of most tourists as we headed further along the river carved canyon. The snow was thick and dry enough that we weren't slipping, but the trail became narrower and narrower as we went. I get a little anxious when there is a big drop off right next to a narrow trail, and the snow, albeit not slippery,  was not easing my mind.
A French couple caught up with us and we all debated about continuing along the increasingly dangerous trail. Once we got to what appeared to be a wall of ice between us and the next trail marker, the French guy decided to scurry up it with just his hands and shoes. Of course, he didn't make it and slowly slid backwards down to the trail. There was no way to get further without the proper equipment, which none of us had.
We all turned back, disappointed that the trail was impassible so soon, only 20 minutes or so into the hike. Despite the abrupt ending, this was a magnificent landscape that I can't compare to anything else I've ever seen. In Iceland, the lack of trees allows you to see far into the distance. Being able to see several waterfalls and multiple twists in the canyon so far away must be what makes this particular landscape seem so grand and beautiful. It just seemed to go on forever. In fact it does continue for a while to another part of Iceland I was interested in visiting, but I knew we couldn't access that place in the winter. I guess that means I will just have to return to attempt it again in the summer!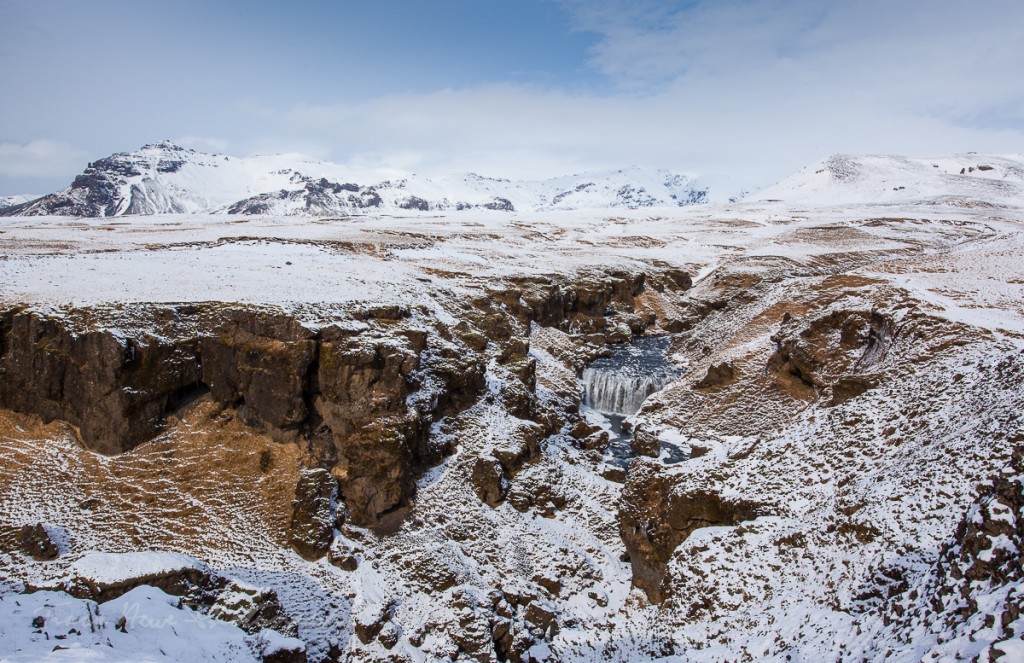 Bad weather and Seljalandsfoss
The Skógafoss hike ended with increasingly bad weather, so we wouldn't have had much fun continuing further even if we had been able to. A combination of sleet, rain, and snow fell as we moved West. Our next stop was another waterfall that I had been meaning to photograph at sunset, but the worsening conditions made that seem impossible even if we had waited for the right time of day. We stopped there anyway, but were pummeled with rain and wind, not to mention water from Seljalandsfoss itself. It was a waterfall that you could walk behind, which meant a wet lens and getting totally drenched in this weather. But, of course, we had to check it out anyway. Needless to say, I did not get any good photos there.
More waterfalls
From there we saw that there was a short trail in the distance that led to multiple waterfalls all pouring from the cliff above, so we stopped at a few of those. Gljúfrafoss was especially unique, and one I hadn't seen any photos of prior to our visit. To get close to this one you had to enter a cave that didn't totally conceal the waterfall from the outside. This one was so cool that I attempted shooting it despite the quantity of mist blown onto my lens. At least I was a little more protected from the rain and wind, unlike on the outside.
While I shot Gljúfrafoss from below, Dave scrambled up a slippery rock lined with chains to grip onto and continued up a ladder that allowed him to see the falls from above. Knowing that my anxiety wouldn't let me climb up with my camera, I let myself be satisfied with his thrilling description and a video that he took from above.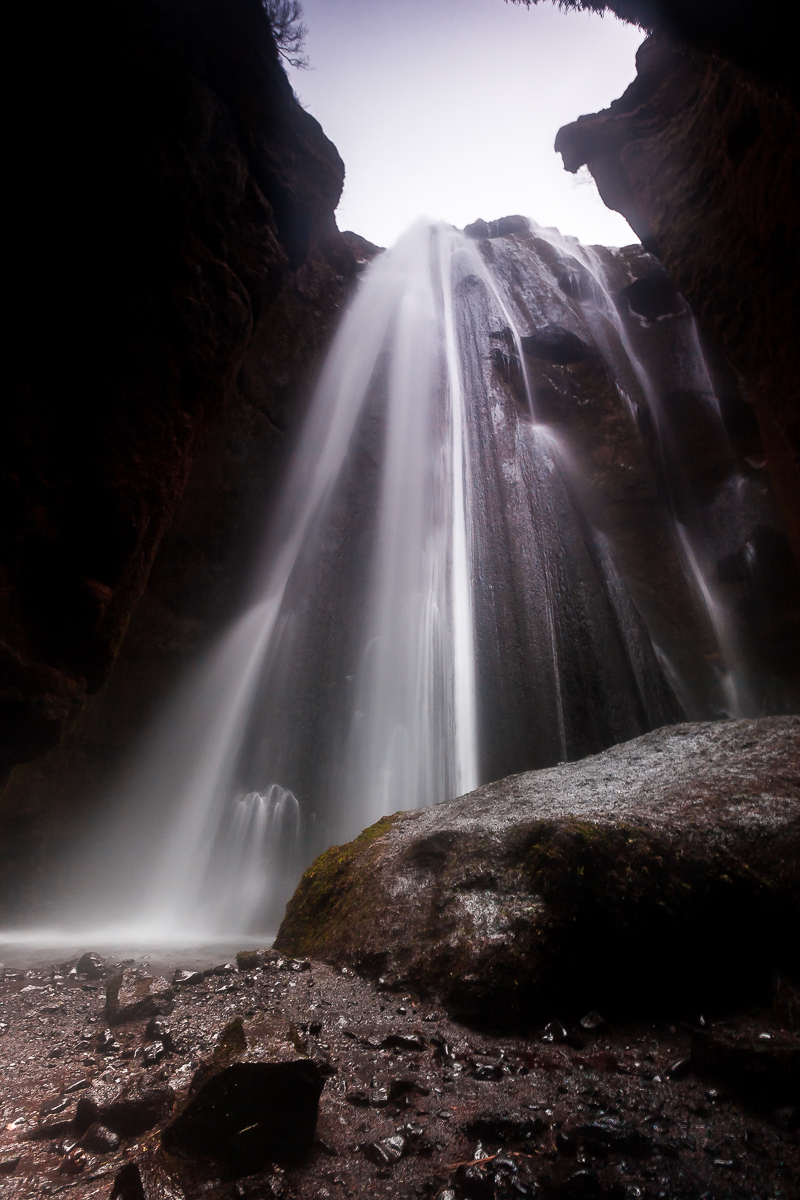 After the falls, we ended up back at the original camp site that we had discovered on the first night in Iceland, Gesthús Selfoss. The idea of a couch to sleep on as an alternative to another cold night in the van was what prompted me to seek it out again. But, of course, by the time we spent our last night in Iceland, we discovered that we had finally figured out how to sleep comfortably in the van. :)
Photography Tips:
Bring a good lens cleaning cloth and a lens hood! That's about all I can say about this day. When the weather is out to get you, there is not much you can do.
Travel Tips:
Be safe! Don't go scrambling up slippery slopes like the Frenchman, unless of course you have proper equipment and you know how to use it. Hike the trail above Skógafoss in the summer if you want to avoid obstacles like steep icy slopes.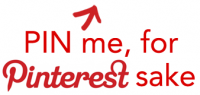 If you liked this post, check out these: