Why?
When I mentioned my travel plans to Iceland, I got one of two reactions: Why? or Wow! I didn't understand the "why", but I obviously knew why I wanted to go so I had to explain how awesome Iceland is. The "wow" people were on the same page with me, so they needed no explanation. However, this follow up question came from everyone, "why are you going in March?".
It took a little research to figure out exactly when I should go. I knew I wanted to see the Northern Lights, and I knew it had to be during the cold months. Summer was out, because there was simply too much light to see them at night. Besides, prices are way out of my budget during the high-tourist season of Summer! So, I wanted to plan it at the end of the Aurora Borealis viewing season, when we wouldn't completely freeze our bottoms off in the campervan that we knew we wanted to rent. This ended up being late March, which is still considered Winter in Iceland, because, yes, it is still freaking cold! Although, I should add, not as cold as you might think.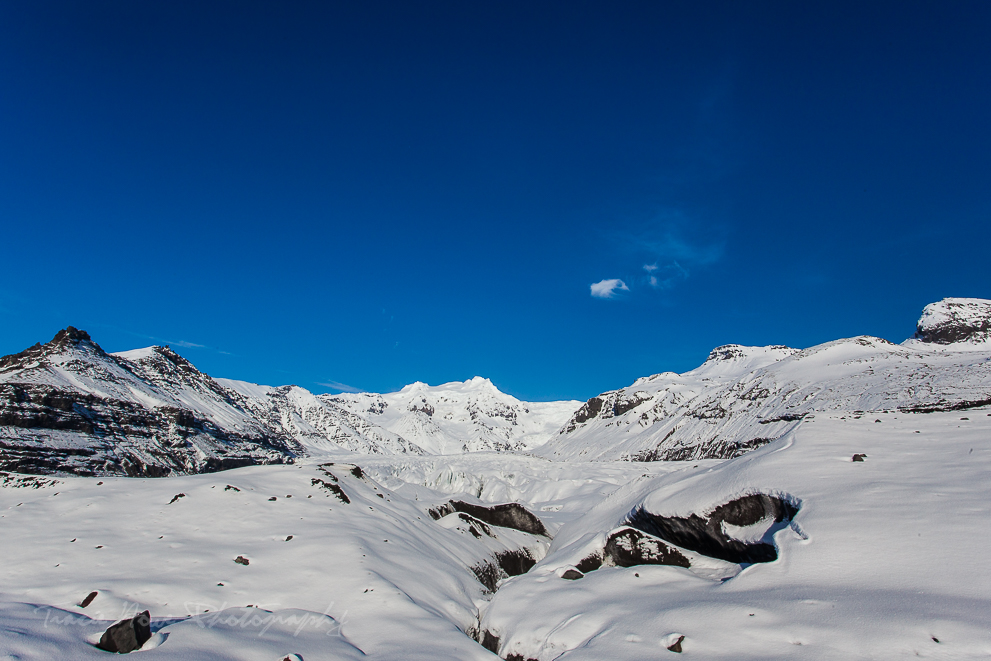 Hotel availability and pricing
There are some unexpected advantages to Winter travel in Iceland that go beyond just seeing the Northern Lights. That is if you can handle the cold. First, it's a lot easier to find a hotel room at the last minute when you decide to forego a night in your Happy Camper. We stayed at a few really nice places, only one of which was reserved in advance. Hotel Skogar was top notch, right next to my beloved Skogafoss. They were the ones who provided good council when we were seeking travel advice on driving in bad weather. And they served that excellent dinner that I'm still drooling over! We also stayed in Gerdi Guesthouse which offered nice clean rooms located in a beautiful spot right between the Ocean and the Mountains. The same owner happened to run the sleeping bag accommodations within the old school that we stayed at the night after, but I didn't get the name of it. From what I hear, we wouldn't have been so lucky finding last minute places to stay in Iceland during the busier Summer season.
Fewer people
Second, we didn't realize how few people would be around during the low tourist season, but I didn't mind the solitude! Iceland already has a tiny population of just over 300,000, of which the largest percentage lives in Reykjavik. While spending the majority of our time outside of the big city,  I'm pretty sure most of the people we saw were tourists. But still, that wasn't a lot of people! We spent many hours on the main highway not seeing a single car, despite Dave's slow and cautious driving. Fewer tourists is always a nice benefit for me, as I am often one to choose off-season or shoulder-season travel for this reason. Okay, so I may be exaggerating a little, but this was probably on average the most people we ever saw in one place: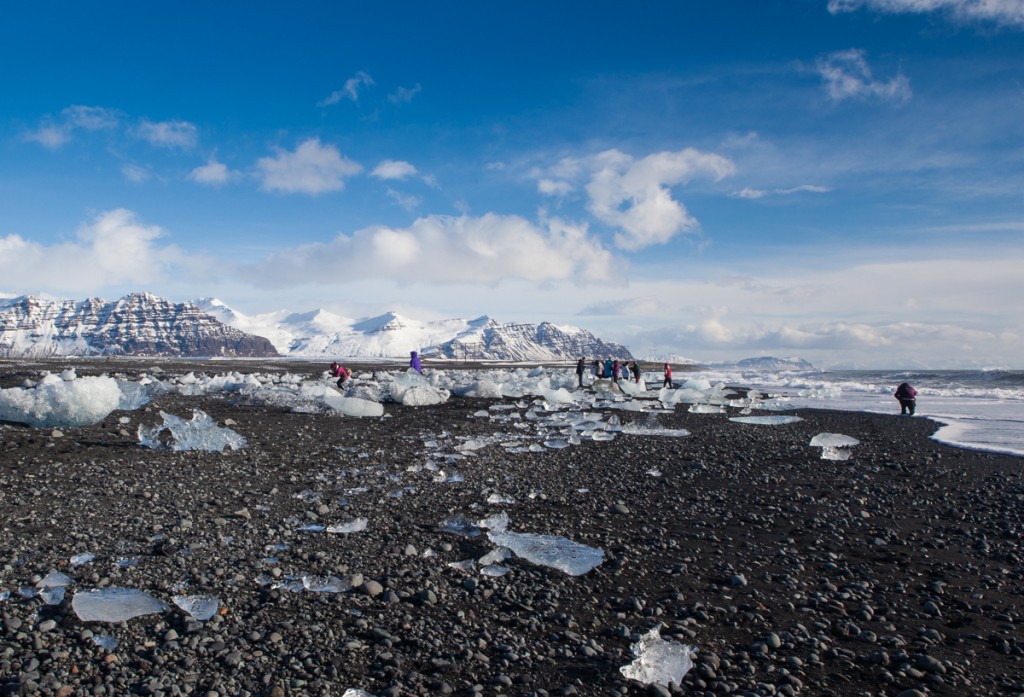 But seriously,  most days it felt like this:
Plenty of options for camping
Finally, when doing research for our trip, we were pleasantly surprised about how loose the laws were for camping/parking your Happy Camper overnight. You can camp just about anywhere as long as you are not on someone's private property. I didn't fully grasp the idea of this until we were in Iceland though. People kept talking about pulling off to the side of the road for the night, and I wondered what they meant. When we started driving, we often saw little pullouts, wide gravel roads, picnic areas, and other little spots that would easily serve as legal camping for the night. We only had to do this once, when I photographed the Northern Lights, but there were plenty of opportunities along the road. A ton of places that would have been ideal in a pinch… or not. I mean, Iceland's Ring Road is gorgeous, so most places would be a dream to park a campervan for the night! As for campsites, you'll probably find them pretty empty in the Winter, if they are even open. Presumably, you can still camp legally even if they are closed, but we were lucky to find a nice one that was open and totally empty of other campers. But no surprise there. We liked Gesthús Selfoss so much, we stayed there twice!
Of course, Winter travel has it's disadvantages as well, including impassable road conditions and many tour offices and highland tour operators being closed for the winter. But if you are prepared for the weather, do your research, and go with an open mind and no set plans, then you should enjoy your Winter trip!
The biggest reason to travel in Iceland during the Winter
And if you're still not convinced, this one photo is the main reason I went when I did. You can read about my entire Iceland Winter trip by finding all those posts under "Iceland" in "Destination Archives" up there in the menu. ;)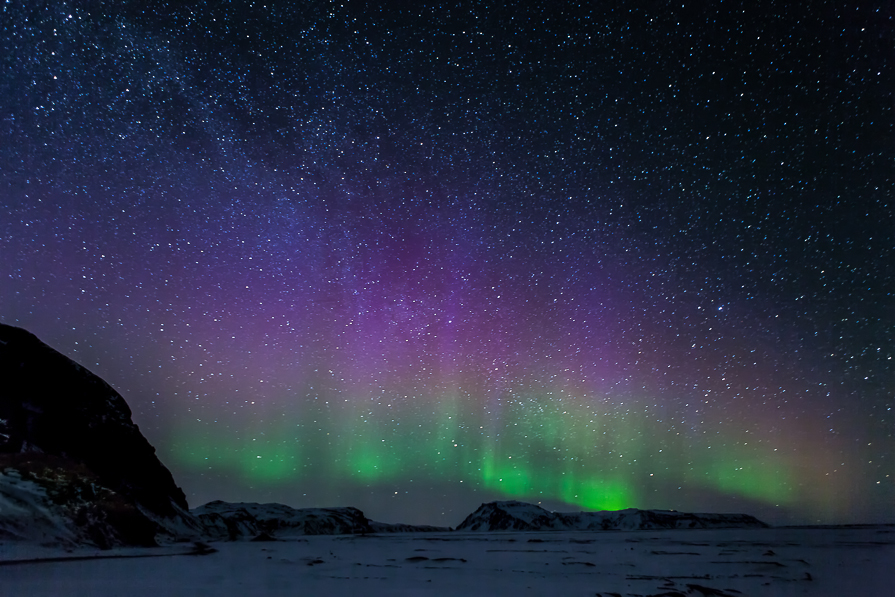 My travel advice this time is obvious:
Go to Iceland in the Winter! At least, don't be afraid to go and be prepared. It's not as hard as you might think.
And a quick tip for renting a heated campervan that I wish we had discovered in the beginning, is to turn off the refrigerator. We only realized this after our vegetables were frozen solid. It seems to save energy that is needed more for the heater. Turn it back on for a bit during the day, and you should be good to go.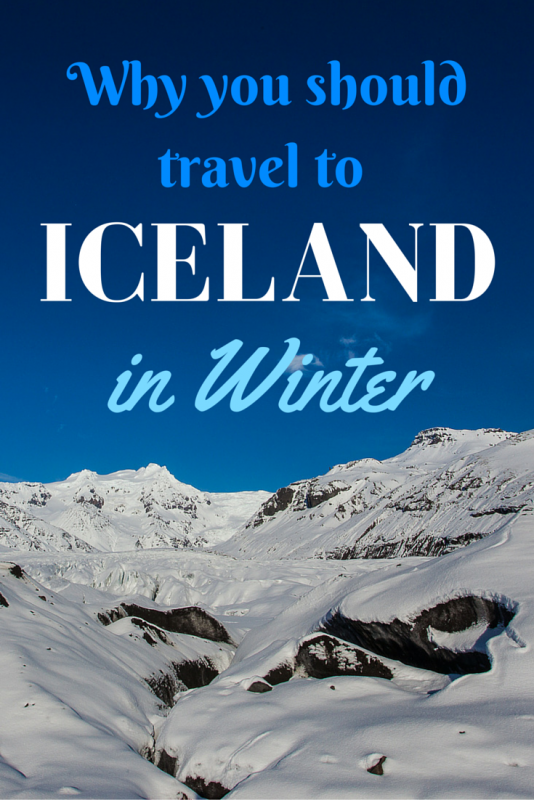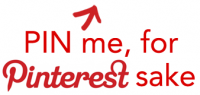 If you liked this post, check out these: