After a very miserable, cold night in Iceland with very little sleep (see Day 1), waking up was not fun. However, after such a long night of coughing, I was glad that it was over and ready for the day ahead.
It is mid-March, but Icelanders still consider this Winter, and I can see why. We awoke to find the van deeper in snow, but managed to get out to a fairly cleared street. Fortunately the snow plows work pretty fast here! At least we had the experienced locals on our side during our Iceland Winter road trip adventure. We got a late start, but made up some ground once the roads were totally empty of snow. At one point I climbed in the back to try napping while Dave drove, but the scenery was too spectacular to miss.
While I was laying down in the back on the fold out bed while looking out the front window, we both spotted something that we HAD to check out! It was Skógafoss, a beautiful thundering waterfall set in the picturesque landscape that borders Iceland's main road, the Ring Road. Later I realized that this was on our list of things to see, but I was too discombobulated from my exhausting night in the van to figure that out at the time, so it's a good thing we stopped anyway!
I spent some time taking pictures below while Dave walked up to the top. Despite my lack of sleep, photographing this gorgeous landscape was enough to keep me energized… although not enough to join Dave at the top.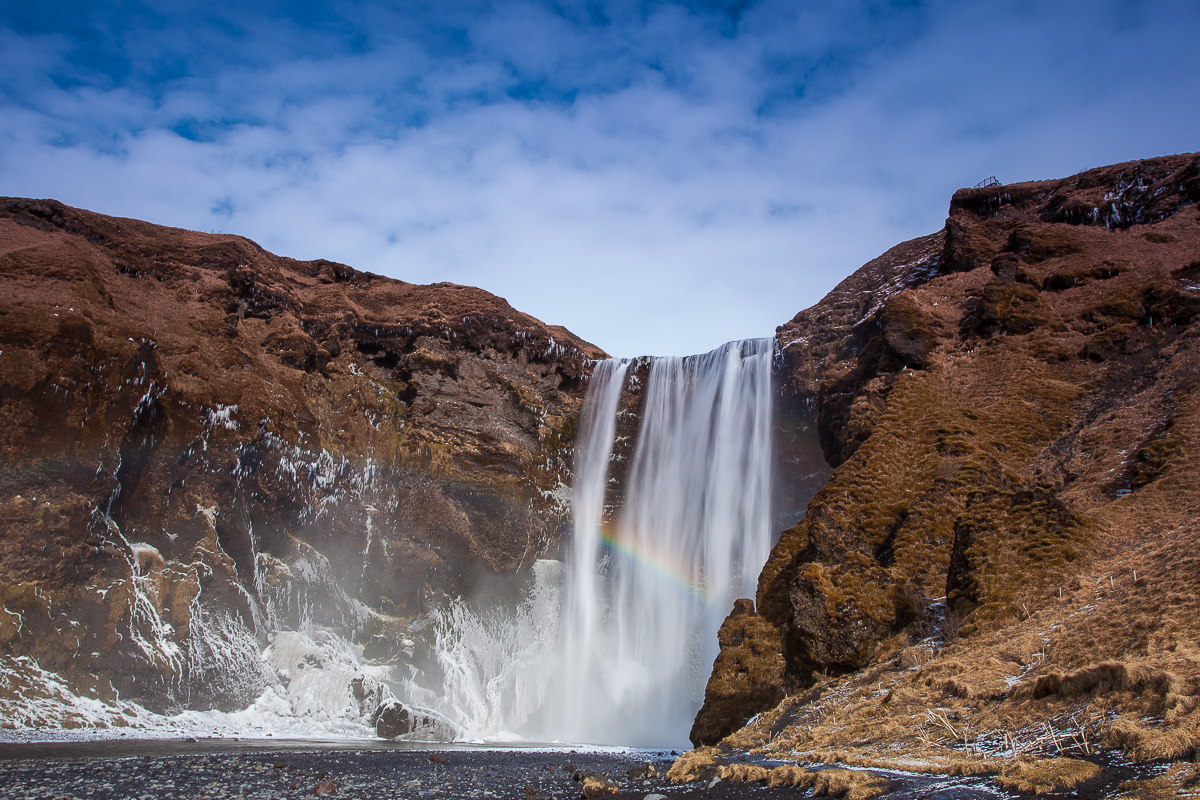 When we were done exploring a bit, we tried to continue East to our next destination, Skaftafell National Park, where we were scheduled to have a glacier tour the next afternoon. The weather had different plans with snow and wind suddenly coming in at an alarming rate. So instead of slipping off of the suddenly icy roads and into a ditch, we thought we should turn around. Iceland's winter weather up until this point had been manageable, especially with studded tires, but this was too much for our Happy Camper.
We went back to Skógafoss and inquired at Hotel Skogar  about the weather and road conditions. Iceland's weather changes very quickly, so it was possible that a few hours of waiting could make a difference. It turned out that the weather was getting worse and a gale force wind was coming. So we decided to splurge on the hotel that night, hoping to get a fresh start after so little sleep the night before.
We quickly checked out a nearby historical settlement made up of tiny turf houses and then headed back for a nap. This recharged me enough to huff my way up to the top of the waterfall before sunset. It ended up being more incredible than I could have imagined and the path continued on to a long hike that we only had time to see the beginning of. Just the start of this multi-day hike was breathtaking, with rivers and smaller falls winding through a sort of moorland canyon, all set in front of a mountainous backdrop and uninterrupted views to the coast. We vowed to come back another day to continue the hike for at least several hours.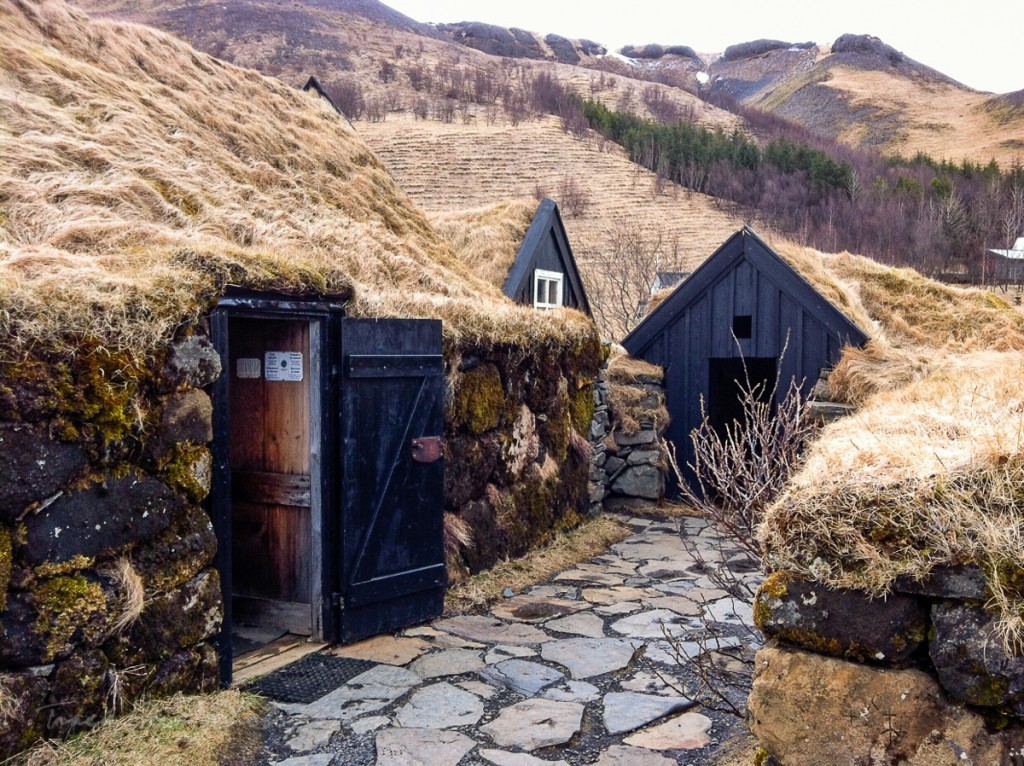 We splurged yet again at the Hotel Skogar's restaurant, but were happy that we had so after tasting the local dishes. Dave had lamb and I had chicken. Both were served with a variety of root vegetables that were cooked to perfection. I returned to the room for a sulfur smelling shower, an Icelandic phenomenon I was starting to get used to. Then finally, it was off to bed for me. I rested comfortably, even if I couldn't get to sleep until the wee hours of the morning… yet again because of my cough.
Photography Tip:
There are so many ways to photograph a waterfall like Skogafoss. I used several techniques to capture a variety of motion. I hand held my camera at first, just as I approached the falls. Then I set up my tripod and added a 10 stop varying neutral density filter to my lens. This is a tool used to darken a scene, handy during the daytime when you want to increase your exposure time for those soft, flowy waterfall shots.  In the end my polarizing filter was enough to get me that soft water, while also enhancing the rainbow and blue sky. This only required about a half second exposure to smear the falls as you see in the photo up there.
This is a powerful waterfall and if the wind is not your friend, you will get wet if you're too close. I tried to find the right place to stand for my composition (mostly to avoid people walking into my shot) while not so close that I would get water on my lens. Unfortunately, this was a difficult balancing act. I ended up frantically covering and wiping my lens after each shot, while glaring at anyone who dared walk in front of me.
Travel Tip:
My travel advice would be to ask the locals for their own advice. They know the area and the weather best. Often, hotels will give you a lot of useful information even if you aren't staying there. In this case, we were given excellent advice and shown Iceland's amazing weather website which has a ton of constantly updated information. I'm glad we decided to stay, and I'm thankful for the help of the hotel staff.
Finally, don't be that guy! And by that I mean, don't be one of those people that walks right in front of a camera! You would be surprised at how often someone walks within a few feet of my camera when I am clearing shooting. I get it if you want to go on up ahead, because it's a public space, but not directly in front, please! Have a little respect, whether you're shooting with a phone, a fancy camera, or nothing at all.
Iceland Adventure | Day 3 – winter drive, glaciers & Jökulsárlón