Thanks for following along on our Iceland adventure! I'm so happy to be able to share what I can from the road!
<<< Click here in case you missed Day 2.
Continuing East on the Ring Road
Our Iceland trip continues after another practically sleepless night, despite the comfort of a hotel. Seriously, when will the coughing end?! After dragging myself out of bed and enjoying the hotel's breakfast we got back on the road. We headed East once we were sure that the roads were clear (enough) of snow.
All around us during our entire drive was a winter wonderland. We passed through Vik, a cute little town with a tiny church perched on a snow covered hill. The road took us through massive rounded hillsides (mountains?) that came right down to the road and then through a beautiful snow covered wasteland that a volcano had destroyed. Everything was unbelievably beautiful at every turn.
There were always snow covered mountains in the distance to gawk at, and we were going right up to one of them for our Iceland glacier tour. We turned off of the Ring Road, and were soon at our destination, Skaftafell. We were surprised to have arrived so early, but we took the opportunity to make our first meal with the Happy Camper stove. A simple pasta lunch was enough to get us through the next few hours on the ice.
Blue Ice Experience Glacier Tour
When we were done eating, we found our hard core tour guide who was munching on a sandwich as she fitted everyone for crampons. She was a great guide, as long as you followed the rules! As we started out, she mentioned that the morning tour had been cancelled because there was too much snow to find the road to the glacier.
She informed us that the extra snow made the glacier tour more dangerous, and that she had never fitted harnesses to anyone before, so we were special. This did not put me at ease, but she was very good at finding crevasses buried under the snow and marking them so we wouldn't step through. That was really the only danger that I could see, except just being clumsy and falling off a ledge… so I still had to be careful.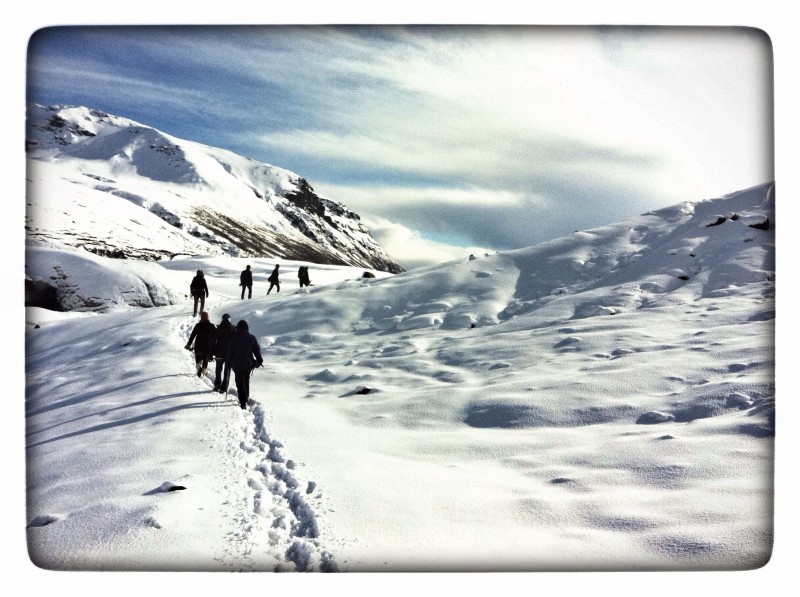 The snow covered glacier and surrounding mountains were spectacular. Each view got better and better until it was just too much visual stimulation to take in, which I didn't think was possible! Our guide pointed out bits of icy glacier that poked out of the snow, but other than those, we weren't able to see much of the ice at all. Just because of about 2 inches of snow layered on top of the ice.
I'm glad we did it anyway, despite not seeing all the ice that I had been excited about. This phone panorama and the photos in this follow up post about the tour should give you an idea of why I was still happy to be there, snow or not!
After the tour I enjoyed the best mug of Swiss Miss hot chocolate that I have ever had. I guess there's just something about hot cocoa after a long, cold hike on a glacier!
Photos at Jökulsárlón glacier lagoon
Next we headed off towards Jökulsárlón, where small icebergs break off from the glacier and drift out to sea. I was especially excited about going there at this time of day, because I knew I'd be there for sunset, a photographer's dream! I had been planning around this moment for months!
We should have known by then that all attractions even relatively close to the Ring Road are clearly marked, but we started guessing anyway, and got ourselves into a mess. There were a lot of cars parked in the lots that we kept seeing, so we thought we were missing out on something and decided to pull in. Turns out that what we would have missed is being stuck in the snow for 30 minutes!! After some digging (without a shovel) and that trick with the floor mats, some good samaritans offered to help push us out. I was surprised how well that worked, but I'm glad it did!
Unfortunately this had delayed us enough that I had no time to scope out an ideal spot for my iceberg photos. I just had to act quickly and work with what was close by. Here is a picture that Dave took of me while I was shooting. See all that ice in the background? That's what I was so excited about!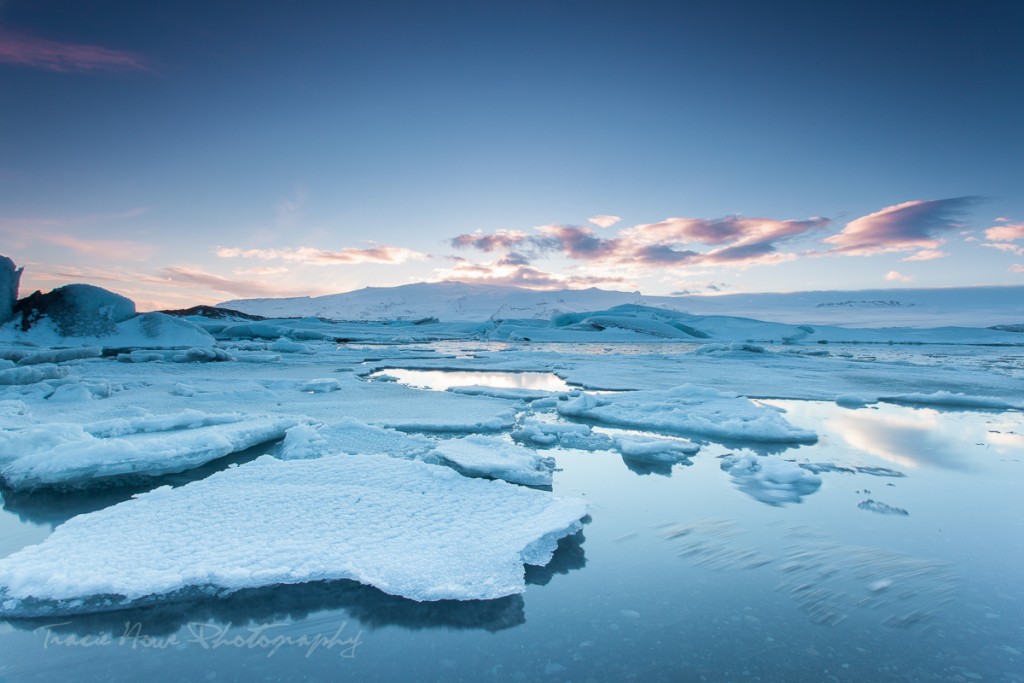 Anyway, it was successful enough, if not perfect, and I was fine leaving somewhat early (after sunset of course) so that we could find another place to stay for the night. My cough still hadn't improved at all and I realized that the cold air was irritating it. I really needed to take care of myself to get rid of the cough so I could finally sleep!
Unfortunately, I still coughed through the night while staying in another heated room. Seems like the story of this trip!