<<< Check out Day 3 here if you missed it!
Traveling in Iceland so far has left me more satisfied visually than I could have imagined. And that is not something I can say often. Getting up to find a view of the ocean right outside your window is a nice way to start your day. We couldn't see how beautiful it was when we arrived in the dark the night before. Gerdi guesthouse is set right between the ocean and the snowy mountainous landscape that runs parallel to the coast.
We continued to see those beautiful mountains all along our drive again as we headed further East towards Hofn. We did a lot of driving that day, stopping for occasional roadside photos. Nothing too remarkable happened, but there were a few highlights.
We did a short hike that started out behind a farm where Dave had a staring contest with a resident rooster. The hike wound up gradually through some hills to the highlight, which was an unbelievable view. This landscape was a mandatory photo op for me, and I made sure to get a shot with Dave in it as well.
Earlier in the day, Dave had found me some medicine, which I had unwittingly taken right before this hike. It turned out that the medicine was amazing, but it made me incredibly groggy! I only realized this about half way through the hike, just after this viewpoint. I was satisfied with that, so I headed back to the van for a nap while Dave continued on for a little longer.
That night we slept in an old school house, which happened to be owned by the same guy who's guesthouse we stayed at the night before. It was warm and cozy and we slept in bunkbeds. You want to know the best part? That magical medicine suppressed my cough, and I was able to sleep ALL night!!
Stay tuned for more posts, updated when we have Wi-Fi which has not been too often. Meanwhile, be sure to follow me on Instagram for more quick phone pics, like Dave's encounter with the rooster.
Heading to Oslo tomorrow, but I still have to catch you up on the final days of our Iceland trip. Thanks for following along so far!
Iceland Adventure | Day 5 (part1) – Iceland hikes at Jökulsárlón & Svartifoss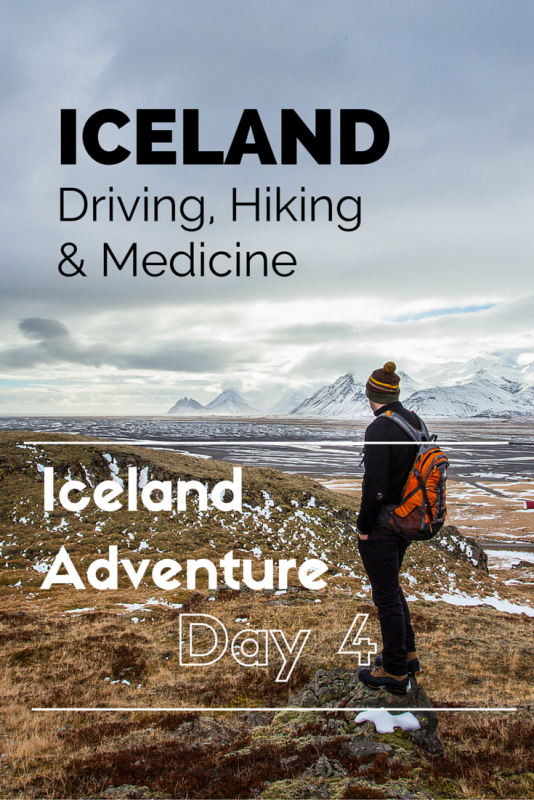 If you liked this post, check out these: