---
Written by Jen. Photographed by Tracie.
---
If you're visiting Seattle you will no doubt be enjoying a seafood restaurant as part of your Northwest culinary exploration. We strongly suggest visiting a food truck or two while you are at it. Try out some of the authentic, offbeat street eats that locals love. Seattle is home to a thriving and diverse food truck scene. Currently (as of 2014) there are around 150 trucks in operation. There is an abundance of choice and variety awaiting you around the city. Tracie and I recently decided to try as many of the food trucks in Seattle as we could in one day.
Setting out to choose specific trucks, we were overwhelmed by all of the options. We'd received several recommendations from friends, and of course had seen trucks around that we wanted to try. As we read about various trucks online our list of potential stops grew comically long.
When the big day came we set out around 9am, eager and hungry. A good friend of mine, Cora, from the Peace Corps happened to be in Seattle visiting and jumped at the chance to be our blog intern and special guest taster.
My Sweet Lil Cakes
Our first stop was My Sweet Lil Cakes, which is at the University District Farmers Market on Saturdays. Owners Sheena and Jesse Lee are full of passion for mouth-watering food, fun retro design, and exceptional service and you can see it immediately upon visiting the truck. Their menu includes savory and sweet cakes made from scratch, chalk full of premium and primarily local ingredients, all delightfully served on a stick.
Their most popular item is the brilliantly executed free range chicken and waffle, served with maple butter. Tracie, Cora, and I were all blown away by how tasty it was. The balance of flavors, the freshness of the waffle, and the maple butter adding just the right amount of sweetness. While we had all heard much about the classic chicken and waffle combo, none of us had yet to try it. We couldn't be happier about having it for the first time at My Sweet Lil Cakes.
Next we tried the red velvet buttermilk with dark cherries and sweet cream cheese, which was a fantastic sugary finish after a savory beginning. All three of us were completely impressed with both stickly delights. Jesse Lee says Sheena is working on a few new menu items as well. We can't wait to go back to explore the rest of the current menu and to see what new creations she's coming up with. My Sweet Lil Cakes will be at four farmers markets weekly this summer and at all of the Sea Fair events. Check out their website for details.
We strolled around the farmers market after devouring the food and enjoying the company of the team at My Sweet Lil Cakes. We had to resist the temptation to try all the samples as the day was young and we still had a lot of meals on wheels to go. I must confess however that we did grab a few cheese samples – worth it. I love all farmers markets and always try to check them out when traveling. Perhaps I am biased, but the Northwest markets are some of the best I've seen and perfect for locals and visitors to Seattle alike.


Hallàva Falafel
Our next stop was lunch at Hallàva Falafel, which was at Chuck's Hop Shop on the day of our food truck marathon. The menu at Hallàva is simple – we tried the falafel sandwich, the schwarma falafel combo sandwich, and the Greek fries which are covered in feta and the house made seasoning mix, served with sides of homemade hummus and tzatziki. Yes, we were drooling as we sat down to this feast.
Tracie and I have had falafel all over Europe, N. Africa and the Middle East – we love it and feel pretty confident in our falafel judging skills. Hallàva Falafel did not disappoint. It was crispy on the outside and warm and full of flavor on the inside. The attention to detail on all of the sauces, seasoning, and accompaniments shows in the wonderful taste explosion you get when you dive in. The Russian red relish and Armenian pickles add tasty punches. If they ever sell their hummus by the jar it will become a staple in my kitchen.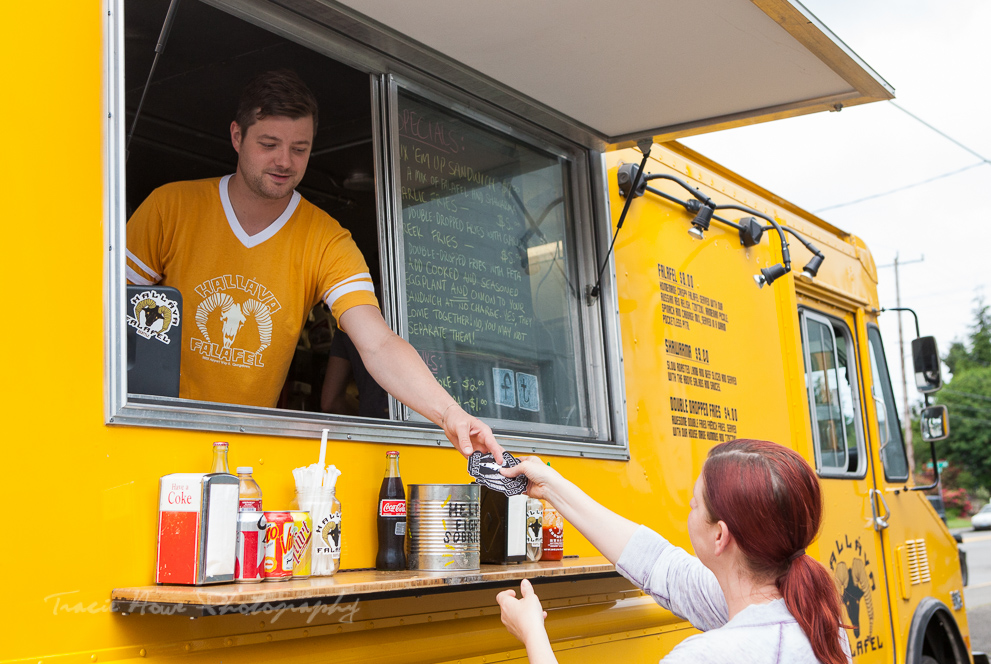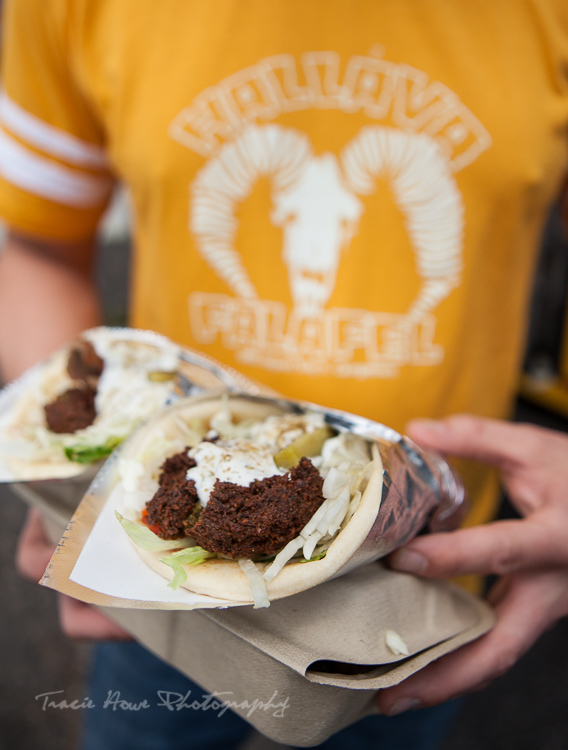 As we stuffed our faces with his exceptional fare, James, the owner, shared all kinds of history and stories about the Seattle Food Truck scene. When Hallàva Falafel opened in 2006, they were the only truck to serve something besides tacos. James is dedicated to serving excellent food and helping the entire food truck community thrive. He is currently president of the Seattle Food Truck Alliance. James recommended several trucks that rank highly in his book, which are all now of course on our to try list, so stay tuned for future food truck marathons.
We washed down all the falafel goodness with a Mexican Coke, a Vimto soda (both from the truck and both pretty tasty), and a cider and beer flight from Chuck's Hop Shop – they had so many things on tap we could hardly pass up sampling a few artisan brews. Hallàva Falafel has a permanent cart located in Georgetown, and their mobile truck can be found all around Seattle.
Motofish Coffee
Stuffed to the gills, we were all relieved that our next stop was a coffee truck. Nothing like a mid-afternoon caffeinated bevvy to pick you up. The Motofish Coffee Unimog (1979 multi purpose all wheel drive vehicle with mega cool factor) was parked near the Seattle Center and reminded us of old army vehicles we've seen in Eastern Europe and elsewhere. We admired the view of the Space Needle and people-watched the Folk Life Festival crowd as we waited to try the infamous coffee.
Motofish is an already established brand with branches in photography and bike racing. With a punk rock edge, it is not really surprising that the owners chose to add a coffee truck to their business tree. As with the previous food trucks, the staff were extremely friendly and excited to chat with us about the past, present and future of the truck.
We were lucky enough to be invited into the front of the Unimog where we enjoyed a flavorful iced americano and a tasty chai. Motofish uses only high quality coffee and features a lot of local roasters. Tracie captured shots of the ladies crafting coffee, while Cora and I enjoyed chilling out in the Unimog cab. It was a great vantage point to talk with Kelsie and her barista partner in crime, who were both genuinely thrilled to be a part of team Motofish and the food truck community.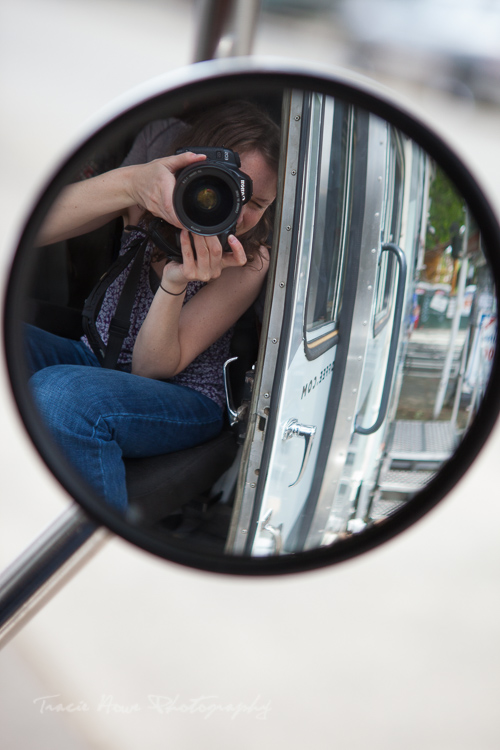 With a pep in our step we set out for our next conquest. Not exactly hungry yet, but committed to the plan of eating all our meals by truck. We had a bit of extra time to digest as our next stop fell through. We are hoping to feature them at a later date so that is all I will say for now…
The Grilled Cheese Experience
West Seattle held our final stop of the day – The Grilled Cheese Experience, at Alki Beach. Right near the volleyball area, the truck had a steady line of customers while we were there. Which was no surprise, as the smell of the cheese and bread grilling wafted through the air, making me salivate despite not even being that hungry yet. The bright blue of the truck and friendly laid back staff set a positive tone for the experience of The Grilled Cheese Experience.
Josh, the owner and culinary master behind the truck was all too happy tell us his thoughts on the food truck community and why he loves being a part of it. He talked about his vision for the future of his business while we made a cheerful mess of ourselves with his perfectly gooey cheesy creations.
The sandwiches all came on artisan sourdough bread encrusted with parmesan cheese. We tried the classic with avocado, the veggie deluxe, and the BBQ Bomb. All three were met with smiles from each of us. The bourbon molasses BBQ sauce was to die for and I am crossing my fingers that it will be available by the bottle in the near future. The classic lived up to its name, with a blend of three local cheddar cheeses and extra richness from the added avocado, it was pretty much a perfect sandwich. The veggie deluxe, with its exquisitely carmelized onions, was also a crowd pleaser and the sandwich I'll probably return to on my next visit. They all paired well with the house soup – an organic, vegan tomato basil.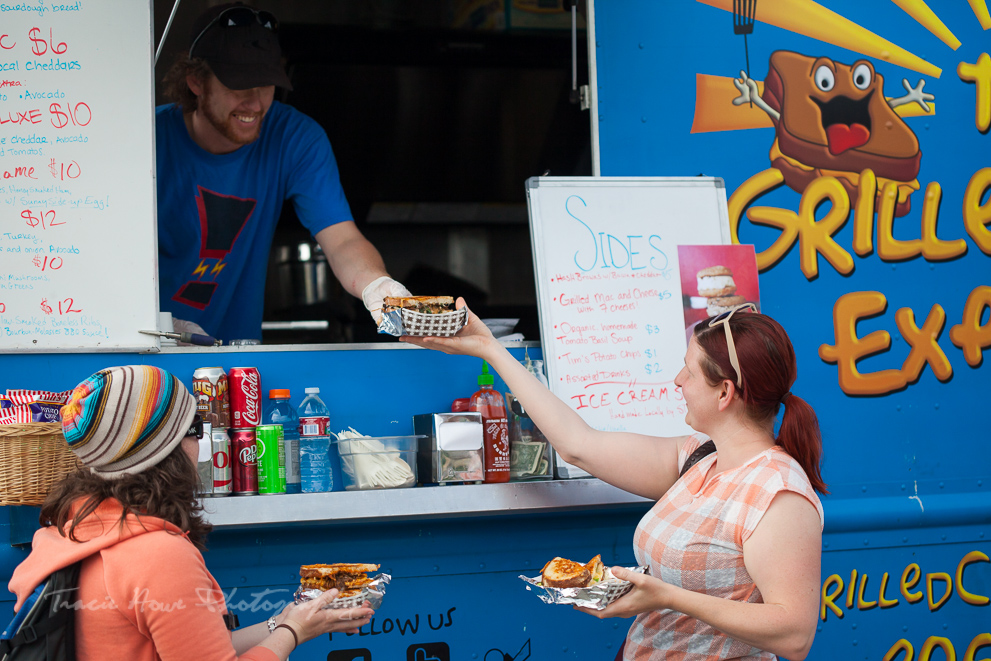 Street Treats
At this point we could have rolled all the way home. But of course there is always that inclination for something sweet after such savory fare. We didn't have any more trucks lined up, but as luck would have it Josh was featuring ice cream sandwiches made my another beloved Seattle Food Truck – Street Treats.
Our Food Truck Marathon had come full circle, as Tracie came up with the idea for this project after enjoying some of Street Treats amazing desserts. Diane, the owner and fellow world traveler was immediately supportive of the project and had recommended some of her favorite trucks. We made room, somehow, and then played the most delicious round robin style game of pass the ice cream sandwich on the beach.
We gobbled up a snicker doodle with orange ice cream combo that conjured up childhood creamsicle memories and a snicker doodle with mint chocolate chip ice cream that was very refreshing. All of Street Treats creations are made in house, completely from scratch and you can taste the difference it makes. I can not wait to try more flavors and some of their bars. Street Treats can be found at several Farmers Markets and events throughout the summer. Check out their website for info on where they'll be and their custom catering.
So, there you have it – three girls, one day, and the bounty of five food trucks! Talk about being happy and full bellied. It was an adventure we won't soon forget, though we may have to wait a few months before attempting another food truck marathon. A harvest themed day of food trucking will likely be in order come fall. The three of us were blown away by the delicious fare that the trucks were able to offer, and at really reasonable prices when you consider the quality of ingredients and what you have to pay at restaurants for the same caliber of food.
A more surprising take away was the powerful food truck community aspect. Everyone we spoke with had such enthusiasm for and dedication to the Seattle Food Truck scene. They all had such wonderful things to say about other Food Truckers and the community as a whole. Surely there must be some sense of competition at play, but we didn't see it. The Chefs, owners and staff we chatted with all seemed to see more food trucks as a good thing for all of the trucks and for the hungry people of Seattle. We couldn't agree more.
Thanks to all of the Seattle food truck vendors for letting us sample your tasty fare!
---
Written by Jen. Photographed by Tracie.