---
Written by Jen. Photographed by Tracie.
---
Our third day on the Alaskan cruise was also our first port of call – Juneau. Tracie and I met up on deck for the afternoon sail into Juneau, which is gorgeous. Mountains surround the quaint city, and float planes take off and land as the ships come and go. The weather was decent and had been every day of our trip thus far. Three days into an Alaskan cruise without rain, and with sunshine is not to be taken for granted. We had both spent really rainy weeks in Alaska in the past.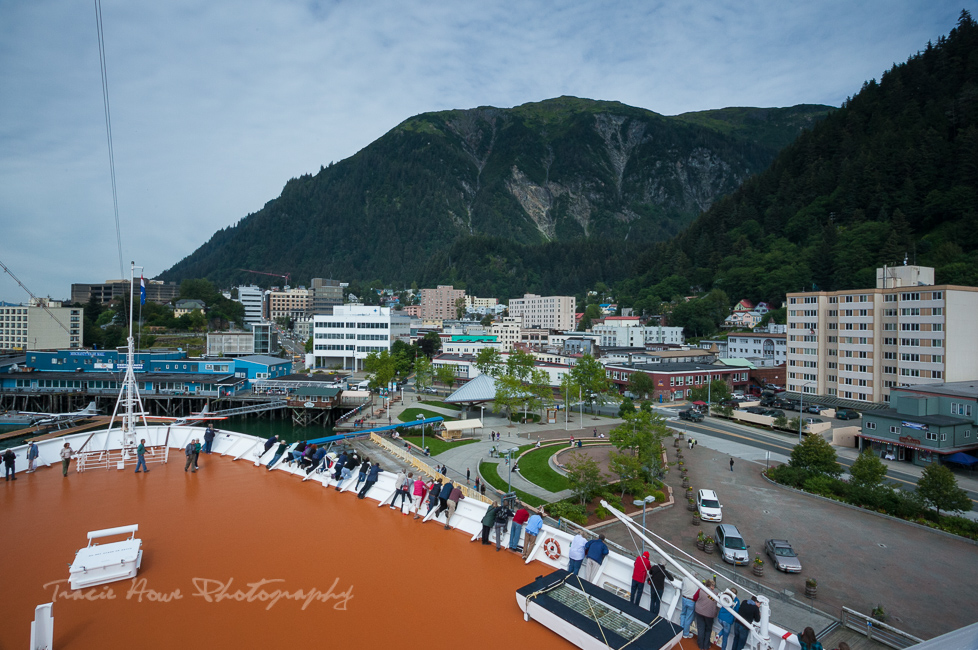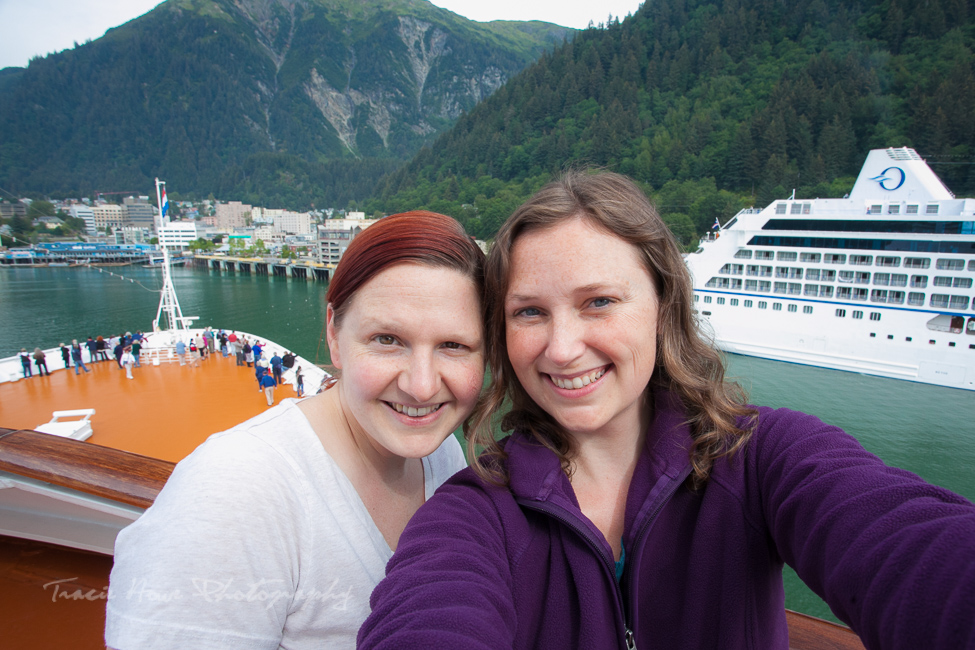 The afternoon arrival meant that nearly everyone on board wanted to get off the ship as soon as the gangway was lowered. We took our time getting ready and waited for the rush to be over. We were signed up for a Discover Alaska's Whales Tour with Gastineau Guiding, and spent the half hour or so we had to kill before it started wandering the town center. It was another trip down memory lane for us both. We had to laugh as passengers flocked to the infamous Red Dog Saloon, and the plethora of jewelry shops that seem to line the main street of nearly every port in North America. With zero interest in diamonds and tourist traps, Tracie and I admired the natural beauty that surrounds Juneau and enjoyed the fresh air.
We found the Gastineau Guiding team amongst the many tour companies lining the dock and checked in for our whale adventure a few minutes early. Our excitement was palpable. I don't know that either of us could ever tire of seeing whales, they are such majestic, beautiful creatures. The small boat we boarded for the tour was much smaller than boats I'd been on in the past for whale watching and we snagged two seats up front. Whale watching always feels like buying a lottery ticket or some sort of gambling to me. You play and hope to win big. And even if you don't hit the whale jackpot, you usually still win on an Alaskan whale watch, as they guarantee whale sightings (On rare occasions when no whales are seen, customers are refunded $100).
We sailed out maybe 15 minutes before we started seeing the spouts of humpbacks. As they got closer, the awesome sound of them breathing out got louder and louder. The captain turned off the boat and we drifted amongst eight or nine whales, some together and some solo. They were swimming and diving and would come up in various spots all fairly close to us, and extremely close a couple of times. It seemed to make everyone's heart stop when they'd get within 25 meters or so of the boat. You'd hear a collective gasp from everyone on the tour – another great sound. Whales are magical. I don't care how cheesy it sounds, it is true! Tracie and I were hoping to see Orcas, a breach, and we really wanted to see bubble net feeding. No dice this time around, which is fine. Any encounter with whales makes Tracie and I both giddy. There were some lovely gentlemen from Quebec in our group and we bonded over our passion for whales – all working as team to spot them, calling out when they'd surface.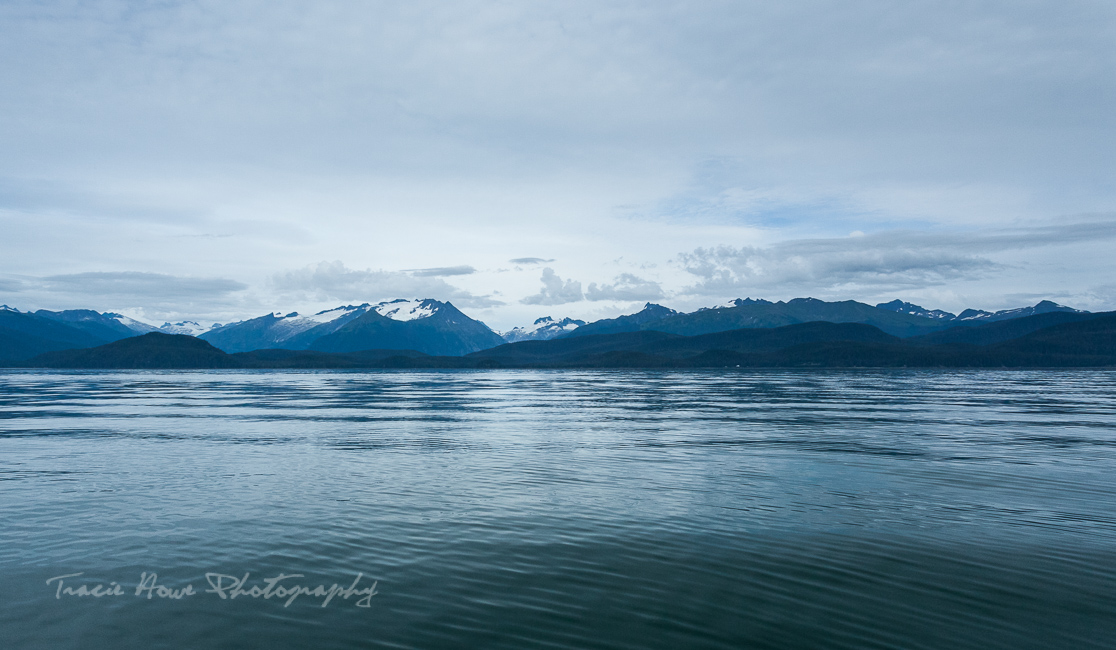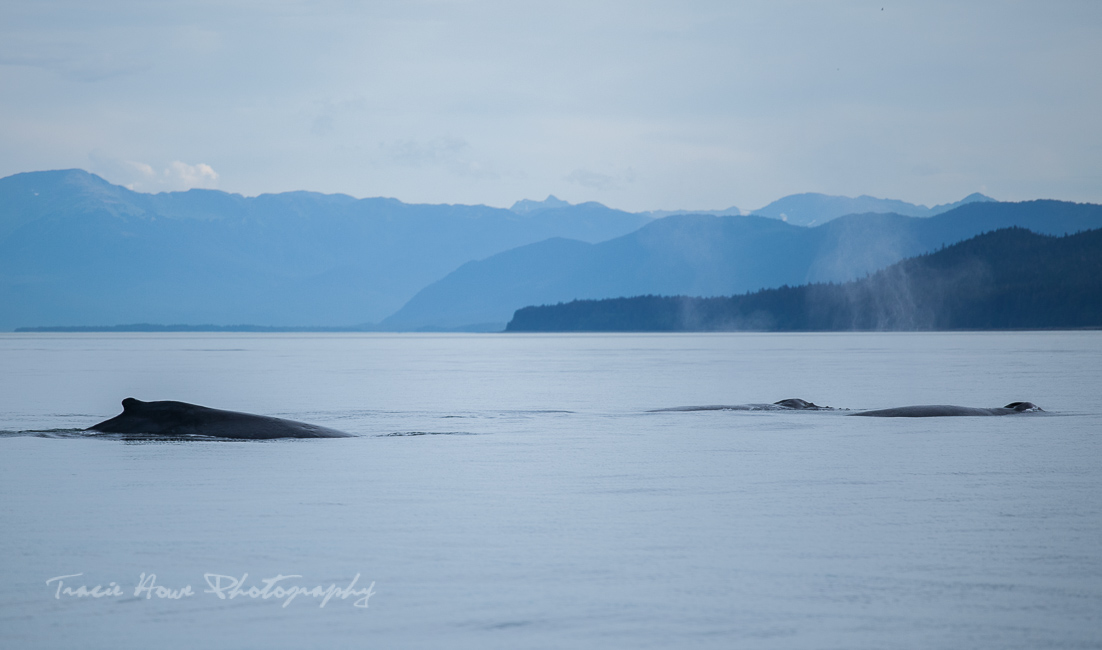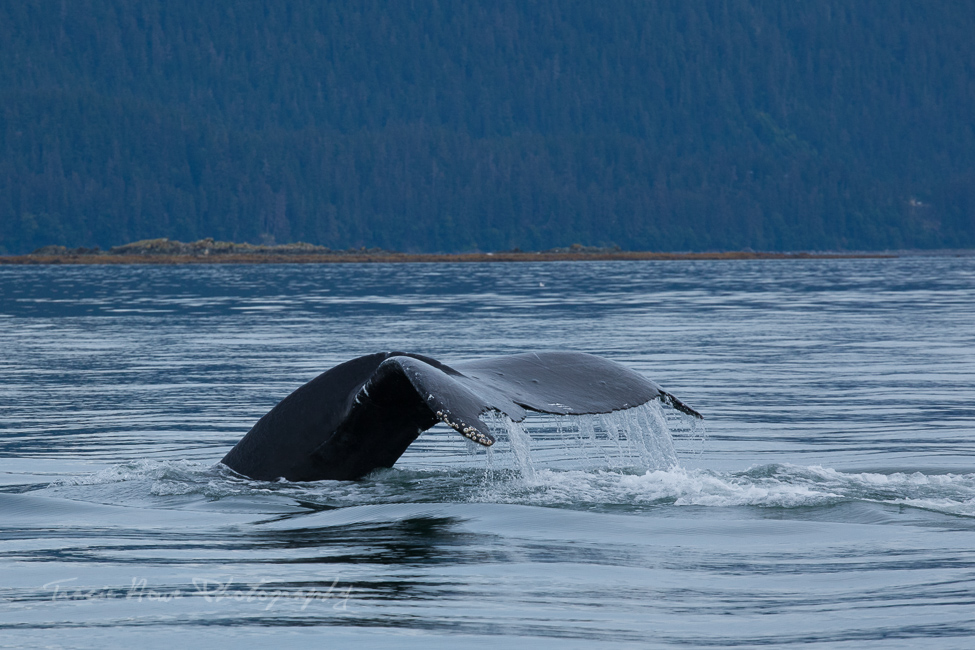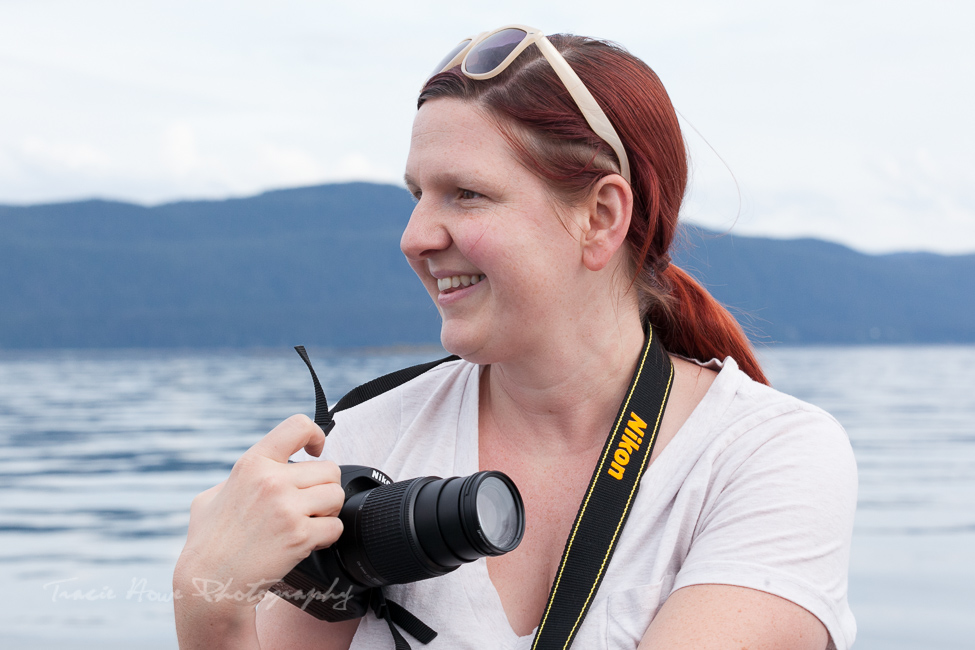 Whales were by far the stars of our excursion, but we also saw sea lions, one playfully hung about while we were in the thick of the whale zone. He was cute but of course played second fiddle to the humpbacks. An eagle also came onto the scene, swooping down into the water, catching a fish. We were both pretty whale focused but have to admit that the eagle catching a fish was an impressive sight. I think we would've been content to stay for many more hours watching whales, but the tour only lasted about 3 hours. We made our way back to shore, stopping to see a few more  sea lions and eagles along the way.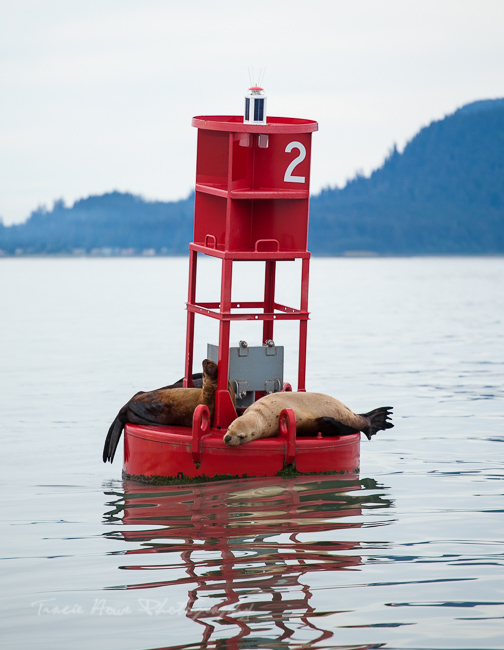 Tracie and I split up once back in Juneau as she was keen to get to the top of Mount Roberts for a scenic hike and photography session. I met up with Scott and Inge and had dinner at Tracy's King Crab Shack. Located on the docks, right near the ships, Tracy's is a favorite amongst the crew, guests and locals. For a second night in a row we feasted decadently. I opted for the crab combo which consisted of crab bisque, crab cakes and a king crab leg. Inge got the same and an order of snow crab for us to share. It was all mouthwateringly delicious. We drank local beer from the Alaskan Brewery and a Washington State rosé, which both paired perfectly with the crab. Tracy's seating is all outdoors, and has a rustic, western feel.
Tracie did make it to the top of Mt. Roberts via the tram, though she nearly didn't. When we parted ways I had gone directly to the crab shack and she hopped back on the ship to drop off a few things. While she was heading up the gangway her ID card slipped and fell over the side of the gangway, and got caught in the net below. It had nearly gone in the water! When she asked security what they would do they said she'd have to stay on board and get a new card made to use for the rest of the cruise. Luckily she bumped into a high ranking officer who took pity and had some crew members raise up the net to get her card. Left with very little time, she wasn't sure if she'd still be able to make it to the top and back. But having been given her card back, she decided to go for it and rushed to the tram. Once at the top, Tracie ran up the trail to see the epic view that she had remembered from so many years ago… She even managed to snap a few night shots in town as she rushed back to the ship, keeping a close eye on the time.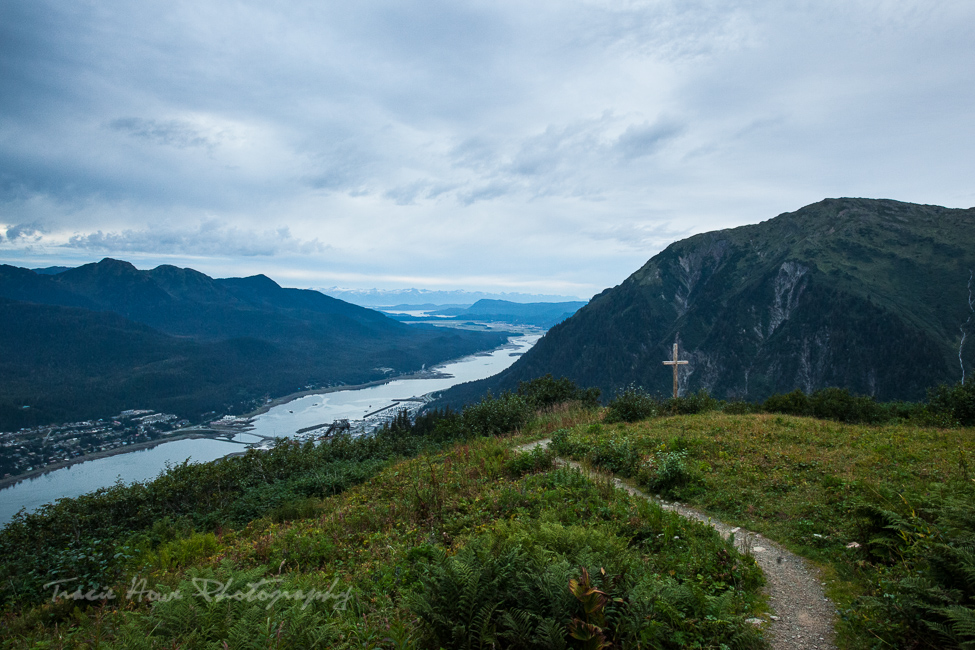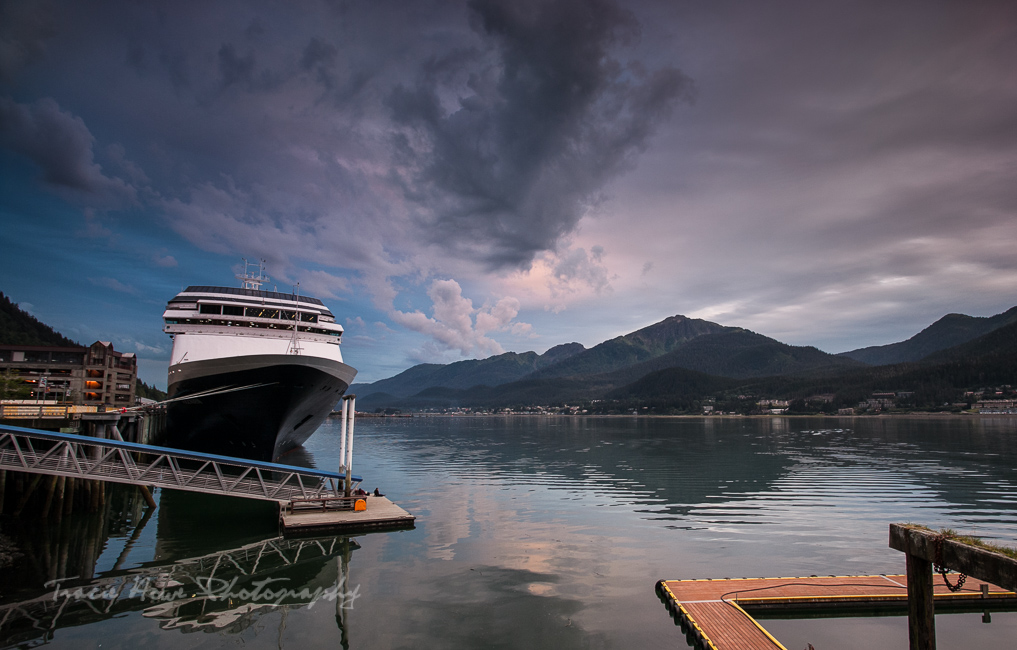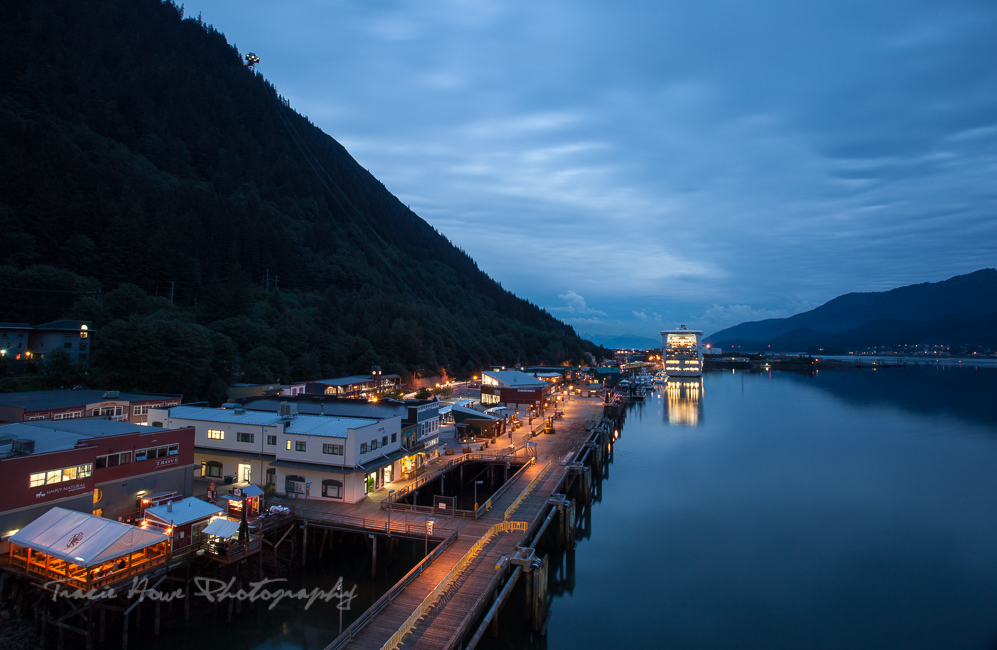 Tracie and I met back up on board in the OB (Officers' Bar) and shared stories of our day with our friends. We were beginning to feel right at home, just like in our old cruising days.
---
Written by Jen. Photographed by Tracie.