I have wanted to photograph The Great Prosser Balloon Rally for the past five years or so, ever since I found out about dozens of hot air balloons flying over Prosser, WA. This year I finally got my chance!
Shooting a wedding that Friday meant that I would leave for the 3 hour journey the next morning. I would miss Saturday's sunrise balloon flight, but my plan was to scout locations, go see Night Glow, and be there for Sunday's early morning flight. I thought I had it all perfectly planned out… except that I made one huge mistake.
Photographing the Prosser Balloon Rally – know before you go
Scout and talk to the locals
Before my trip, I couldn't find anything online about photographing the Prosser Balloon Rally, let alone where the best spots on the ground were, so what I know is from a combination of using Google Maps and talking to locals. Once I got there I scouted the places I had found on Google Maps and then asked at the Chamber of Commerce for any suggestions. I was then pointed to a few possible places, but in the end I decided to start at the Prosser bridge. I figured that the advantage of the bridge would be having a river view, knowing that many balloons would stop over it (with the landing point being close by), and that I could choose either side of the bridge depending on the best light. Originally I had considered starting at the airport where they would take off, but the locals had informed me that traffic would prevent an easy exit, delaying my chances of getting to a good spot in time.
Attend Night Glow and know what to expect
Night Glow is a part of the Prosser Balloon Rally festivities which takes place on one of the evenings at Art Fiker Stadium. A few hot air balloons are filled while anchored to the ground and then lit from within. Again, I didn't find much information on photographing this, so I hope I can help anyone who may be wondering about it.
I suggest going when the gates open to claim the best spot. I wasn't as excited about this as I was about the morning flight, so I didn't show up too early. I had a bit of trouble finding a spot to stand with my tripod where I wasn't blocking someone else's view or encroaching on another photographer's space. However, since the size of this festival is nothing like the size of one in a major city, I still managed to find several potentially decent spots. I ended up going up the hill on the bleacher side of the field and shooting over the top of a line of shrubs.
Once the balloons begin to fill, get ready to listen! Soon the main lights will turn off and the balloons will light up from within. You should know that they only light up for a quick moment, so be ready with your settings! The announcer will introduce each balloon which will light up in turn. Then he announces whatever lighting up sequence will happen next: a popcorn lighting (random bursts from any balloon), a wave (each one lighting in order), a full burn (all glowing at once), and in sequence with music. Listen carefully! If you want to shoot all the balloons glowing at once, your timing has to be quick with a short exposure during a full burn. I tried that and also a long exposure for the others. Don't make your exposure too long, as you may capture slight movement in the balloons. Don't worry though, you will have several opportunities to try different techniques. These are what I captured with a shorter exposure and higher ISO.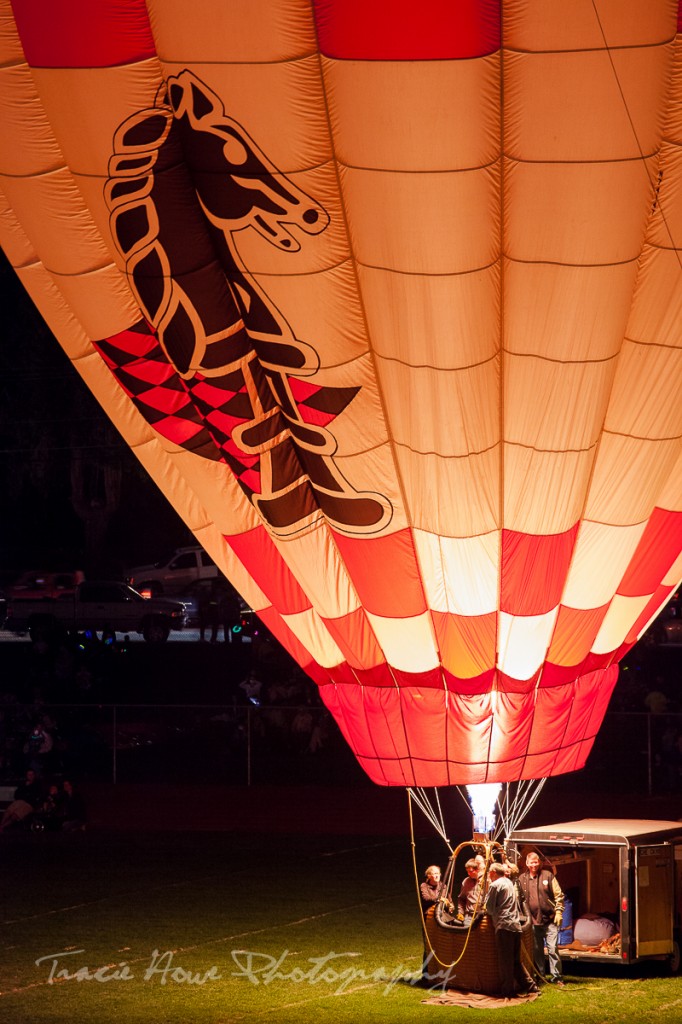 Stay in Prosser and book your accommodation early
One of my character flaws is waiting too long to plan the logistical details of a trip. I prefer spontaneous traveling if possible, but when there is a festival going on, this is not a good option. Prosser is not a large town and accommodations are already limited. I ended up staying in Richland, about 30 minutes away. This meant a lot of driving back and forth to the different events. Also, if you are already in Prosser, that 6:30am balloon flight won't get you out of bed quite as early.
Try to go for the entire length of the Prosser Balloon Festival!
Speaking of waking up early so far away from the events in Prosser, let me tell you how my Sunday morning went…
I woke up swearing with the realization that my alarm (phone) inexplicably died in the middle of the night causing me to wake up an hour later than when I should have been there. There, being that carefully sought out place on the bridge, 30 minutes away in Prosser. According to the locals, the flight time for balloons was anywhere from 30-45 minutes, so I was desperately hoping to catch the last 5 minutes!
After racing there and thinking I still had a few minutes of flight time, I saw one balloon on the ground and that was it! I was devastated after so much anticipation, but did I seriously miss all of the balloons because I didn't plug my phone in over night? No. It was because, despite the beautiful sunny day, there was simply too much wind for the balloons to fly. Although I was still disappointed, I have to admit that my spirits rose a bit knowing that missing the balloons was due to no fault of my own.
Apparently this is a fairly common occurrence and in fact happened last year. Had I been able to attend the other days of the festival this year I would have gotten to see and photograph the balloons in flight. SO, I highly recommend going for all three days, just in case. And that is my biggest tip for photographing the Great Prosser Balloon Rally! ;)
Lesson learned
I am glad I decided to attend Night Glow since it was my only real opportunity for photographing the balloons, and I did manage to get a decent sunset shot of the distant hills of picturesque Eastern Washington. However, since I didn't see the balloons fly, I can't say for sure that my location planning did me a whole lot of good. That spot on the bridge may or may not be the best spot, but I'll try it next year… on a Friday!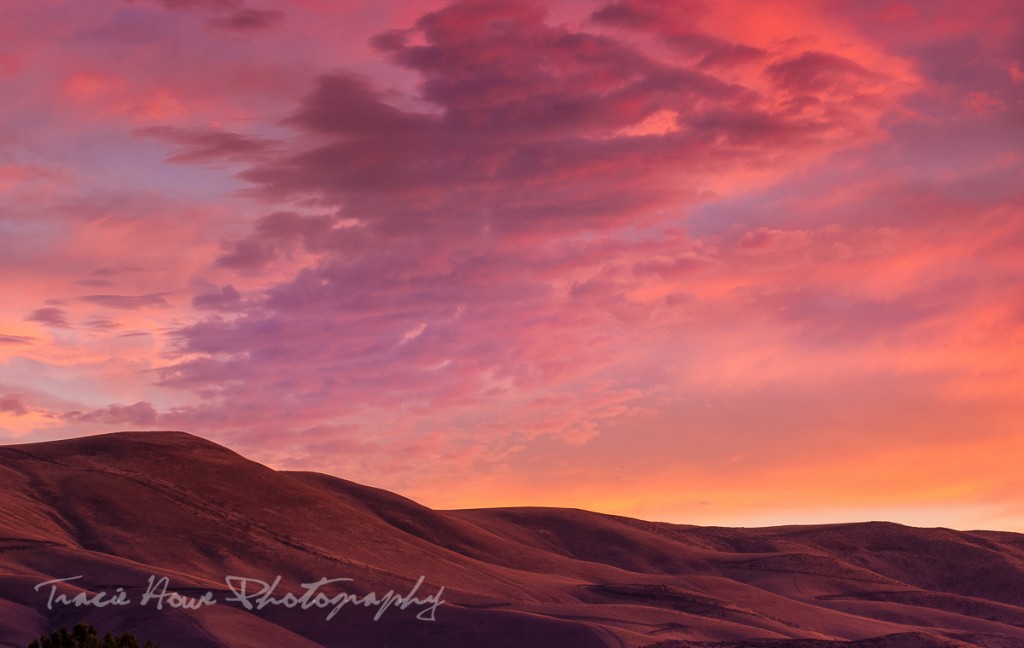 If you're interested in trying out my chosen spots, just follow the Gap Rd exit toward downtown Prosser. The bridge will be obvious, and if you pass the Quilted Country Inn (where the owners and renters were especially helpful for my scouting) you have gone too far. I was also considering Crawford Riverfront Park as an option. I chose these locations based on what knowledge I had and knowing how I wanted to photograph the balloons. Consider just hanging out around town if you are only interested in viewing the balloons, as I hear they fly all over the place. :)
Have you ever photographed the Prosser Balloon Rally? I'd love for you to share your tips in the comments below!