Only one day to visit New Orleans?
There is so much you can do in just one day when visiting New Orleans, that I had to break up my suggestions into two posts. Be sure to read Part 1 here.
An afternoon at City Park
If you're not heading off into the swamp (suggested as an alternative to staying in the city) and you're up for more fun, take a cab to City Park. It's a little far to walk, so this will give you a chance to rest your legs. If you did bring a car into the city, and you're staying at Dauphine Orleans Hotel like we did, the hotel has parking for a fee which is very convenient for little trips like this. You can also take a streetcar all the way there, but this will take much longer.
If you're a nature lover like me, you will enjoy wandering the expansive grounds of the 1,300 acre park to admire the grand oaks and Spanish Moss. I took a photo of the map at one entrance of the park so I could find may way around. Dave and I started at the south end of the park, wandering along the water, appreciating all of the little scenic treasures that we found from pretty fountains to tiny bridges. When you need a break from walking or if you have kids, you might hop on board the little train that meanders through the park (not available in the winter).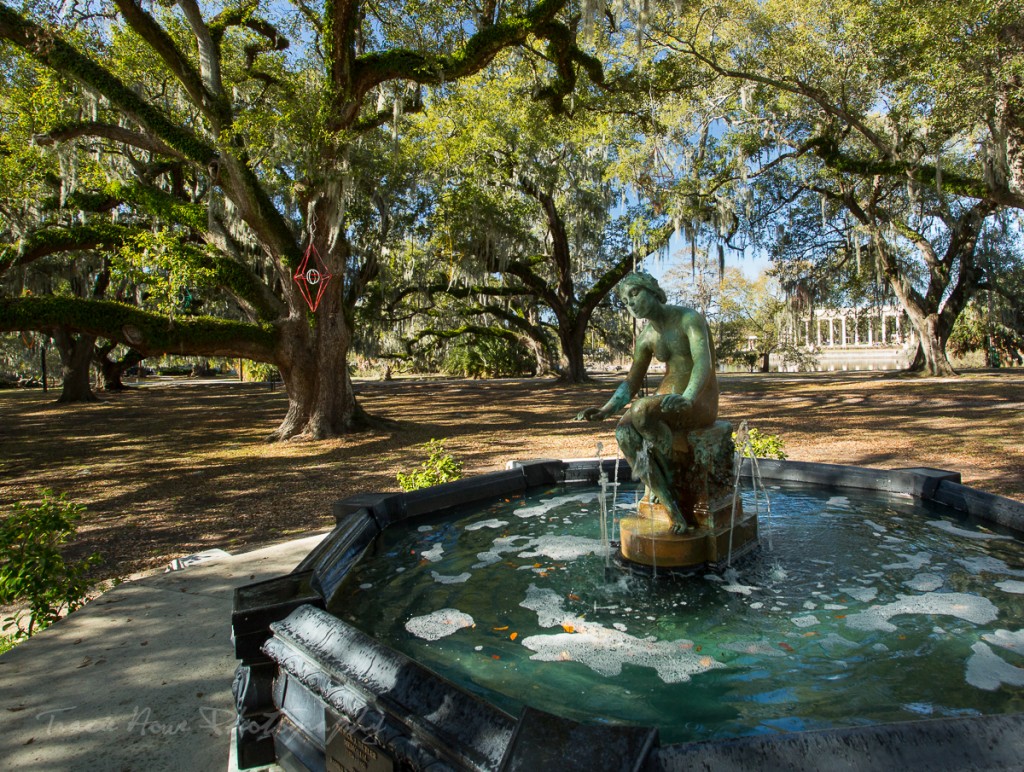 If you're not tired of walking, check out the Botanical Gardens next. They were nice enough to offer us complimentary admission to explore the pretty gardens, but normally tickets are just $4 for adults. There are several varieties of gardens both indoor and outdoor, delighting the senses with colors and fragrance. One of the most notable is the Train Garden, a miniature train scene of historical New Orleans. Wandering through the rest of the gardens, I noticed chandeliers hanging from some trees and I began picturing the beautiful events that must take place here. Once again I was left with the intense desire to photograph another New Orleans destination wedding!
At this point you might need a snack. Fortunately, the city's popular Cafe Du Monde is IN THE PARK to provide you with a delicious afternoon beignet treat and coffee to keep you going. From here you can continue exploring the massive park, check out the Art Museum or it's outdoor sculpture garden, or take a kayak out onto the water. The recreational opportunities here seem limitless!
If you have kids, they might really enjoy one of the small amusement parks: Carousel Gardens, which is open seasonally, and Storyland, which I would have played in myself if I had an excuse as an adult. If you're pooped by this point, you can just chill out. Take a nap in the late afternoon sun on the grassy field or in one of the many porch swings available around the Great Lawn. Dave and I spent a lot of time at City Park and even went back for a few hours another day. I'm pretty picky about my parks, spoiled from the quantity and quality of parks available in Seattle, but this one definitely exceeded my expectations! I highly recommend checking it out and visiting their informative website for more information: www.neworleanscitypark.com
Dinner, drinks, and dessert
By this point in the day, you are probably ready for a break. Head back to your hotel in the French Quarter and relax until you're ready for dinner. If you're back in time, you can enjoy afternoon tea at Dauphine Orleans, available daily from 3-5pm near the pool. Maybe even take a nap to refresh yourself for the evening to come.
Some people say that you should avoid eating in the French Quarter because of the high cost, but you can definitely find some good meals for decent prices. I say that if you have only one day, go for it, and don't think about prices too much. There is such an abundance of yummy southern, cajun, creole, and seafood in the French Quarter that you will have plenty of options. I encourage you to just look around for the ambiance that you want and read the menus that are all conveniently posted right outside of each restaurant. I had a particular hankering for catfish just about every day, so that's what I tended to look for. To each their own though!
After dinner, take another stroll around the French Quarter or the riverfront, perhaps stopping at those places that you might have skipped earlier in the day. The French Quarter really comes alive at night! You could certainly spend some time people watching, but I suggest finding a bar with live jazz and having a drink or two to wind down from your long day. If it were me, I'd probably opt for a southern dessert like Pecan Pie after a walk along the river.
A night cap and some much needed rest
When you're ready, head back to your hotel, eat the cute little chocolates that have been left on your pillow or enjoy your complimentary drink at the hotel's bar, May Bailey. Maybe even sit outside on your balcony with your to-go cup and observe the not-too-busy night life below, just removed enough from the noise of Bourbon Street that you don't have to worry about sleeping at night. Crawl into bed, fluffy blankets and pillows surrounding you, and think about your long, exhausting, but totally worthwhile day in New Orleans. Dream about coming back…
*All opinions and photos are my own and based on my experiences. Dauphine Orleans provided a discounted rate for our stay, but I was not financially compensated for this post.