Granite Gear stuff sacks
Every little bit of space counts when it comes to backpacking and I needed that valuable space for my most recent trip to Southeast Asia. I am not one to skimp on the amount of clothes that I bring on a two month backpacking trip, so I needed a way to make all of my clothes fit into my backpack which already had to hold a lot of camera gear and other essentials. The solution that had been evading me for so many years past was to use stuff sacks!
If you're not familiar with stuff sacks, they are compression bags that close up with the ability to push out extra air which would otherwise take up valuable space. Before my last trip I was only familiar with stuff sacks as sleeping bag cases, but when I realized I should use them for clothes, I thought I had had a packing epiphany!
I already loved Granite Gear products and I was excited to see that within their Packing Systems line there were several kinds of stuff sacks available. They provided me with two to try out during my trip – the Air Compressor and the eVent Sil Drysack. In this post I will share with you how these two magical bags made packing so much easier!
Air Compressor
I chose an XS Air Compressor in blue. At 1.8 ounces, it's ultralight, capable of carrying 8 liters worth of stuff. Clothes in my case! The micro cord drawstring is super strong to tighten down, and the cord lock releases the tension very easily when you're ready to get into the bag. The slightly see through durable Nylon fabric allows you to see what you've packed inside. This puppy can shrink down to itty bitty!
eVent Sil Drysack
I got an XS eVent Sil Drysack in green, which can hold 10 liters at 1.3 oz. This was my slightly larger, waterproof option. The roll-top closure ensures that water doesn't find its way in through an opening. In addition to a way to pack my clothes, I wanted a bag that doubled as protection for my camera in particularly wet situations. I used this waterproof dry bag to keep my camera gear safe on boats and beaches during some snorkeling trips. This one is also super durable, yet lightweight. The eVent Sil Drysack does not compress quite as well as the Air Compressor, but it does squeeze out extra air through an eVent purging air bottom, making the bag small enough to fit into my backpack alongside its counterpart.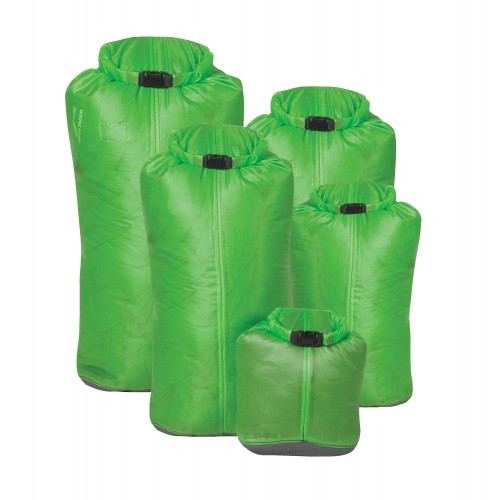 Why not use any old bag?
Stuff sacks are ideal
I've already explained what a stuff sack can do, but I just want to emphasize this point. What happens when you try to shove clothes into a small bag? As soon as you let go, the clothes rise up, right? You can try to push out all of that extra air yourself, but a bag designed for this will work MUCH better. The materials and construction are meant for squeezing out air without letting any back in while holding up to that kind of stress. You can see the difference between a bag stuffed to it's limit before the stuff sack action happens and after. That little bit of space saved can make a huge difference when you're carrying everything on your back!
The narrow shapes of the bags, even when stuffed full, allow you to easily pack them side by side into a backpack. Even better, the slightly slippery material makes them easy to slide in to a narrow space. In my case, both fit perfectly side by side within my backpack.
Durability
I've used Granite Gear products before, so I knew I could rely on the quality of the materials and construction. I really put both sacks to the test during my backpacking trip, shoving them to full capacity many times over the course of two months. I never managed to break open any seams, which honestly is shocking considering the amount of pressure that I put on these bags! I always felt very satisfied after shrinking them down in size, like I had won some sort of packing challenge game.
Not only did the Nylon sack materials hold up, but the buckles, cords, straps, and stitching did too. I was particularly impressed by the durability of the Air Compressor's cords (the blue one) that I stretched and pulled on until I thought they might break. But they never did!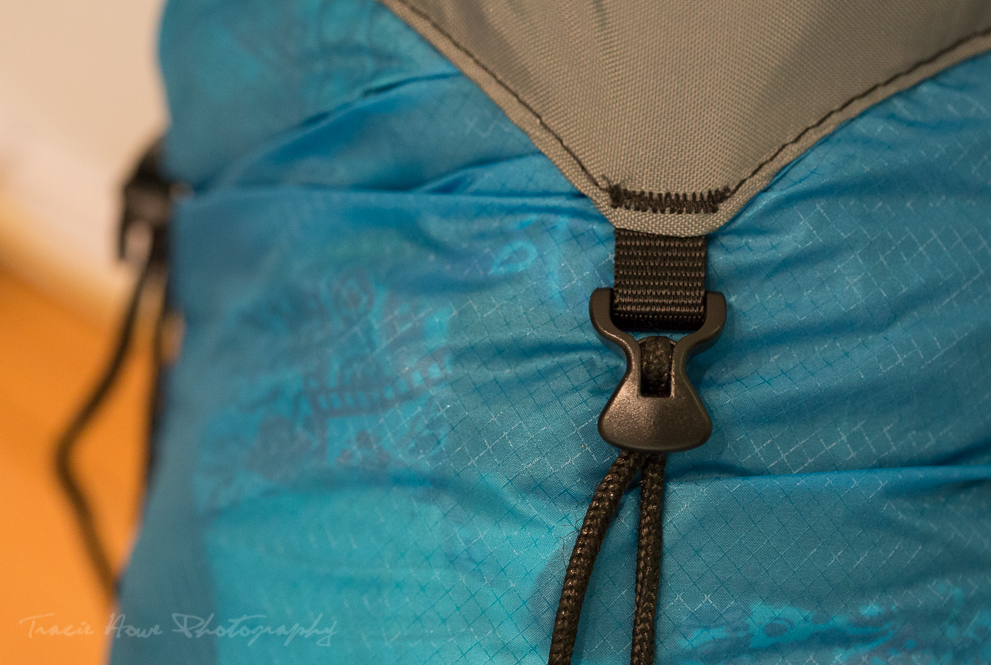 Versatility
As I've already mentioned, I was able to use the eVent Sil Drysack also as a dry sack, which is more it's primary purpose than as a stuff sack. However, it worked just great for both. While the Air Compressor stuff sack is not described as being waterproof, the Nylon material was similar to that of the dry sack, making me feel like my clothes would be safe enough from any rain that might have gotten through my backpack.
Since the sacks are different sizes, I chose what to put in each, according to the situation. If most of my clothes were clean, but some were dirty, I would put the smaller load into the smaller bag. Sometimes it was the other way around, which usually meant I needed to do laundry at my next destination! If everything was clean, I could decide that one bag would have an entire outfit planned for the next day or two, along with my pajamas. That way I didn't even need to open the other bag for a few days.
I loved having two small bags for clothes, rather than one larger bag. This made my packing strategy a little more flexible if I picked up souvenirs or extra food. I was able to adjust the size of both sacks to compensate for the amount of stuff. I also had the option to distribute everything differently inside my backpack depending on how much I had of each item.
Choices
It's the little things that count, right? I know this is silly, but after a long stint on the road when you wear the same thing over and over again, a pretty color can really brighten your day just a little bit. Both bags come in a few different colors. I chose blue and green because those are my favorite colors. :)
The bags also come in several different sizes. I opted for smaller sizes, which is probably a good idea when you're trying to keep size and weight to a minimum. If you have more room, you might use it. So be careful! The eVent Sil Drysack has an even smaller size available at 7 liters capacity and 1.2 oz.
Final thoughts
I liked having two different kinds of bags for a variety of purposes, but if I had to choose again, I'd probably get two Air Compressor sacks for my clothes. One XS and one S. Maybe even three XS sizes. The Air Compressor is really meant to pack down quite a bit in size, while the eVent Sil Drysack is meant more as a dry bag. I'd definitely still pack it though, because it saved my camera gear many times from salt water, rain, and sand. Nothing could get through it!
Granite Gear also offers a hybrid of both bags, the eVent Sil Compression Drysack, which is probably worth trying out. This one is a waterproof dry bag and compression bag with a roll-top closure. Presumably the best of both worlds!
Where to buy them
You can go straight to Granite Gear's site to buy them. Remember, I'm also an Amazon affiliate, so you can support this site by purchasing through these links:
If you do end up with a Granite Gear product, use the hashtag #WhereIGottaGo if you post a photo to Instagram of a place that you just had to go. Share your story of why you had to go there and at the end of the month, Granite Gear may reward you with a feature and small prize.
*All opinions and photos are my own and based on my experiences, unless otherwise noted. Granite gear generously provided me with a complimentary duffel bag to review, but I was not financially compensated for this post.


If you liked this post, check out these: