*** If you haven't read about Day 1 in Union Gap, head on over to that post first , then be sure to come back!***
Day 2 in Union Gap
After a restful night in our comfy beds at the Best Western Plus Ahtanum Inn, Dave and I enjoyed the hotel's complimentary breakfast and delicious coffee. I love me some vanilla creamers! We then piled on layers of our warmest clothes and headed out for our winter adventure.
Snowmobiling
We met up with Eric to pick up our snowmobiles from his brother-in-law. From there we drove separately out into the surrounding foothills. All the while I was impressed at Dave's handling of the truck and trailer that we were borrowing for the day. We ended up at one of the sno-parks outside of Union Gap, about 40 minutes from town. Only two other vehicles were there, so we were excited to have the place practically to ourselves!
It was not the weather we were hoping for, but at least the cloudy skies were sending down giant fluffy snowflakes. Dave and I are not used to much snow in Seattle, so for us it was lovely.
This was my first time on a snowmobile. It took me a while to get used to controlling a machine on skis, but Eric is a skilled driver and he showed us how to maneuver our bodies so that steering was easier and less scary. Prior to this outing Dave had gone snowmobiling once years ago, but he picked it up again pretty quickly. For me, learning to snowmobile was pretty easy… much more so than actually saying the word "snowmobiling"!
As we gradually climbed in elevation and the temperature dropped, the falling snow ended up being a hinderance as it froze to our helmet shields. I was constantly scraping mine off, which slowed me down even more. Fortunately, at our destination inside a forest shelter, we were able to warm ourselves with friendly company by a fire. It was fun to chat with these guys and to get a glimpse into the lives of a group of friends who make this a regular outing.
When we had snacked and warmed up enough, we ventured outside again and eventually made our way down to less severe weather. This is when I started feeling a lot more comfortable controlling my sled (I learned on this trip that sled is another word for snowmobile). I mostly stayed on the trail, but the guys went off trail few times to play a bit and then circled around to meet back up with me. This gave me the opportunity to take some fun shots!
We did all take a narrow side trail at one point, which led us to a pretty open meadow. Stepping off the snowmobile for pictures proved difficult as I sunk down almost to my waist! I couldn't seem to find a patch of solid ground under the snow! At a certain point it became pretty comical. I couldn't take a single step without sinking!
Eric told us that there were much prettier trails in that same area, not to mention beautiful views, but the trails were too treacherous for us beginners and the fog prevented us from seeing very far. It was a fun ride though, and one I'd like to try again some time. Maybe we'll go back again on a sunny day!
Elk feeding station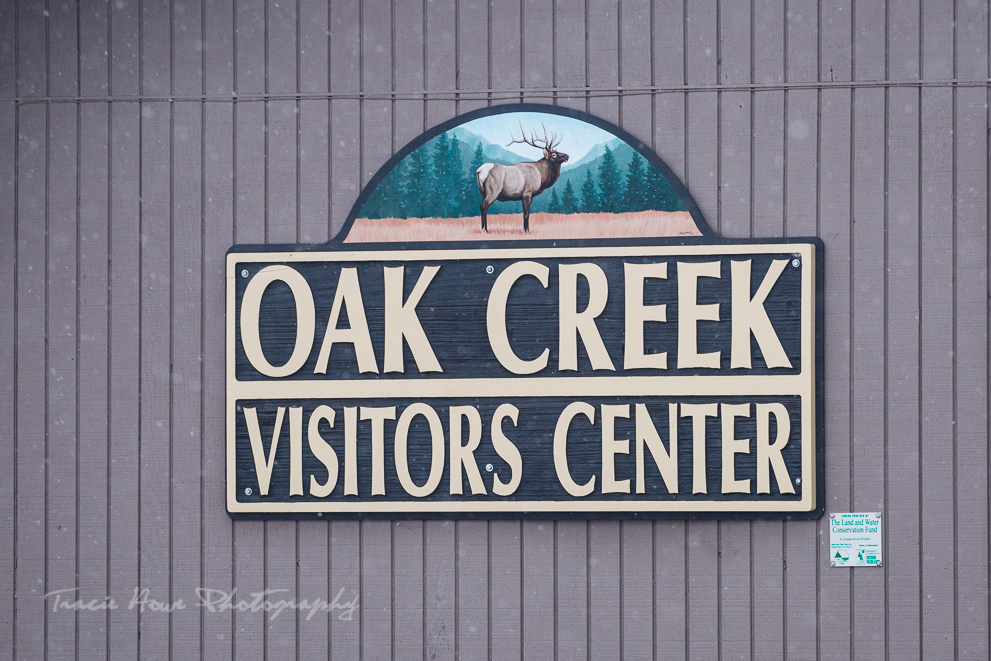 Before heading back into town, we made sure to stop and see the Elk at the Oak Creek Wildlife Area that I'd heard so much about. A feeding station has been set up here for wild Elk! I seriously didn't expect to see quite so many hanging out here. There were hundreds! They come down from the hills, and from what I observed (I went back again the next day at a different time), they also like to hang out there for a while.
Many stand around in groups, usually surrounding the clumps of food that are provided for them. When the males with big antlers come around, the others back away to let them eat. We also heard several youngsters calling to their mothers, wandering around looking for them. It was fascinating to see wildlife like this in massive numbers and up so close! They were also fun to photograph!
I'm glad I went back the next day, because the light was better for photos. The only challenge in photographing them was that they were all so closely grouped together. I imagine seeing them walk down from the hills would make for some nice photos if you have a long enough lens. I did see several on the hills in the area, but only had my camera ready to shoot a few as we drove by.

Twigs Bistro & Martini Bar
The active day left us all pretty exhausted. Dave and I returned to the Best Western Plus Ahtanum Inn to revive ourselves and prepare for a dinner on our own. We took our host's advice and chose to eat at Twigs Bistro & Martini Bar, because it was so close to our hotel. It's a local chain restaurant, but it ended up being an excellent choice for us. The food was amazing and our martinis were yummy! We were both stuffed by the end and ready for bed, just a short drive away.
Our final hours in Union Gap
Technically the following was part of our 3rd day, but we only spent a few more hours in and around Union Gap. However, they are worth mentioning!
Old Town Station Breakfast
Since we hadn't met up with Eric for dinner the night before, we decided that breakfast with him would be a nice ending to our trip. We ended up at Old Town Station restaurant, which is my ideal kind of breakfast place! It's got a diner feel and obviously very popular with the locals because it was busy. We had a nice breakfast and said our goodbyes to our gracious Union Gap host.
The drive back to Seattle
We found out I-90 was open, but we wanted to stop by to see the Elk again. The feeding station was on the way to White Pass, and the scenery in that area was so pretty with the new snow, so we just decided to take White Pass again. The traffic was much lighter on the trip back, likely because I-90 was open again.
Take Away
Our trip to Union Gap was full of activity and good food. Exactly what we would have wanted if we had planned it ourselves. Dave and I both came away feeling satisfied and happy to have enjoyed so many new experiences. Union Gap is a pleasant place to visit with plenty of options to keep anyone occupied, from families to couples to anyone there on business. I highly recommend it for a weekend getaway from Seattle!
Be sure to check out more photos from this trip on Facebook.
*Thanks again to our host from the Union Gap, Washington Tourism Board for treating us to such a nice trip! And of course to the Union Gap establishments that showed us what Union Gap has to offer. As always, all opinions and photos are my own and based on my experiences, unless otherwise noted.*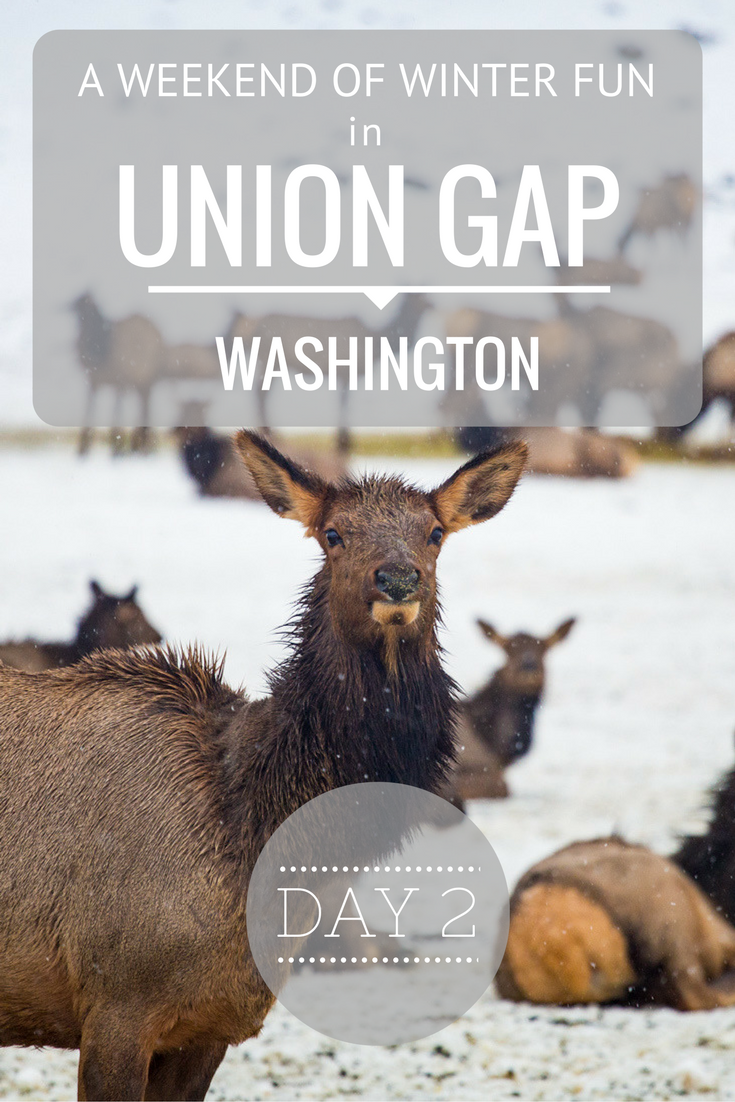 If you liked this post, check out these: