I have never done a list of things to do in Seattle – the city I know best!
Can you believe it?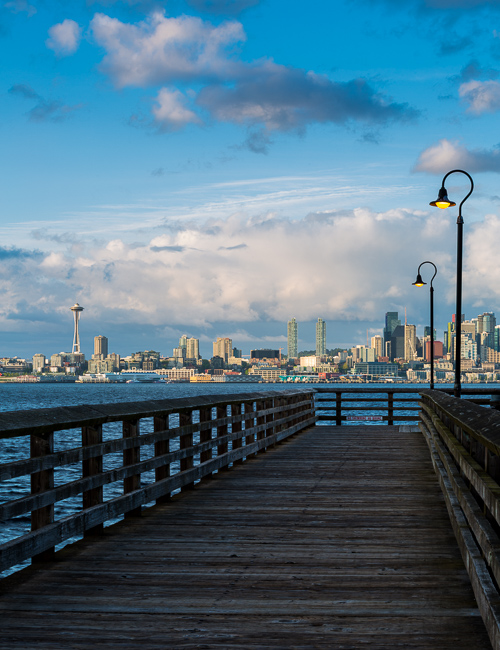 Well, it's about time, so I'll start with the TOP 10 things to do in Seattle when you visit. These are the 10 must-do things that Seattle visitors shouldn't miss.
Make sure you pay attention to the travel tips provided under each section and be sure to check my suggested route map for the top 10 things to do in Seattle!



1. Space Needle (Of course!)
It's Seattle's most iconic landmark and one not to miss! Definitely get up close and take a selfie in front of the Space Needle. You can go up to the top if you like, or even dine in the SkyCity restaurant. If you're not tempted to go up top, at least see what you're missing via the Space Needle's live (almost) webcam, here.
*Tip – The best time to go up in the Space Needle is around sunset. Be sure to get there early no matter what time you visit, because lines can be long on weekends and summer months.
 

2. MoPop (Museum of Pop Culture)
Formerly known as EMP (Experience Music Project), MoPop is a crazy, funky building well worth seeing from the outside, and only a few steps away from the Space Needle. Some would argue that the exterior is an eye-sore, but it's all a matter of perspective. For me, it's visually appealing and has a lot of photo potential.
The interior is just as quirky as the outside!  Inside you will find an entertaining mix of sci-fi/fantasy displays, music history memorabilia, and a variety of art exhibits. This is THE place to go for any fan of pop culture!
*Tip – Walk all the way around MoPop to admire the many curves, surfaces, and colors that make up this unusual building. Get a bird's eye view of it from the top of the Space Needle.



3. Chihuly Garden and Glass
Another close neighbor of the Space Needle is the newish Chihuly Garden and Glass. If you're already visiting the Seattle Center (home of the Space Needle and MoPop), there's really no reason to miss this fantastic display of modern glass art, a collection by artist, Dale Chihuly. Here you'll delight in the beautiful gardens, glasshouse, and eight galleries of glass sculptures.
*Tip – Visit the outdoor areas on a clear day so your photos will pop against the blue sky! Be aware that tripods are not allowed in the galleries.



4. Pike Place Market
There is much more to this bustling and vibrant market than fish tossing and flower selling! Pike Place can claim the very first Starbucks, so be sure to grab a coffee or a photo there. After that, you should dedicate at least a few hours to exploring the historical buildings, finding the infamous gum wall, admiring local arts and crafts, and checking out the brand new Pike Place Marketfront. You'll probably want to grab a meal too, or at least sample some local treats like smoked salmon, honey, and apples.  If you're too overwhelmed to explore the market on your own, there are lots of tour options. My favorites are the food and ghost tours!
Pike Place is a Seattle must and even more so now than ever!  As of June 29th, Pike Place Marketfront is an expansion that connects Pike Place Market with the waterfront (more on that below), providing more space for all that we love about the market.
*Tip – Weekend summers are the most crowded. Make it a weekday visit any time of year to miss the crowds.



5. Seattle Waterfront
Just down the hill from Pike Place Market and now super connected by the new Marketfront, is Seattle's beautiful waterfront! Technically, this could be broken down into a few different must-see attractions, but they're all right there on the waterfront, so I'm throwing them all at you here!
It's so easy to spend an afternoon wandering aimlessly here, stopping whenever something strikes your fancy. You've got boats to take you anywhere from West Seattle all the way to Canada, seafood restaurants galore, street performers, specialty shops, and so much more! However, if you need a little direction, try starting on the south end with lunch at Ivar's, a seafood staple for Seattle locals. Be sure to pay Ye Old Curiosity Shop a visit too. Open since 1899, this novelty shop sells and displays oddball items like shrunken heads and Mexican Jumping Beans right alongside plain old souvenirs.
Continue north to find historic Miner's Landing at Pier 57, full of restaurants, souvenirs, a carousel, and even a "flying theater" ride called Wings Over Washington (Seattle's newest tourist attraction).
Another new(ish) attraction and certainly now a Seattle icon, is the Seattle Great Wheel. Climb aboard for a stellar perspective of the city and Puget Sound. When you're feet are back on the ground, don't miss a visit to the Seattle Aquarium. Say hello to the giant Pacific Octopus and adorable otters while you're there!
Keep heading north along the water to find Pier 66. Pier 66 is home to a cruise terminal and many great restaurants. My favorite spot is the viewpoint (of course) from the roof of an amazing waterfront venue, Bell Harbor, which also looks over the marina next door.
*Tip – You can spend all day on the waterfront, especially if you combine a day there with Pike Place Market. A nice way to end the evening is to hop on a very affordable water taxi over to West Seattle. Here you can enjoy a fancy meal with a view at Salty's or a casual meal with a view at Marination Ma Kai. Both offer delicious food and fabulous scenery!


6. Olympic Sculpture Park
Open for just a decade, this outdoor branch of the Seattle Art Museum quickly became a favorite among locals and visitors to Seattle. The beautifully maintained landscape offers sweeping views of Puget Sound, dotted here and there with unique outdoor sculptures that only enhance the scenery. Trails connect Olympic Sculpture Park to its pretty neighbor, Myrtle Edwards Park, extending the pure park pleasure!
*Tip – Rent a bike to ride on this waterfront trail that continues through Myrtle Edwards Park, and further North before turning around to head back. It's a beautiful ride and relatively flat!




7. Kerry Park
There are some amazing viewpoints in Seattle, but Kerry Park has it all. It's easily accessible – just a jaunt up the hill (I recommend taking a car up said monstrous hill). It's very close to the city, so the view is right there! Finally, it's the only viewpoint in the city that features the Space Needle so prominently because of it's Northwest position in relation to the famed landmark. Spectacular, free, and absolutely a must-see (in my opinion as a photographer) at sunset.
*Tip – Get there early for a spot if you plan to come at sunset, otherwise you will be clambering for a spot amongst local and visiting photographers a like!



8. Ballard Locks
A bit further afield than it's more central counterpart attractions, the Ballard Locks (also known as Chittenden Locks) is worth a little detour into Ballard. Ballard itself is a trendy neighborhood to explore, but don't get distracted as you make your way to the Locks. You'll be mesmerized by the mechanics of the locks in action, like a mini Panama Canal. When you've peeled yourself away from watching boats rise and fall with changing water levels, cross over the metal walkways to the fish ladder. In the summer you can observe salmon clambering to get upstream. Year round you may see the more leisurely pursuits of other wildlife including otters, seals, and blue herons.
* Tip – Take time to thoroughly explore the Locks. It's fun to see the locks themselves, but there are some pretty gardens and grassy areas worth wandering around. If you have kids (or if you are a big kid like me), take a roll down the series of little steep hills on either side of the canal. Just watch out for goose poop!



9. Woodland Park Zoo
Maybe you don't go to cities to visit their zoos, but you should if they are as cool as Woodland Park Zoo! Not only is this zoo large and diverse, but it's got a super convenient location in Seattle's Phinney-Ridge neighborhood. I'm not always a fan of zoos, but I can get behind this one because of its commitment to conservation and efforts in sustainability. Every time I visit, there are new or expanded exhibits, many of which feature endangered animals that have been bred or reared to be reintroduced into the wild. Support our awesome zoo on your next visit!
*Tip – Don't plan to see the entire zoo in one day. It's pretty big, so seeing every exhibit thoroughly can be exhausting. I suggest finding one area to focus on that features many of your favorite animals. Also, don't bypass the pretty rose garden just outside the South entrance.

10. Fremont Troll
Here's one that's a bit harder to find than others, and I know this because I used to live nearby. People were always standing on the corner trying to find this local treasure. This is the VW-clutching troll under the bridge, appropriately tucked away underneath the Hwy 99 overpass next to a hill. Aptly named the Fremont Troll, this community art project has lived in the artsy Fremont neighborhood on Troll Ave for the last 27 years. He hasn't eaten any humans yet to my knowledge, but he has starred in a few films, including my favorite, 10 Things I Hate About You.
*Tip – Okay, this one is silly, but… if you climb up to the Troll's nose, you can stick your hand up there! You can also act like he's trapping you under his hand like I did, because, well I'm a dork. Bring a friend because you'll definitely want some shots (silly or not) next to the troll, and selfies won't really do the trick here.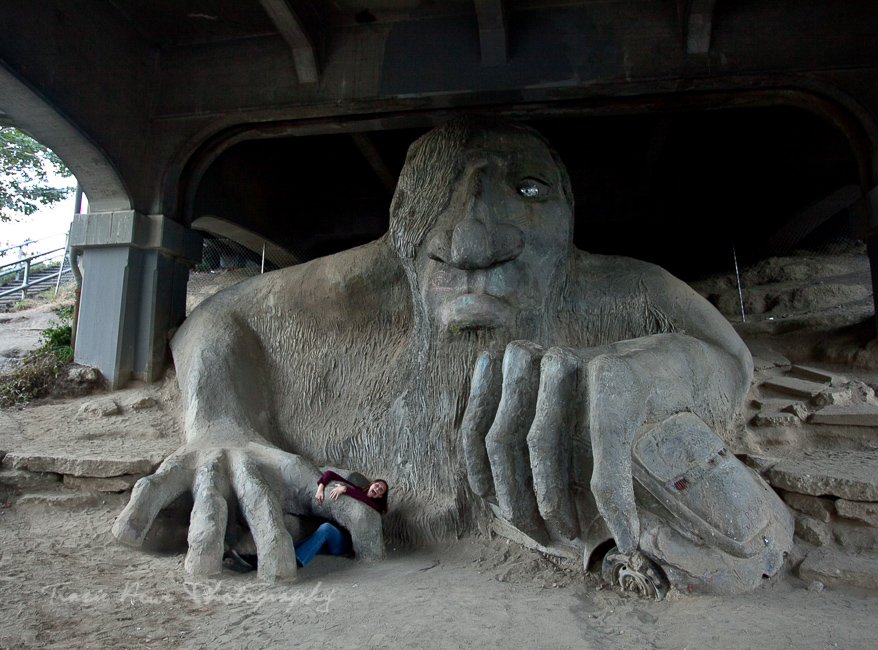 That's it! These are the top 10 things to do in Seattle!
*As always, all opinions and photos are my own and based on my experiences unless stated otherwise.