Can you guess what famous landmark is not on my list of the 5 best city viewpoints in Seattle?
That's right, the Space Needle didn't make the cut.
Don't get me wrong, there is a lovely view from up there and going up just for the sake of the experience is a great idea! I am just a little biased towards viewpoints that will make nice photos, and my opinion is that the best spots are found elsewhere. So, while the Space Needle is a photo-worthy subject in its own right, I'd rather take a photo of the Space Needle than from it!
Since I do have a photography bias, I'll give you some photo tips for shooting from these Seattle viewpoints. But even if you're not photographing them (why wouldn't you though?), they're still well worth a visit. I'll even provide some travel tips for making the best of your visit.
In no particular order…
Kerry Park
Aside from the Space Needle, this is the best known viewpoint in Seattle. Tourists and locals alike will flock to Kerry Park, especially at sunset, to take in this uniquely positioned view of the city. Kerry Park perches on the south side of Queen Anne hill, directly across from the Space Needle. Mt. Rainier sits majestically in the background (when it's "out") and Puget Sound sparkles to the west.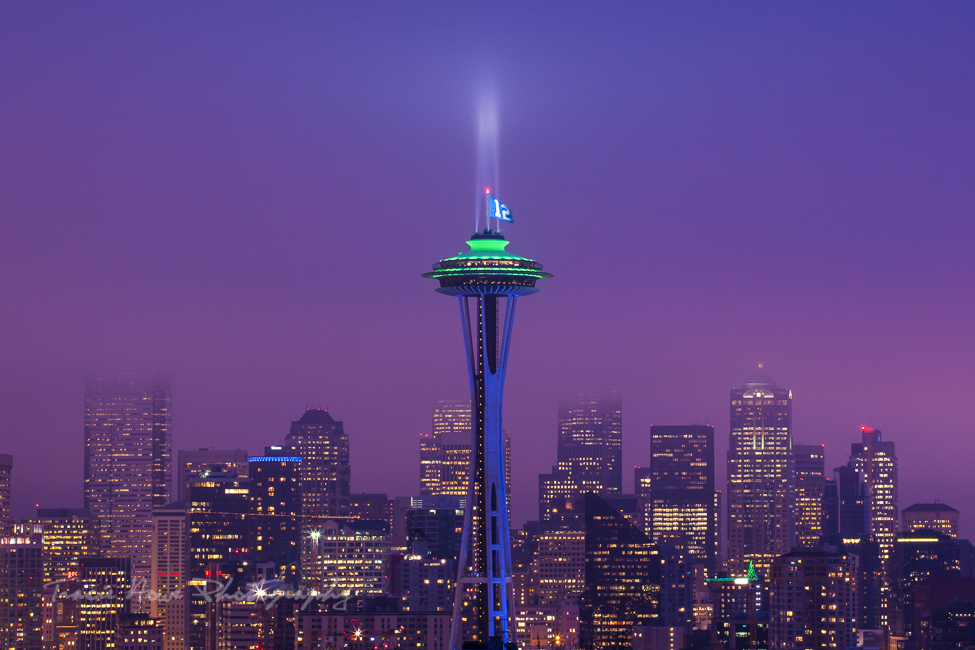 Travel Tips:
Because of it's close proximity to the city center, this is also a convenient location. There's nothing to get in the way of visitors making their way to the narrow stretch of park, except maybe parking on a summer evening. I suggest taking an Uber to get there from downtown. If you walk, I'm warning you that the hill is a beast to climb!
Show up early in the morning for an equally lovely view, but with very few people.
Photography Tips:
If you are a photographer, you will definitely want to arrive early to snag (and keep) a spot for sunset. Photographers will line up with their tripods for that perfect shot, so if you want that shot too, you gotta get there early! And if you get there too late, please take care not to walk in front of other photographers who did show up early enough to get a spot. ;)
Stay past sunset, until after the city lights turn on for a spectacular shot. Get that shot before the sky turns totally black for some nice blue hour color. Clearly, that's my favorite time to shoot a lot of these locations!
Skyview Observatory
The Skyview Observatory is the highest viewpoint in Seattle, which makes it one of the best! Not only does it sit on floor 73 of Seattle's tallest building, the Columbia Center, but it also claims a 360 degree view! From here you can see Mt. Rainier, the Space Needle, our neighboring cities to the east, and Puget Sound stretching out to the islands.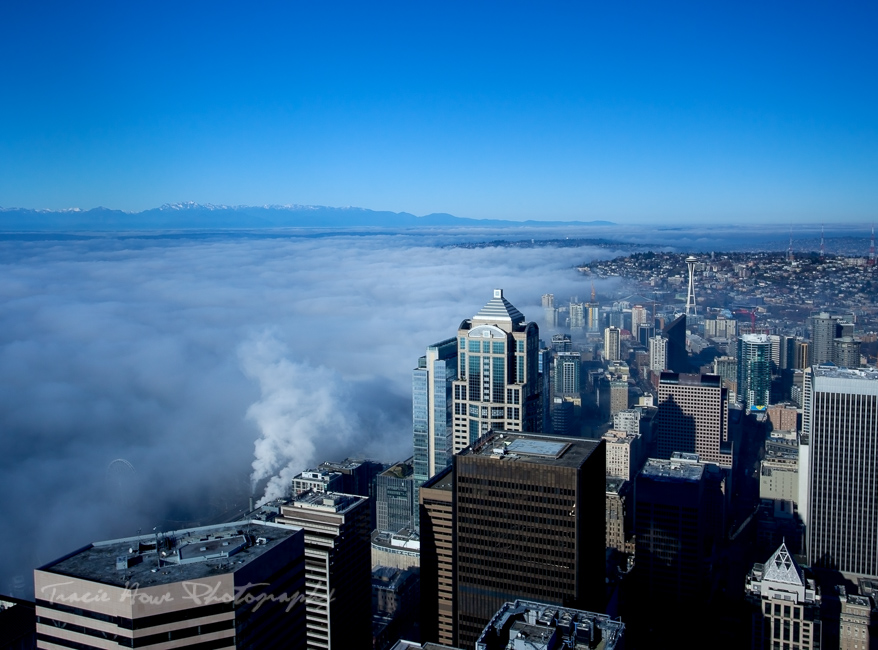 Travel Tips:
At close to $15 for an adult ticket, it's a little cheaper than visiting the Space Needle and well worth the cost! If you want a cheaper indoor viewing option, there is a Starbucks almost half way down the Columbia Center Tower at floor 40. The views there are still great, but the windows only face one direction and it's closed off starting in the early evening. Food and drinks are available at the Skyview Observatory anyway, so I suggest just forking over the $15! ;)
Photography Tips:
The Skyview Observatory is a fantastic spot for photos, where you and your gear are protected from the elements, but the windows keeping those elements from you will cause some nasty reflections. Anything from internal room lights to people unwittingly using flashes through windows (don't do that!) will make shooting there a challenge at any time of day.
My best advice is to wear black clothes and bring something black to drape over your camera. Try to stretch the draping material, whatever that may be, all the way to the window. Be sure to use a tripod and a timer or remote, so that your hands are free to do this. And try not to move the camera while you're covering it if you're doing a long exposure. A polarizer may also help to cut reflections, depending on the time of day.
Don't get your photographer's heart set on shooting sunrise or sunset! The Skyview Observatory never opens until after sunrise. I want to be first on the list to find out if that ever changes! You'll have better luck with sunset, but only if you're in Seattle at the right time of year. The sun can set as late as 9pm in the summer, and the Skyview Observatory is closed by then.
Finally, there are special events and occasions which will give you exclusive access to this view. A couple of examples are during the 4th of July and New Year's Eve fireworks shows. However, I don't believe tripods are allowed, so you've been warned to do your research before committing to these events!
Gas Works Park
This one is close to my heart. I used to visit this park often as a kid, feeding the ducks and geese and playing on the weird old gas pipe structures. Now I can't seem to avoid the goose poop, unless I go to the top of Kite Hill. But that's the best view anyway, in my opinion. From there you get an amazing perspective of the city and a 360 degree view of the park's unique features. There are still plenty of other great spots to view the city within Gas Works Park, but Kite Hill is definitely my favorite.
Travel Tips:
Just know that Gas Works is a great park to explore. I suggest walking around (watch out for the goose poop), having a picnic, or playing a lawn game with friends. It's a popular place, but it never really gets too crowded except during special events. It's a great place for people watching as well!
Photography Tips:
I love shooting on and around Kite Hill, but I'll warn you that other people love it too and they will walk right in front of your camera if you're set up with a tripod. I try to get a shot of the city and the cool sun dial at the top of the hill, but that's not always possible when there are a lot of people. There are so many spots to choose from though, so give yourself time to scout and find the spot or spots that you want. Try down by the water or from behind the old colorful pipes. Challenge yourself to create a unique composition!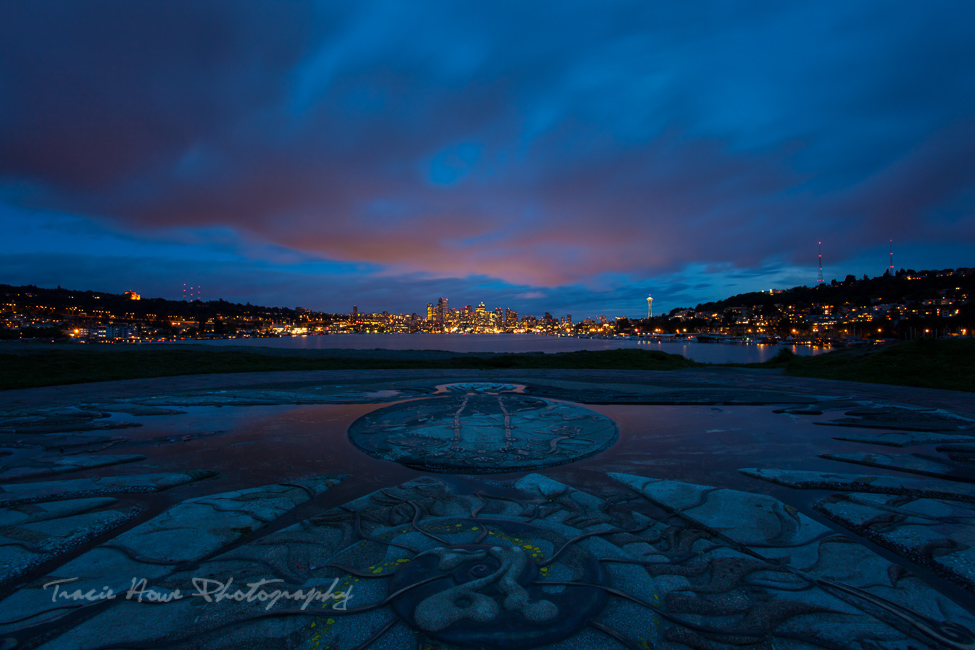 East side of Alki Point
In West Seattle there is a narrow strip of land next to the water that offers some of Seattle's best views, directly across from the city. This scenic stretch starts around Salty's on Alki and continues west toward Luna Park, where the city views end and views of the Olympic Mountains begin. There are plenty of pretty spots to suit your fancy, whether you prefer food and drinks with your view, a bit of beach, or a park bench.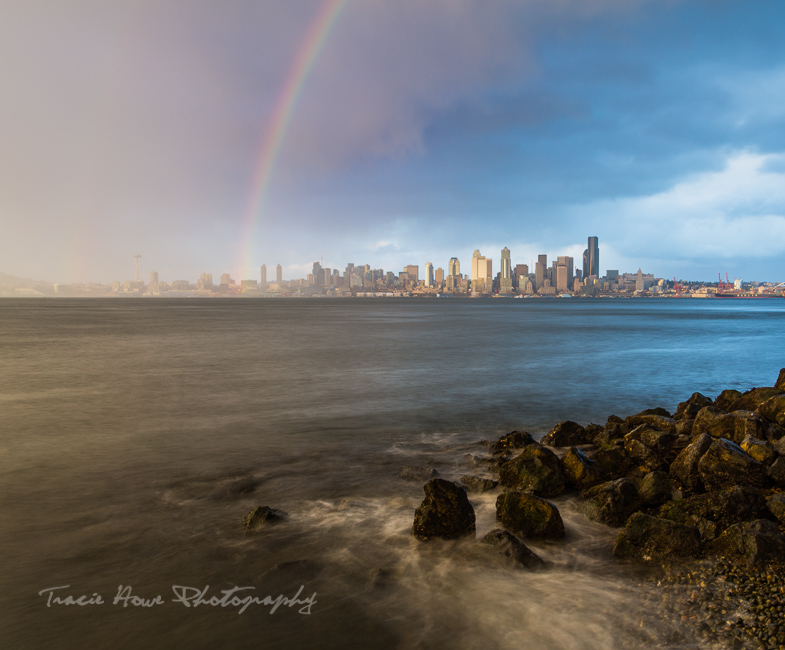 Travel Tips:
Getting to West Seattle is pretty easy if you have a car, and not too bad if you Uber. It's just a drive across the West Seattle Bridge. However, if you want a more unique way to visit from downtown, I recommend taking a short water taxi ride. This will drop you off in a prime spot for city viewing and you'll get views the entire way there and back!
If you want a bite or a drink, there are two nearby options. Salty's on Alki is the upscale choice, and well worth a splurge. Marination Ma Kai is the cheaper, casual option, and right off of the water taxi dock. I highly recommend either one!
Photography Tips:
I'm clearly a fan of long exposures, but this spot so close to the water seems to be made for them! Finding a good foreground from the area can be hard, so get there early to scout for your perfect sunset spot. Beware of barely moving docks or pilings in the water. You may not notice until you've gotten the photos onto your computer.
Like pretty much all of the spots I suggest in this post, I recommend shooting through blue hour when the city lights are on!
Dr. Jose Rizal Park and Bridge
Dr. Jose Rizal Park is probably the least known Seattle viewpoint, despite its home right above the intersecting I-5 and I-90 corridors. Maybe you haven't noticed this ideally positioned park when driving by, but if you live here, you've most definitely driven under the bridge next to it! The views here give you a totally different perspective of the city from the south, offering a peek at Puget Sound and views of the nearby stadiums. You can go down into the park, but the best views are higher up from Dr. Jose Rizal Bridge!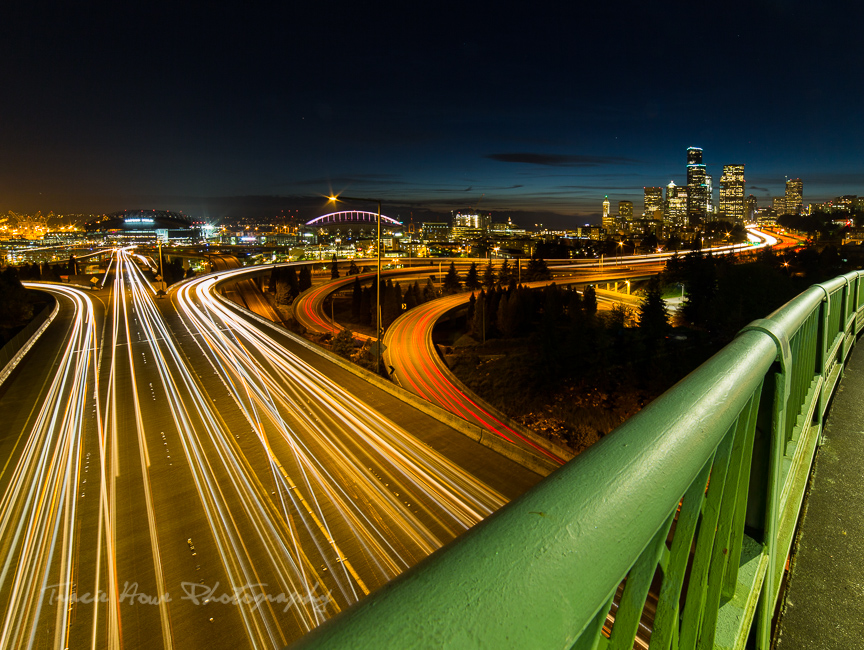 Travel Tip:
I don't recommend going down into the park at night alone. Sketchy characters hang out at that park and in the parking lot, so be careful. The bridge should be fine because there are usually plenty of people around.
Photography Tips:
As I mentioned, I think the bridge offers the best views, but that's a matter of opinion. The view there is definitely less obstructed, but shooting from the bridge has its own set of challenges.
Getting a good composition is difficult because of the curve of the bridge, but that will depend on how wide you want to photograph the scene. I tend towards wide, so I sometimes incorporate the curving rail into my shots. This becomes even more difficult when other photographers are there, because there are only a few good spots that allow this. So, again, get there early to scout and claim your spot!
This is a great place for long exposure photography because of the amazing light trails you can get from car lights. If you're going for light trails, time your shoot around rush hour to get the most action.
The problem with long exposures from the bridge is that the bridge moves ever so slightly with passing cars. The longer your shutter is open, the more likely any movement will cause some unintentional blur. This is especially true when using a longer lens. I try to time my shots in between cars, but it's challenging to do with so much traffic. Try shortening your exposures with a higher ISO to get just the right amount of light trails without any camera shake.
That's it! If you're visiting Seattle, I hope you can make it to at least a few of these epic city viewpoints! Seattle is such a stunning city, it would be a shame to miss these views.
If you want more Seattle inspiration, check out these posts…