Before planning this trip to Louisiana, I had only a vague idea of what to expect: the lively city of New Orleans, trees with Spanish Moss, and swamps. With these three things in mind, I bought my plane ticket and started planning ways to see them.
At first I thought I could just go find a swamp or a bayou outside of the city and explore. Silly Tracie! Wandering around as I often do, doesn't always work for every destination, especially with alligators around. I soon realized that this was an experience best left to the experts, so I decided to book us a tour for a thorough (and safe) way to see a swamp.
Cajun Encounters Swamp Tour
We found a swamp tour operator that was close to New Orleans, which in fact runs many tours within the city. Cajun Encounters was generous to provide us with a complimentary tour of the Honey Island Swamp in Slidell, less than an hour from NOLA. Cajun Encounters offers pickups from hotels in New Orleans, but we had already planned to rent a car by this point and enjoyed the freedom of driving ourselves there.
After wandering around the shop and awaiting other guests, we all followed Captain Troy to his boat tied up at a small river dock across the road. A few of us adults gathered together at the back while the rest of the boat filled up with rowdy teenagers. Captain Troy started off with some ground rules, mainly no standing (which most of us ignored when the action started), and warning that if you fall in, you stay in. His no-nonsense attitude was always laced with humor, captivating even the youngest among us.
We each started off introducing ourselves and naming something we hoped to see on the swamp tour. Almost everyone mentioned alligators, something I was not expecting to see because I was told that they would likely be dormant at this time in January. My expectations for spotting wildlife were pretty low, but I did want to see the unique trees of the swamp. A few others said that they wanted to see nature, but of course I was the very specific weirdo who said I wanted to see trees. I do love my trees!
Honey Island Swamp Alligators
I didn't have my hopes up to see much else besides my precious trees. I was simply looking forward to a slow, relaxing cruise through the swamp. Shortly after our discussion on what we wanted to see and some swamp facts by Captain Troy, the boat took off down the river at a speed I was not expecting. Dave and I looked at each other and couldn't help but smile from the sudden surge of adrenaline. We zipped down the river, clinging to our possessions at each turn and adding layers to block the sudden wind chill.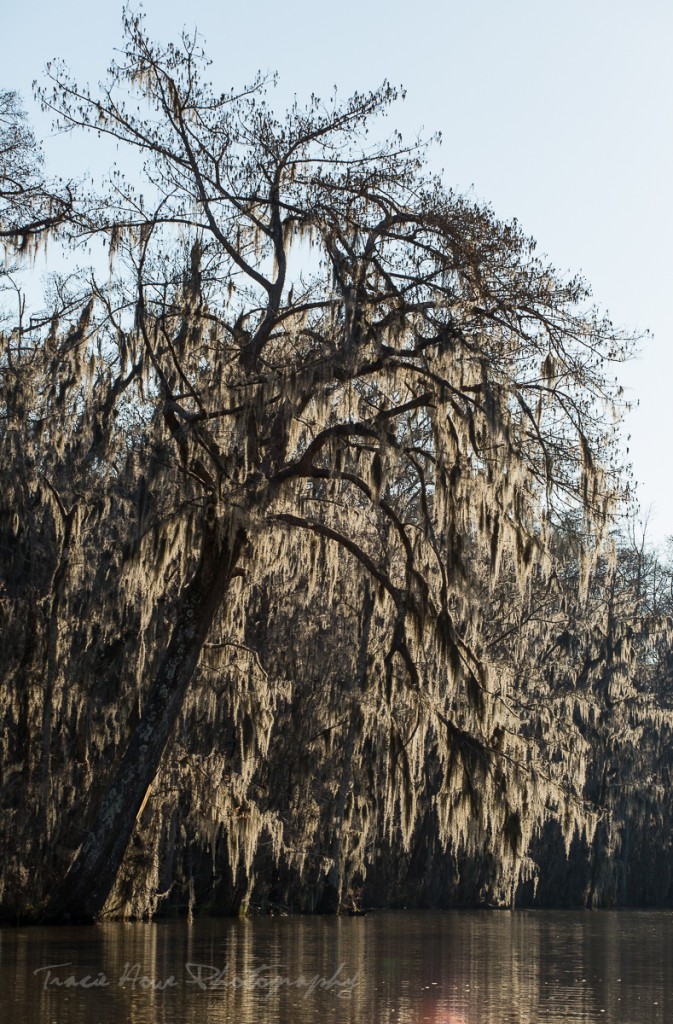 Again I was surprised to find that we were heading to a spot where Captain Troy expected a huge alligator to be. I thought alligators were all dormant at this time of year, but I was pleased to see that some were coming out of their sleepy state, just not very active yet. Clearly used to tour boats, this big bad female continued resting in the tall grass as we inched closer, spinning round and round so that everyone could get a better look.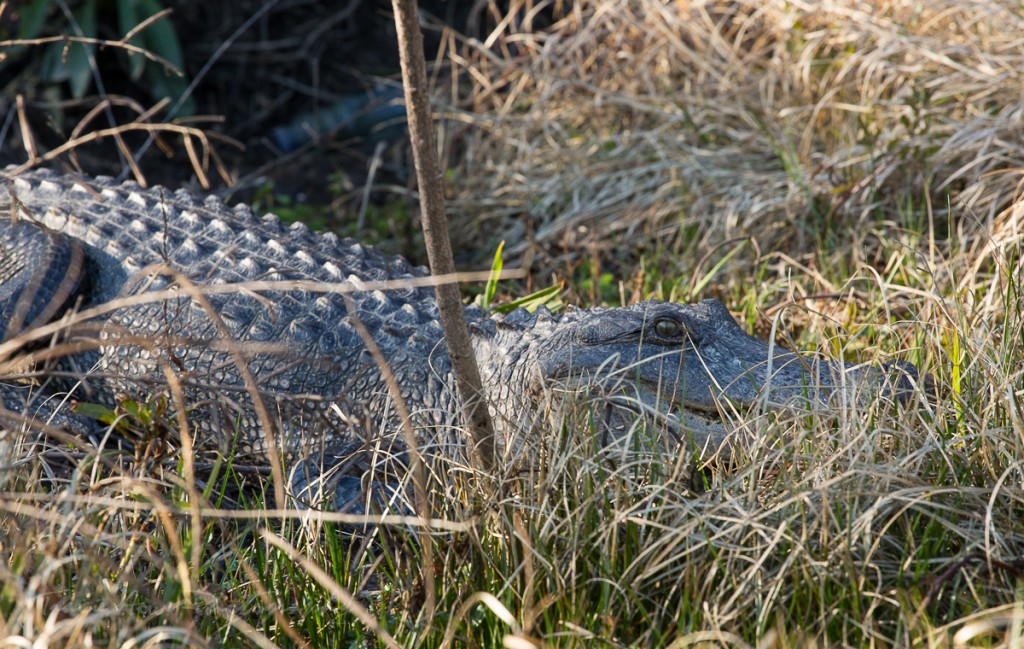 I expected Captain Troy to lure the alligator to the boat with his bag of marshmallows, but he didn't. Alligator fondness of marshmallows is an odd fact that all True Blood fans have been made aware of, but I guess they are more likely to fetch them during the warmer, more active seasons. This one was plenty happy laying still, soaking up the warm winter sun.
Marshmallows are actually sweets created from the roots of the Marsh Mallow plant, but I think the real reason behind marshmallow feedings is that swamp creatures will eat just about anything and they know what is coming when the tour boats arrive. We were told that alligators often greet the boats during the warmer months, knowing that they can expect the sweet treats, but it is illegal for anyone other than tour companies to feed them.
We moved on at a dizzying speed to a series of other stopping points where he informed us about some of the other wildlife and vegetation of the area. Boat houses lined parts of the river, high atop their stilts. As we drifted past a curious dog, we were told that alligators sometimes eat them when they get too close to the water. If alligators are over 6ft long and become a neussance swimming around a house, they can be taken away to where the tour companies frequent. This gives visitors something impressive to see and maintains the peace for locals. Alligator hunting is also very big in Louisiana and hunters occasionally use tour waters for easy catches. Captain Troy was annoyed with this practice, remarking that they "have more teeth in their pocket than they do in their head". Dave couldn't stop laughing when he said that.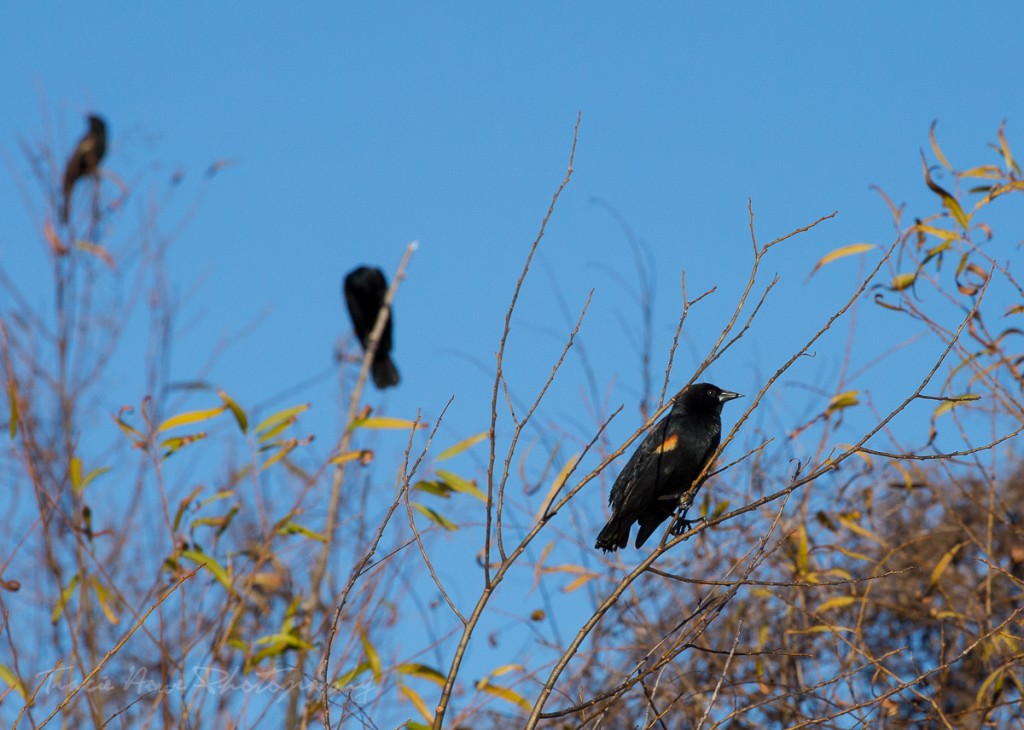 At one point we came across another alligator. A tiny thing in comparison to the first one, only about 4 ft. This one was also very still and cute as a button, basking in the late afternoon sun. We then made our way into the swampy part of the bayou, surrounded by gray Cypress trees dripping with small amounts of that Spanish Moss I was excited to see. Our captain expertly guided the rectangular metal boat carefully through the maze, spinning occasionally to point out certain features of the eerie landscape. One tree in particular was noted for being the most famous in Honey Island Swamp and perhaps all of Louisiana, notable for inspiring a scene in Disney's The Princess and the Frog.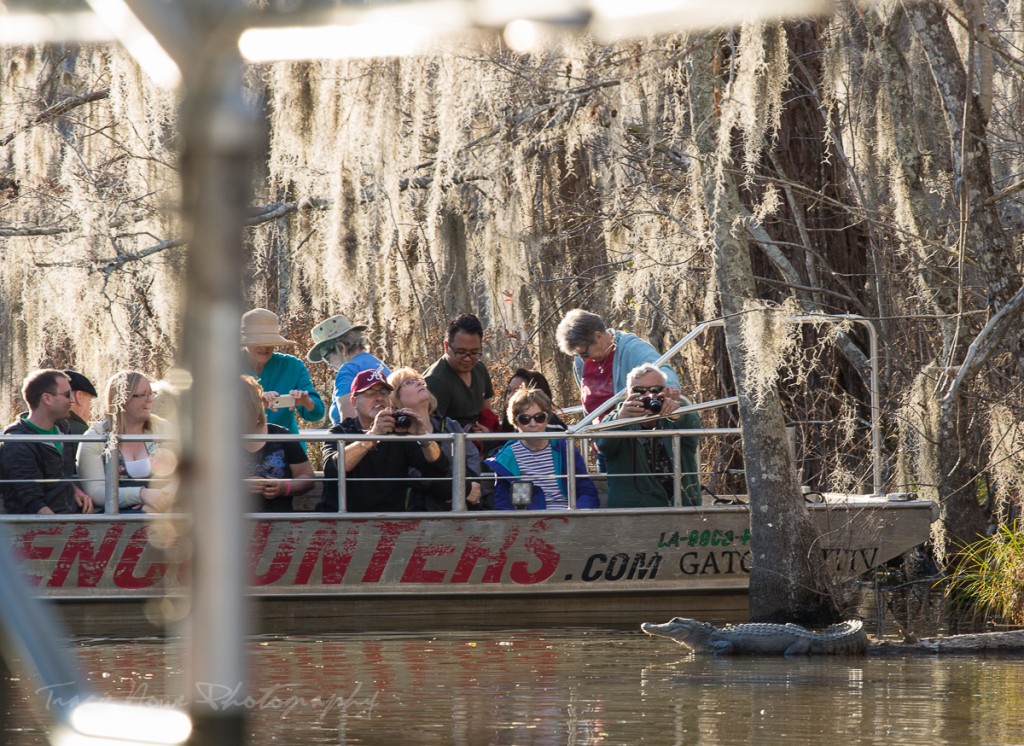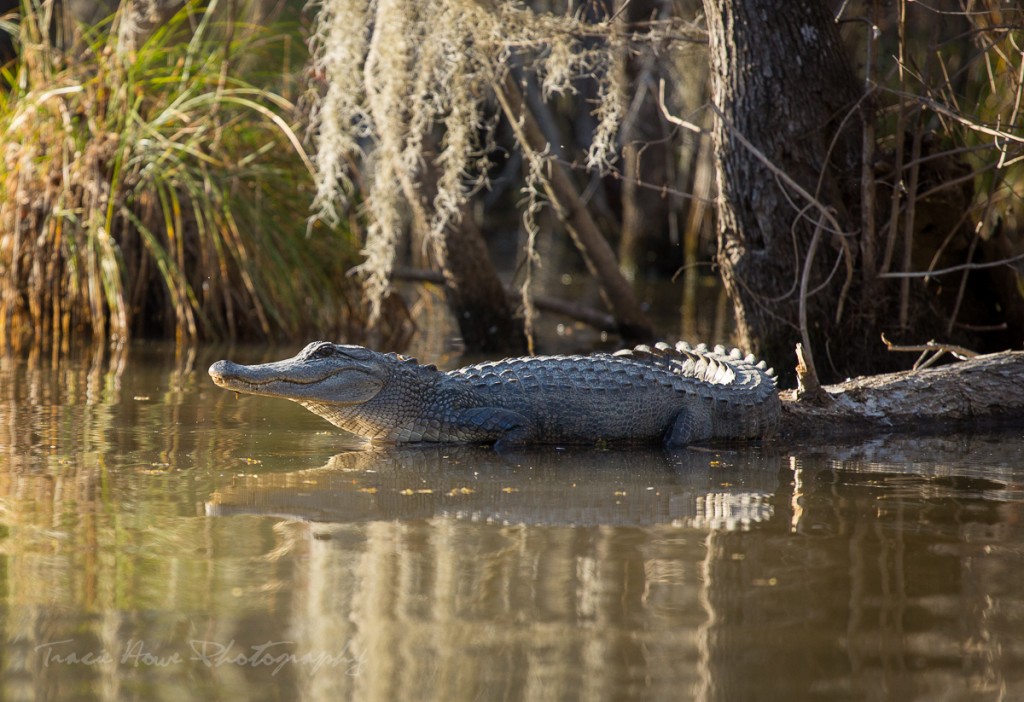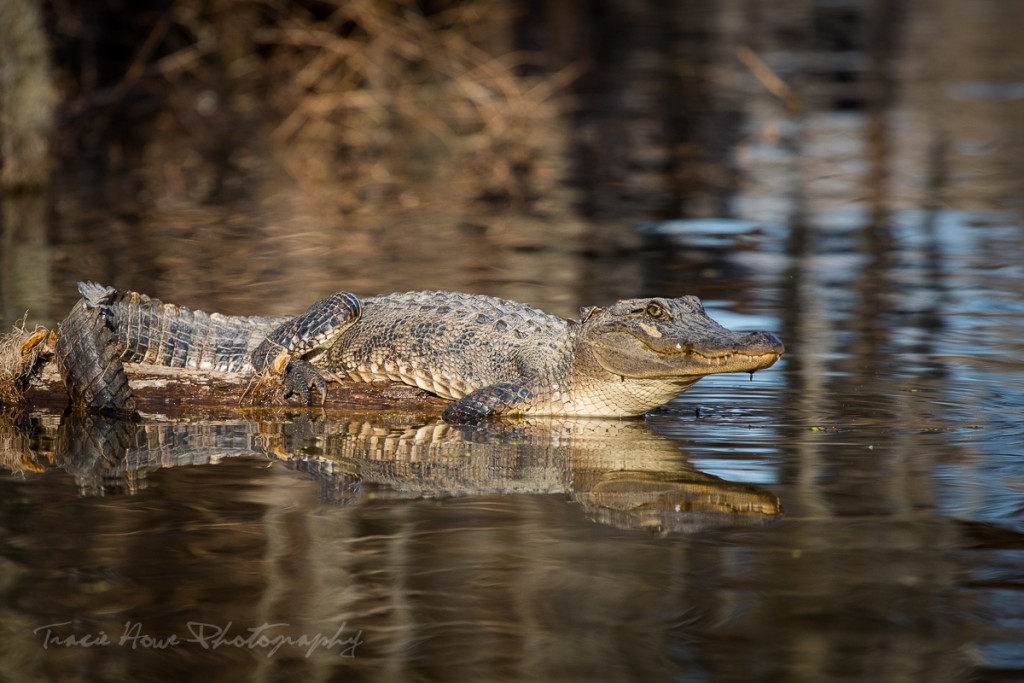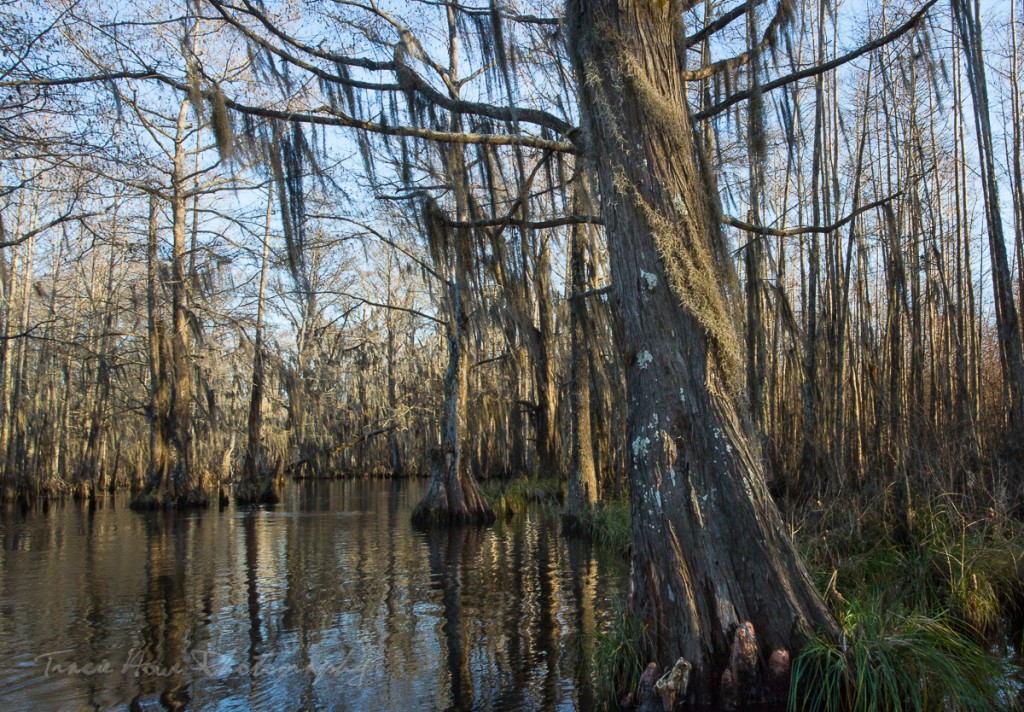 A marshmallow feeding frenzy
Up ahead a couple of other boats were gathered for what ended up being my favorite part of our tour. They were surrounded by little wild pigs! I had no idea that wild pigs lived in swamps, let alone that they were so cute! Granted, they were snorting and swimming around in mud, but I've come to love similar sounds and behaviors from my dear late Boston Terrier, Herky.
It turned out that the marshmallows were for these guys. They were thrilled to discover that a third boat had arrived to deliver them treats. Captain Troy began calling them over, tossing marshmallows as far as he could, competing with the other boats that already held their attention. Soon a parade of pigs began splashing their way over, climbing through mud, and wading through swamp waters to come right next to the boat. Some were so close that the captain could drop marshmallows straight into their mouths.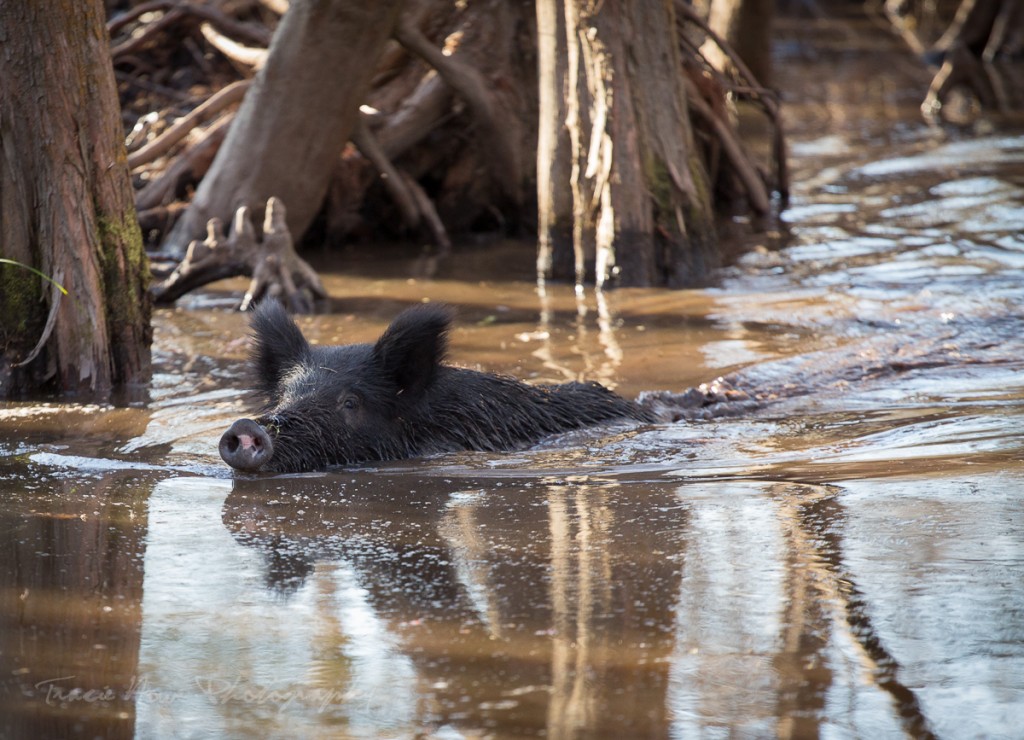 A particular favorite of his was Oreo, a black female with a white center. He called her by name and she took her time making her way over. Once she realized what she was missing from our boat, she leaped into the water like a happy dog chasing a stick. The pigs were so eager to receive these marshmallow treats that you could see the excitement in their eyes. The unexpected delight of finding these animals in their natural environment, so similar to a pack of enthusiastic dogs, made me giddy, along with many others on the boat.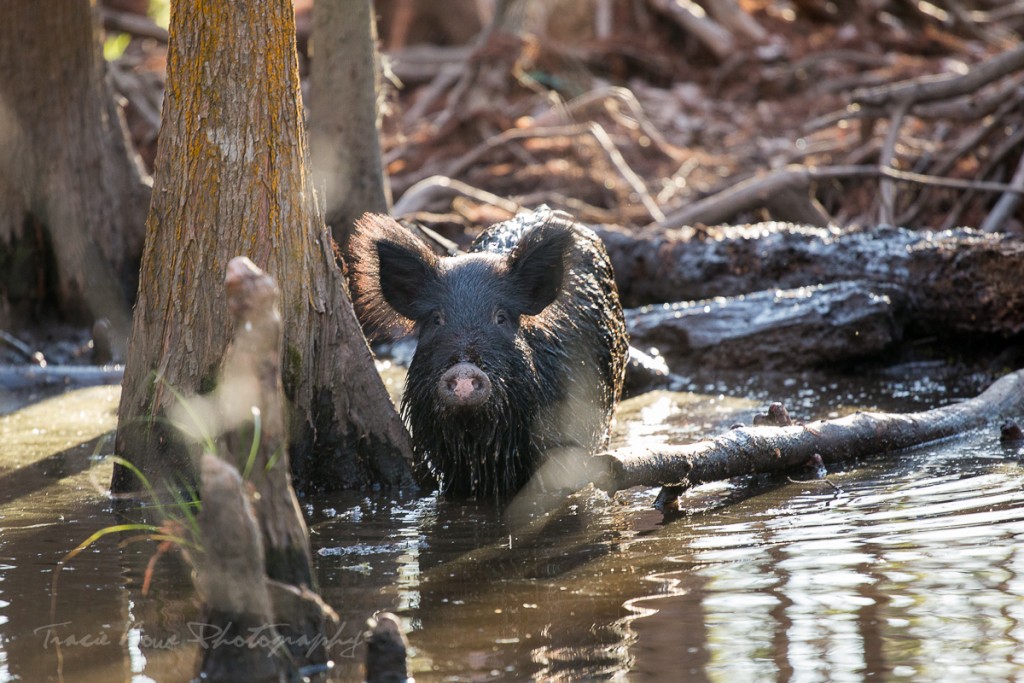 After this, I was totally satisfied with our Cajun Encounters experience. My expectations were exceeded over and over again during our swamp tour, and the pigs were just the cherry on top. I'd love to go back at a different time of year to see the trees in all their glory and more active alligators, but our experience was well beyond was I had hoped for. I'd have to ask for Captain Troy again too!
*All opinions and photos are my own and based on my experiences. Cajun Encounters provided us with a complimentary swamp tour, but I was not financially compensated for this post. A special thank you to the New Orleans Convention and Visitors Bureau for help in arranging this.
Travel Tips:
We were there in late January and the alligators were beginning to wake up. They would be more active during warmer times of the year, and the foliage would be greener and more lush. Cajun Encounters also operates night tours and Honey Island Swamp Monster hunts among the more traditional tours.
Photography Tips:
Bring a long lens for those wildlife shots and a wide one for the scenery. Hold on tight to your camera when the boat takes off. The sudden speed might take you by surprise! I suggest sitting at the front or back of the boat, but anywhere should be fine. The boat is open on all sides and Captain Troy tries his best to make sure everyone gets a good view by turning the boat.