If you are visiting New Orleans and staying close to or within the city, your best bet is to do anything but drive as I explain later in this post. We relied on a variety of transportation options in New Orleans. In fact I found it pretty easy to get around the city without a car.
Streetcars
The streetcars were a desirable option for me and many other tourists. They seemed to go everywhere that we wanted to go within the city, and they were a novel way of getting around. We took the Canal Streetcar all the way to City Park and we took the Riverfront Streetcar all the way to the French Market. They are  mostly just straight routes on tracks, clearly marked on Google maps, so it was very easy to hop on and hop off without getting too lost.
We got ourselves each a 3 day Jazzy Pass for riding streetcars and buses. Once we activated them, we could use them as much as we wanted for 3 days. The RTA website does a good job of explaining everything that you need to know about lengths of time available for passes, maps, costs, and where you can purchase Jazzy Passes.
Algiers Ferry
The Algiers Ferry is a quick little ride from quaint Algiers Point to bustling Canal Street in New Orleans, leaving about every half hour or so. It costs $2 each way, $1 for seniors, and kids are free. Make sure to have cash on hand for this, or if you're staying longer, you can buy a monthly pass for $65. The Algiers ferry schedule changes depending on the day and season, so I advise you to check the daily schedule for the first and last ferry. Since we stayed in Algiers Point for the majority of our visit, the ferry was a terrific way for us to get to and from the city without crossing bridges and dealing with traffic.
Buses
The Jazzy Pass also works for buses. I can't say much about the buses since we only took one once, because we missed the last ferry. Since we were going to Algiers Point, we had a river to cross and the route wasn't exactly direct, but it didn't take too very long in comparison to similar distances I've gone on Seattle buses.  The most inconvenient part was that there only seemed to be one bus going to Algiers every few hours or so. But we may have been misinformed. Either way, we caught it and once we were onbaord it was relatively painless… as far as city bus rides go.
Taxis
Another time that we missed the last ferry, this time from not remembering the Sunday schedule, we opted for a taxi back to Algiers. We had done the bus already and didn't want to wait a few hours for the next one to come along, so we found ourselves a cab. We were near Harrah's, the huge casino across the street from the ferry terminal, and we quickly spotted an available taxi. A quick ride and $15 later, we were dropped off at our door step. Not too bad!
Other options
New Orleans is a very walkable city. It's super flat, especially compared to Seattle, so if you are in relatively decent shape you can walk a ton and not even realize it. We averaged about 7 miles a day when we hung out in the city! We saw plenty of bikers, but we never took part in what is supposed to be a pretty popular mode of transportation. I wouldn't hesitate to rent a bike on my next visit.
There are still other options for getting around, but I would say that they are geared more for tourists. There are the bike cabs, horse/mule drawn carriage rides, sightseeing buses, and segways. No doubt all great ways for getting around or touring the city.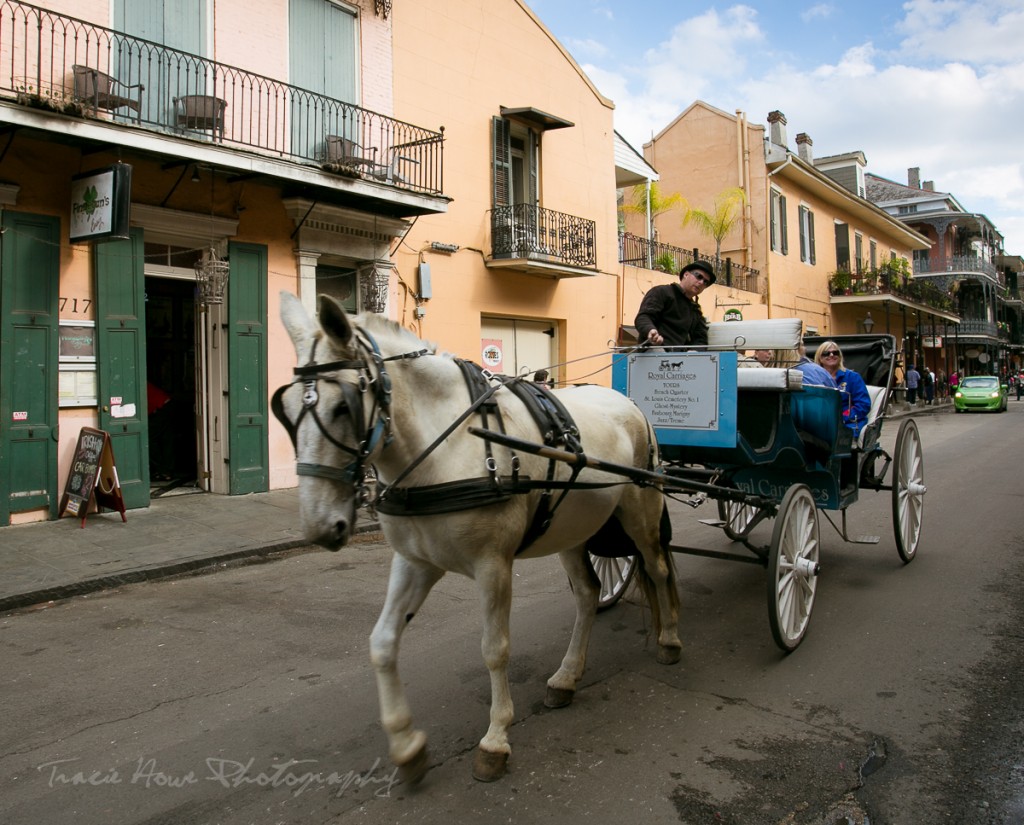 And, of course, a car
Finally, I have to talk about using a car to get around. Having a car is a liability as I heard over and over before and during our trip. I chose to ignore those warnings for the most part, but at least we only had to deal with a car at the end. I say "deal with" because, while I don't know why having one is a liability, I do know that having one is kind of a pain within the city.
We had no real desire for a car until we ventured far out of the city. When we rented one, we used it to get ourselves to our Swamp tour in Slidell, Oak Alley Plantation, Avery Island, and to the airport. We didn't really NEED a car for the swamp tour or Oak Alley as there are tour options that include transportation from New Orleans. However, we often like to do things at our own pace, and I like to have control over when and where I can take photos. Plus, we never would have been able to spontaneously dip our toes into Mississippi (the state, not the river) without a car. The car was fairly cheap and gas was ridiculously cheap at an average of $1.72 a gallon, so we figured why not rent one towards the end of our trip.
On a side note, we originally rented from Dollar, but they were horrible! We hadn't even gotten the car and poor Dave was jumping through hoops trying to make a simple change in our rental reservation. We ended up canceling the reservation completely and renting with Enterprise on the same day. Enterprise ended up being awesome in every way!
But I digress. The car was fine to have for our many day trips, but there was a point where we needed to bring it into the city once we moved to our hotel. Surely driving a car into the center of any busy city is a pain, so we were prepared for traffic and bad drivers, but we hadn't thought about parking until this point. Being in Algiers was no problem, with free neighborhood parking everywhere. On our last night we stayed in the French Quarter and needed to find a place for the car. We considered parking it in Algiers and fetching it for our ride to the airport but that seemed too complicated with overnight bags and a lot of effort just for free parking. We ended up paying to park it at our hotel considering the convenience and cost over parking it anywhere else nearby.
After checking out of our hotel we still had time to kill, and nowhere to park the car without a hefty fee. We decided to park at the mall, despite a small fee with purchase since we wanted a few souvenirs anyway. From there at least we could walk anywhere pretty easily and we spent our afternoon exploring the French Market. After that we took the car to a cemetery further away and then to City park where parking was free. Eventually, it was nice to have the car to get us to the airport, but the stress and cost up until that point was not worth it.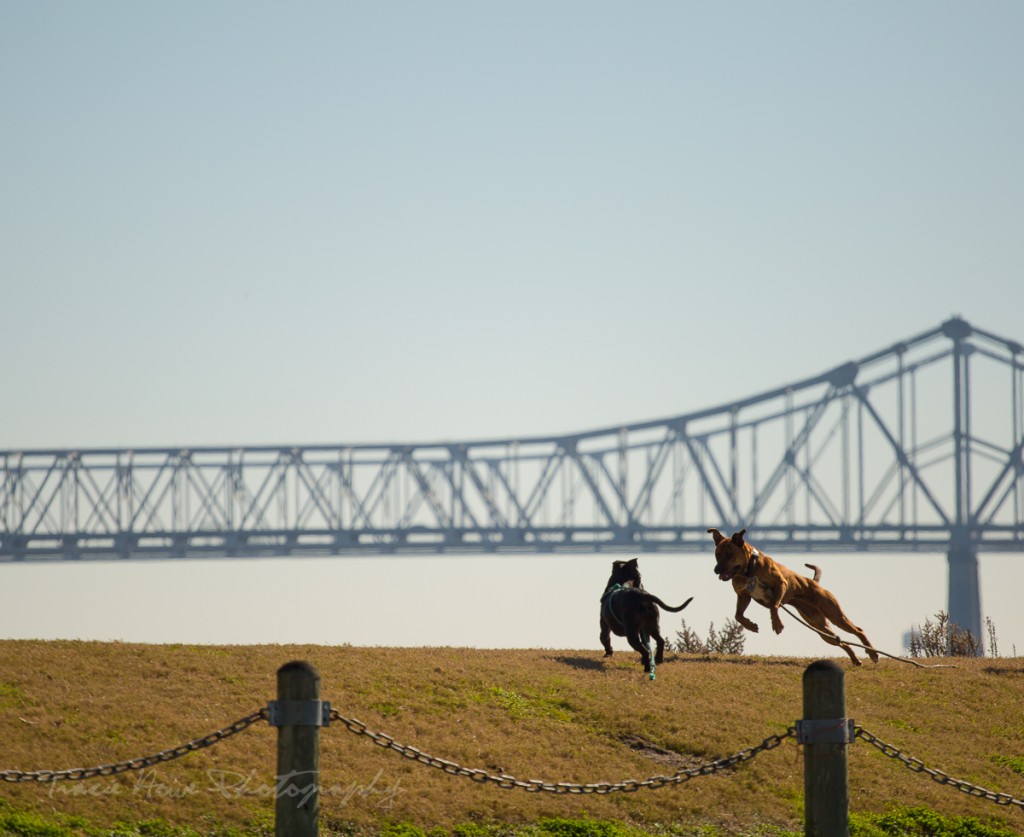 So, there are lots of great ways to get around, but I will agree that a car is not a good idea. If I could do it over again, I would stay in Algiers Point with a car so I could take day trips, or simply not have a car if staying in the city.
Travel Tips:
If you do end up driving in the city, beware of pedestrians. The crosswalk signals didn't appear to be working while I was there so people would often just wander into the street not really sure about when to cross. Also, try not to drive in the French Quarter, because if you hit certain streets you will be stuck for a while. It's probably comparable to driving on the road in front of Seattle's Pike Place Market! You Seattleites know what I'm talking about. ;)