The power of a photo
The very first moment that I knew I wanted to become a professional photographer was when I opened a book with an inspiring photo of a destination. This one photo (I don't even remember what it was of) was responsible for changing my life. I'd love to thank that photographer if I could!
My point is that photography can inspire us to go places. That's a big part of this blog for me! When planning my last big trip, it was one photo from a friend (you know who you are) that made me put Mount Bromo at the top of my Southeast Asia bucket list. Later, when I was in Bali, I saw a photo of the blue fire of Mount Ijen that made me want to extend my time in East Java. It's amazing what power a photo can have, but for me, it's what pushes me to discover my own perspective of an incredible destination. Because of those two separate photos, I had unforgettable experiences at two of Indonesia's many volcanoes, starting with Mount Ijen.
Getting to Mount Ijen
It began at Panorama Homestay on the edge of east Java, just after a somewhat grueling local bus and ferry ride from Bali. I arrived hot, tired, and anxious about how I was going to get to Ijen. Ijen had to be before Mount Bromo because I was heading West and it was the closest of the two volcanoes. Gunung Ijen is the one with the famous blue fire (not lava as you might suspect), a chemical reaction that happens when sulphuric acid comes into contact with the air.
Fortunately, our host was a native English speaker, which made communication a breeze for once. He immediately put me at ease and was a wealth of information. Planning this from Bali had proved to be more challenging than I had expected, so I was thrilled to get suggestions from our host.
He recommended that I join another couple of guests who were taking a "tour" that very evening. This particular arrangement included a vehicle, a guide, and real gas masks. Yep! Gas masks! I was exhausted and couldn't imagine climbing a volcano in the dark at 2am that evening, but I figured I should jump at the opportunity which may not come again. This was a hub for Ijen, but there weren't many people around when I arrived. I had heard that the cost is much less to take a vehicle and a guide if you can split it with other people. I was afraid that I'd have to pay full price to go on my own if I didn't join this group.
After a cooling dip in the pool and a long nap, I awoke just before our midnight ride pulled up. We all chatted a bit on the drive and then tried to catch a little more sleep before the ascent. If I remember correctly, the gates opened at 2am, which would give us about 2 hours to climb up the side of Mount Ijen and then enter the crater before an imminent sunrise began to lighten the sky. It was important to get there while the sky was dark enough to see and photograph the "blue fire" that makes this volcano so famous.
I had heard that the trail was steep, so I was definitely worried about my fitness level keeping me from arriving in time to photograph the blue fire. I started off pretty gung-ho, bound and determined to make it up the steady, unrelenting slope on time. I was advised to leave the others behind if they were too slow so I wouldn't miss out. Not only did I think I would be the slow one left behind, but we all kept a good pace and supposedly made better time than our guide's typical groups. Not too shabby!
The entire way we passed sulfur miners trekking up and down into the crater carrying around 100kg of solidified sulfur. I can't even imagine carrying that kind of weight! They tend to do most of this work at night to avoid the heat of the day. These strong, wiry men don't wear gas masks and they go right up to where the sulfur cools so it can be collected in huge yellow chunks. I could barely keep a steady pace with just my camera and tripod going up only once, but I was being passed by these guys. Incredible! It's sad to see them working so hard for such little pay. They try to make some extra cash by selling small sulfur sculptures to tourists. If I had of known, I would have brought some extra money to buy one as a souvenir of this surreal evening.
Once we arrived at the highest point, many of us donned our gas masks for the descent into the wide crater below. This involved occasional scrambling over big rocks and careful foot work.  Eventually we made it all the way down to where we could see the blue flames… relatively close.
Photographing the blue fire of Mount Ijen
Remember that photo I mentioned of the blue fire that made me want to go to Mount Ijen? Yeah, it wasn't quite like that. I only half expected that to be the case, but a photographer can hope, right? I planned accordingly by bringing my longest lens, a 70-200mm, just I couldn't get very close. I set up my tripod where our guide told us was the closest point that you could see the blue flames well. I trusted him and stayed put. Then I began to see other people catching up, bypassing us, and going much closer to the blue fire of Mount Ijen. I asked our guide about that and he said it wasn't a good view. Then I saw some people climbing up above the fire, really close! When I asked my guide about that he said it wasn't safe, so I trusted him and I was also annoyed because those people got into my shot.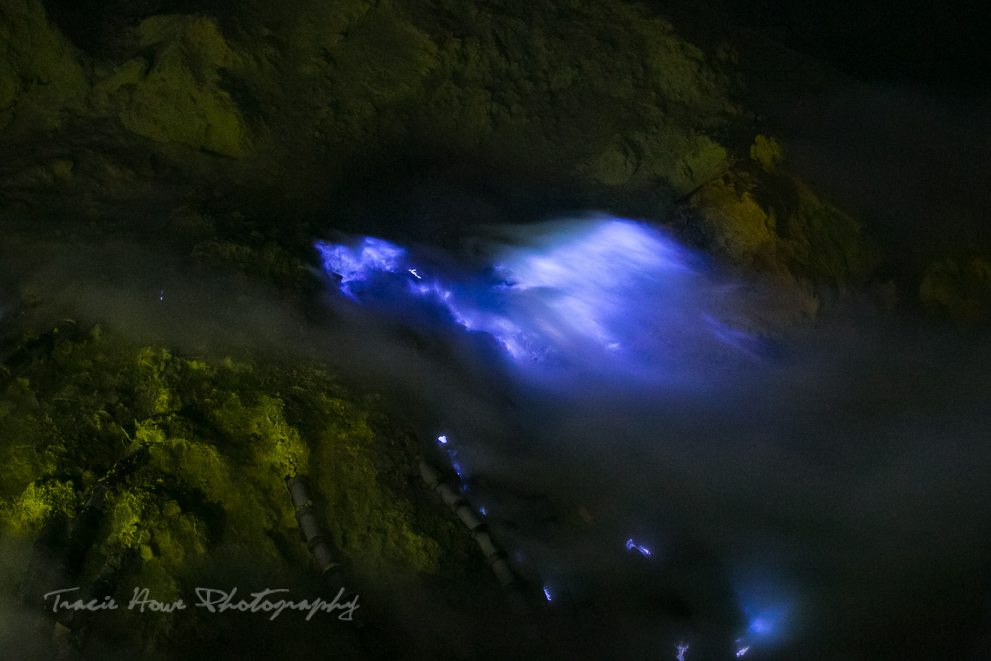 As if it wasn't challenging enough to photograph the fire from so far away in the dark, the wind ended up being my biggest foe. The toxic smoke arising from the chemical reaction drifted towards us occasionally to sting our eyes. I was teased for bringing my snorkel goggles with me, but they helped when this happened! Most of the time the wind just blew over the flames, so you couldn't see much besides a blur of blue tinted smoke. Occasionally a gap would open up for a second, but not enough for a completely clear shot. I was disappointed, but there wasn't much I could do about it. I did consider getting closer, like the other people, but again, I trusted my guide.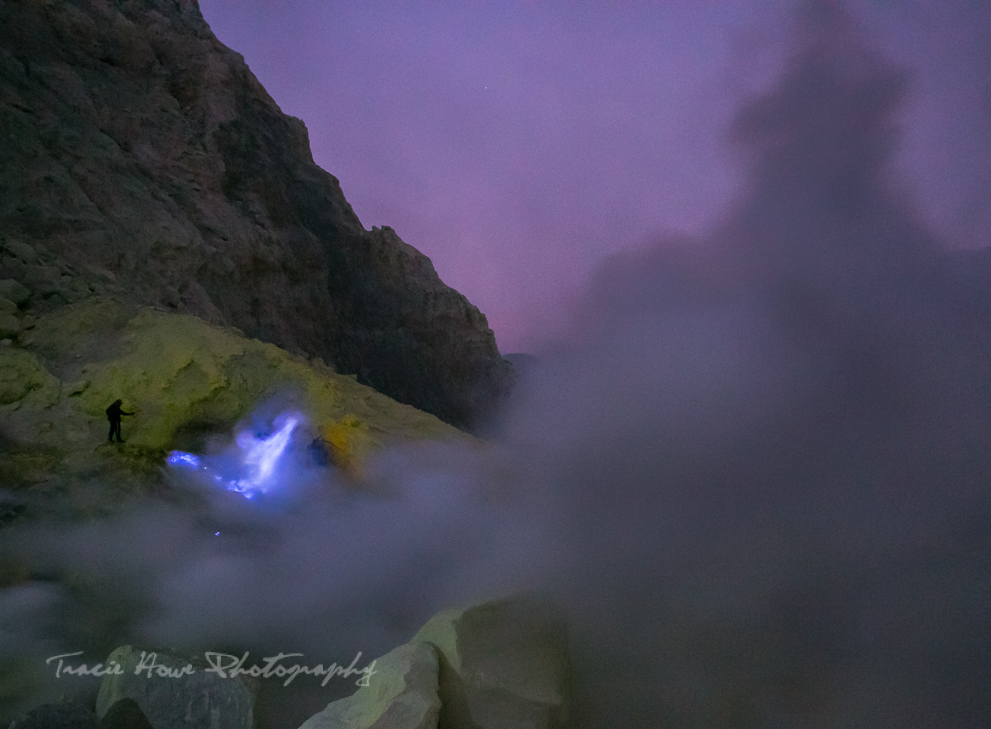 As the sun began to rise, we could still see the blue flames, but they were less intense. In the faint light we could see more of the solidified yellow sulfur surrounding the flames. The blue reflected onto the yellow, creating a eerie green tint. Soon it was bright enough that the blue fire had completely faded away, so I joined my new friends for an obligatory gas mask group selfie.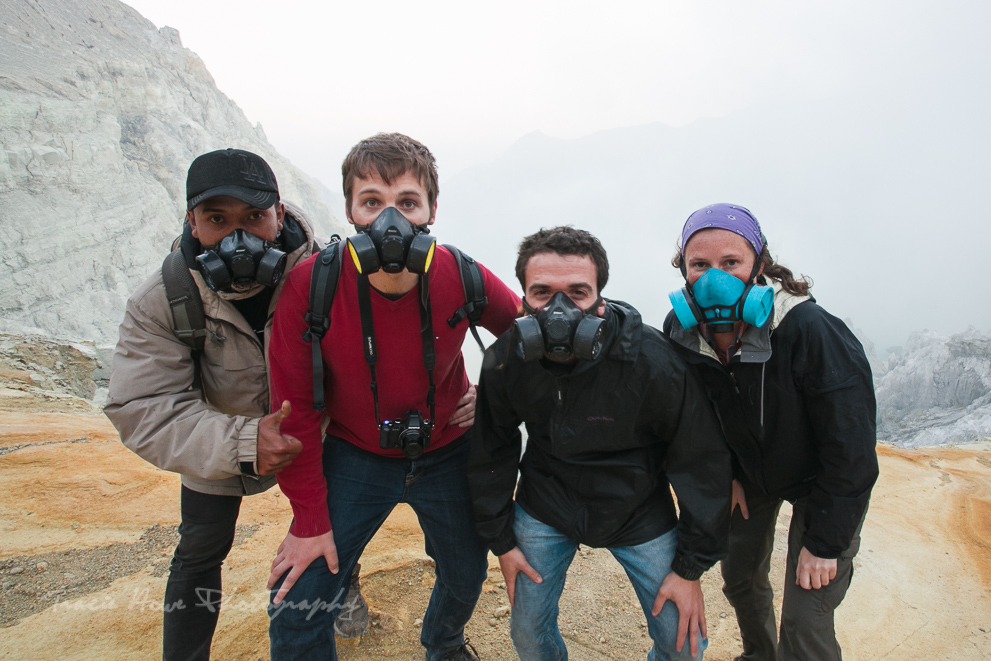 As we headed back up out of the crater, I noticed just how many other people had shared this experience with us in the dark. Back at the top of the crater we looked back to see the smoke still rising and the yellow sulfur around it. In the distance, the aqua blue color of the crater's lake began to emerge in the early dawn light. We stuck around for a little longer to photograph the view from the rim and to document the hard working sulfur miners of Ijen. After a while our adrenaline-fed energy began to fade, so we decided to head back down the volcano. Night hiking in a new place can be so interesting because the return trip is like a totally different trail. We saw views that we didn't know were there! We were also fortunate to spot some of Ijen's resident monkeys from a distance through the trees.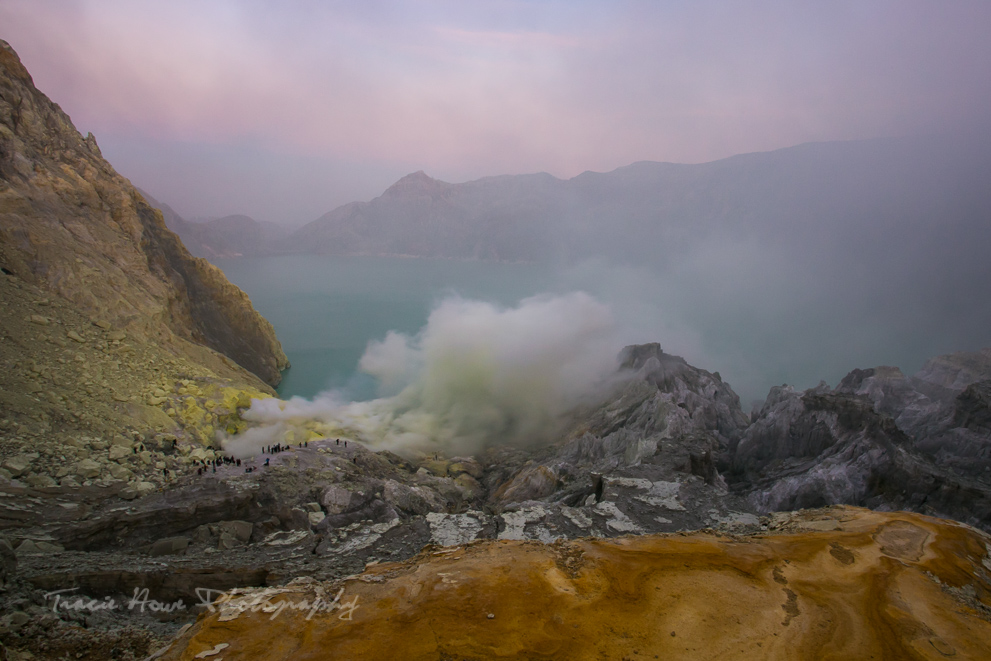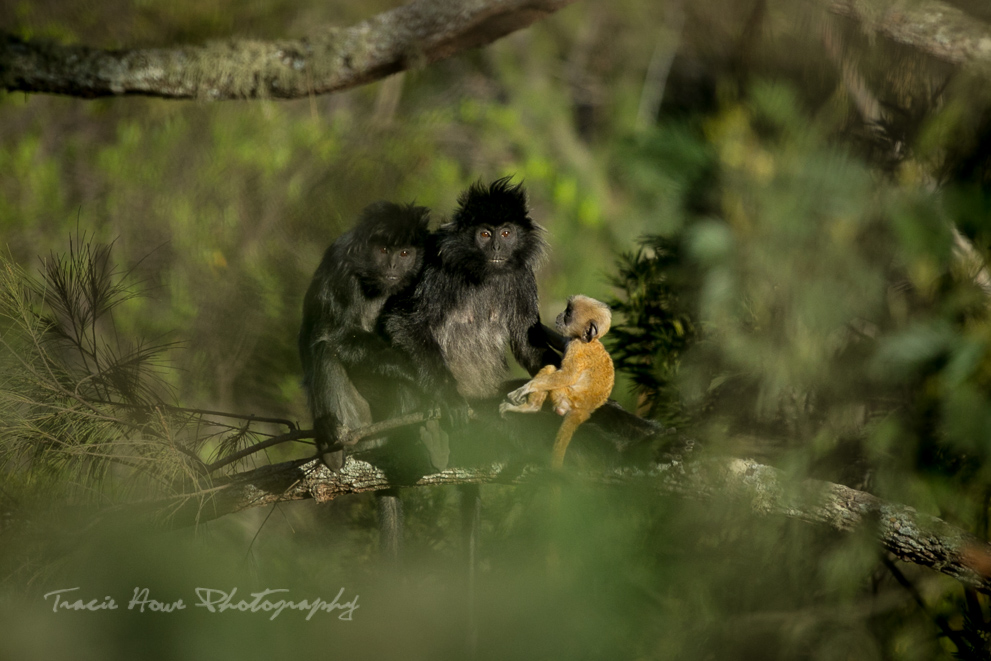 That day at the hotel was a blur of sleeping, lounging in the pool, and eating. But before we returned, we were presented with another amazing deal from our driver who offered to take me and a few others on to Mount Bromo the following day. Again, I jumped at the chance to save some money. It turned out that a hiker from our Ijen outing would be joining us, as well as a couple of girls that were going to climb Ijen that evening. They were all staying at the same hotel with us, so we got to know each other a bit before our next journey. The following morning, after the girls completed their Ijen hike, they told us about their own Ijen experience. They said they were taken right up to the blue flames… with the same guide! I was pretty pissed to hear that he took him there after discouraging us to go closer. This just goes to show that you should thoroughly explore your options during once in a lifetime experiences, but only cautiously of course!
Be sure to check back soon for the Mount Bromo experience in an upcoming post!
Travel Tips:
If you are planning to ferry over from Bali, a nice place to set off from is Lovina. Say hi to the best tour guide ever, Samaba, if you're there. Tell him Tracie sent you! From Lovina, you can get to Bali's port in Gilimanuk via a cheap local bus and then hop on the ferry. Just keep in mind that the local bus doesn't take you right up to the ferry and a guy might offer you the shortest ride in history for $5! Walk from where the bus drops you if you don't have much to carry.
Once you get to Java, you can hire a taxi to your accommodation, but if you're a cheapskate like me you can try to flag down another local bus. If the driver is feeling generous and there are no other passengers, he might take you right up to your hotel. If you're staying at the place I mention below, you can ask the hosts to pick you up. I just didn't realize that a pick up was offered, otherwise I would have saved myself a headache!
I recommend staying at Panorama Homestay in Banyuwangi to plan your onward journey to Ijen (and possibly beyond as in my case). Rent a room with air conditioning in the hotter months. I had to move to one because there wasn't much circulation in the fan only room I was originally in. You can book straight from this link if you would like to help support TracieTravels at no extra cost to you: Panorama Homestay
Embrace your inner dork and bring goggles to wear in the crater! People may laugh, but the stinging smoke will not get into your eyes.
Make sure you have a flashlight (torch) or headlamp and a gas mask. I was fortunate to have been provided with a mask as part of my "tour".
Photography Tips:
It was super challenging to photograph Mount Ijen with all the smoke blowing around everywhere. Aside from having a tripod and a long lens (if you can't get close like me), my best advice is to push your ISO as high as you feel comfortable. This will allow you to shoot faster and freeze the smoke and flames. You will probably want to shoot anywhere between 1/10 and 1/4 of a second, if not faster. I shot as high as 16000 ISO at f4 and 1/10 of a second, but there is a high risk of noise (ugly graininess) as you can see in some of these photos. I suggest testing out your ISO limits before getting to Ijen, because you're not likely to go back for a second chance! As dawn approached and other people's lights lit up the area, I was able to bring the ISO down a little bit. It's still very dark though, so be prepared!
If the smoke covers the blue fire, there's nothing much you can do besides wait for a break. Then shoot as many frames as you can before the smoke covers the flames again.
Just in case you do have to photograph the flames from far away, I suggest setting the manual focus on your lens to infinity in advance. Many lenses will tell you where infinity is, but this may not be perfectly accurate. Test it out when you can see the thing in the distance that you're focusing on (not in the black of night!), and when you've got your focus, secure it there with a piece of tape in preparation for Ijen.