I'm only vaguely familiar with the geography of Washington state. I know the I-5 corridor pretty well, some of the islands in the Puget Sound, and a few of the big mountain destinations like Mt. Baker and Leavenworth. But when it comes to anything east of the Cascades, I have a lot more exploring to do.
So, when I was invited to spend a couple of days playing in Union Gap, WA, I jumped at the chance! I knew it would be a fun weekend getaway, only a short distance from my home in Seattle. It turned out to be a weekend of first experiences – snowmobiling, escaping an Escape Room, seeing hundreds of Elk up close, and finally being able to cross the mountain passes with our new 4-wheel-drive Subaru. Dave and I were pumped!
It turns out that Union Gap offered more to write about than I had expected! So, I've divided up the weekend's adventures into two posts – day 1 and day 2.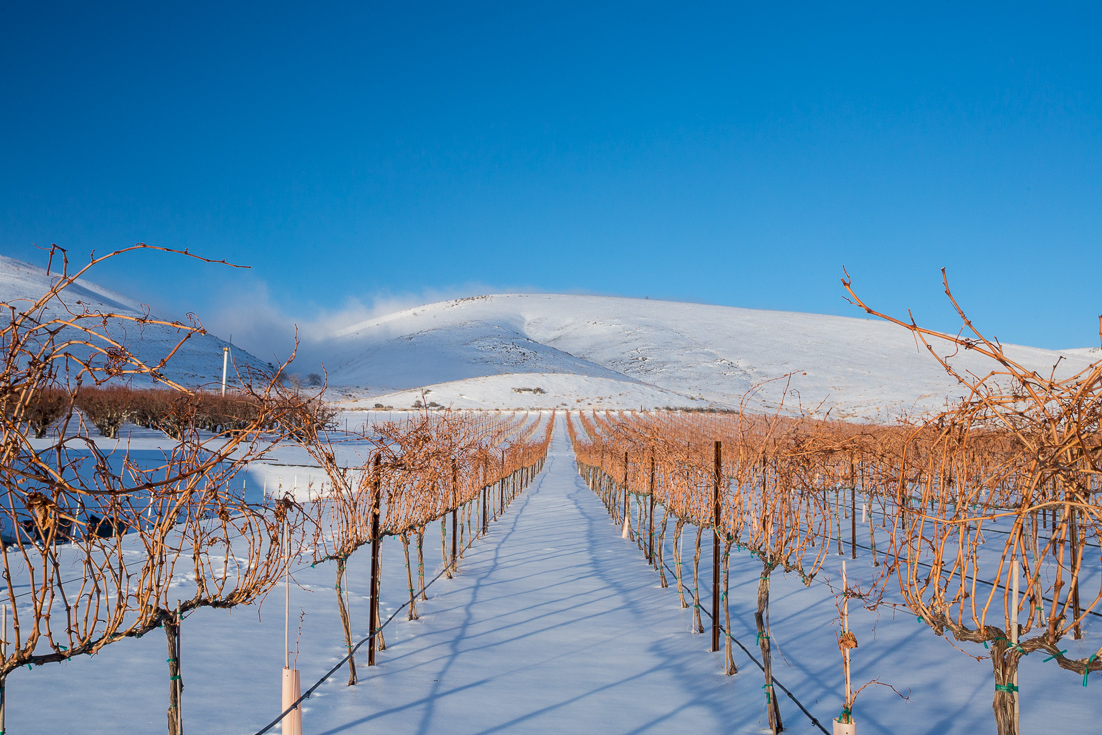 Day 1 in Union Gap
Getting there
Having little to no experience driving through the mountains in the winter, we thought that having our new 4-wheel-drive capable car would make us practically invincible when facing the highway foes of winter. What we didn't know was that no matter how great your car is, sometimes the passes close down completely!
Normally the most direct route would have been I-90, but Snoqualmie Pass was closed. Google maps told me to go north, through Stevens Pass, but after a traumatizing incident with Google maps in Romania, I thought it best to double check. I consulted some people and did a little research to find out that White Pass is typically kept open as the alternative route from Seattle when Snoqualmie Pass is closed. Good to know!
Unfortunately, getting to Union Gap via White Pass takes at least twice as long as taking I-90, when everyone else is also taking that route. But, it sure is pretty, so enjoy the drive if you do have to go that way!
Tamales for lunch
After meeting our host, Eric, and dropping our bags at the hotel, we were ravenous! The perfect (and most delicious) introduction to Union Gap after our long drive was lunch at Los Hernandez Tamales. The fresh, made from scratch tamales were just what we needed to energize us for the day ahead.
Los Hernandez Tamales is an unassuming, well known establishment that has been there for 27 years! Beyond Union Gap people will go well out of their way to eat there. We observed one such person placing a massive $125 order while we were there. The woman explained that it was because her sons found out she'd be passing through central Washington on her way home to Seattle. Now if only I could get someone I know to pick up some tamales for me… (hint, hint, wink, wink)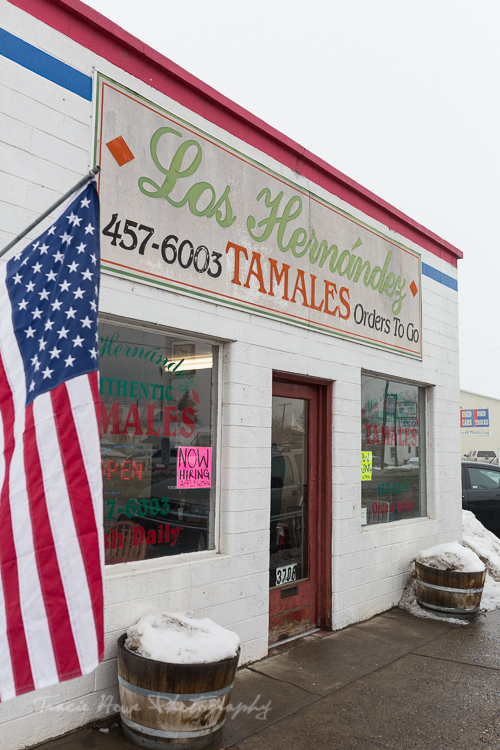 Owen Roe Winery tasting and views
After a satisfying lunch with congenial company, Eric, Dave, and I headed off to Owen Roe Winery. Washington east of the mountains usually sees more sun, but not while we were there. The sun did force its way through the clouds once during our trip though, and that was at the winery. The snow covered vineyards glowed perfectly in the soft afternoon light. The sun continued to play peek-a-boo during our visit to the winery, giving me the opportunity to taste the fine wines in between photographing the vineyard. We both enjoyed the wines and Dave bought a Malbec for us to take home.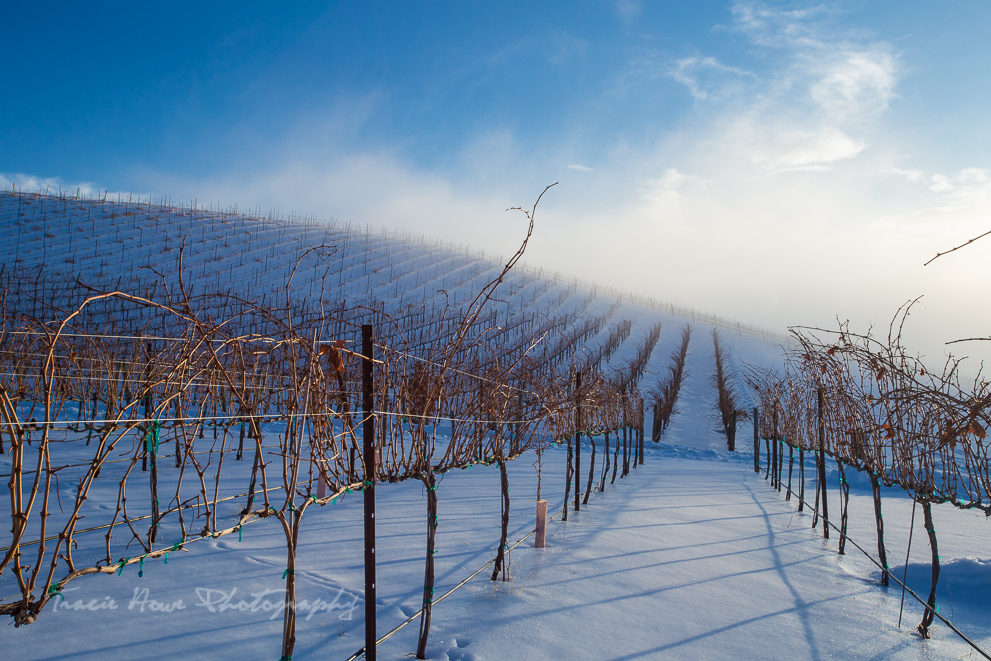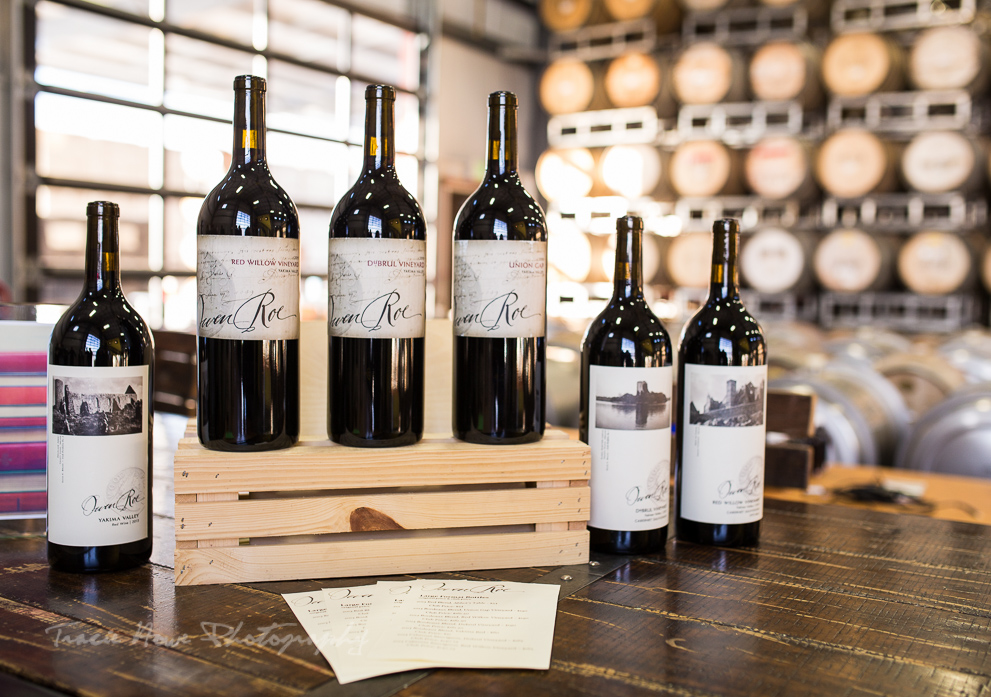 I'd like to experience Owen Roe Winery during the summer months. They open up the back patio for events, and I hear that the evening summer breezes are delightful! In the winter it was warm and cozy to sip wines in the sun-filled (sometimes) room, while glancing outside at the snow-covered landscape. The snow isn't always around in Union Gap though, so I feel lucky to have seen the vineyard this way!
The Central Washington Agricultural Museum inside and out
Next on the agenda was the Central Washington Agricultural Museum, a must see Union Gap attraction. The museum features a giant collection of agricultural artifacts from local history. Some of the smaller items can be seen in the museum's visitor center while others are found under the roofs of historical buildings or replicas. The museum also boasts 17 acres of farm equipment and machinery from the past. Unfortunately, the deep snow limited how much of that we could explore.
The sheer quantity of historical treasures impressed me. Visitors to the museum can tour the massive property by a museum operated carriage of sorts, so no need to see everything on foot. Those up for more activity can combine a museum visit with a hike on one of the trails that start just outside the museum's entrance. Next to the museum grounds is also a nice park that features a model plane flying area and will soon be home to a frisbee golf course. There's something for everyone here!
Escaping Escape the Maddness
Union Gap is embracing a popular trend that I have been dying to try out – escape rooms! Escape the Maddness is the newest attraction in Union Gap and I have no doubt that it will flourish as an activity for locals and visitors alike.
We were joined by our Eric's friends and family to make the group bigger. The six of us were greeted by our enthusiastic hosts for the evening and given the run down of how our escape would go. We were informed that this was a "friendly" escape room, because our game master would be present to help us if we needed any hints. These "golden nuggets" turned out to be an invaluable asset for us!
As we entered the room, we had one hour to "escape". In this case that meant finding the treasure in the pirate themed scenario. I loved all the pirate and nautical details in the room. It felt as if we were on a pirate ship or on the set of The Goonies! We were instructed to look around and inspect everything. Eventually we found clues and puzzles to solve, which in turn led us to ultimately find the treasure with 5 minutes to spare. Avaste me hearties! It was so much fun!
It's worth knowing that Madd Hatter Amusements also puts on a haunted house in the fall. Seeing the thought that was put into their escape room, I have no doubt that the haunted house would be just as impressive!
Dinner with ambiance at Zesta Cucina
Our numbers diminished back down to three again and we continued on to Glenwood Square, a place that I was interested in visiting. A friend had told me that the former apple packing warehouse was much like Seattle's Wallingford Center, a huge building housing cute shops and offices, but with a rustic vibe. The shops weren't open to explore by the time we arrived, but we weren't at a complete loss. Glenwood Square is also home to Zesta Cucina, where we decided to have dinner. Famished after some serious mental straining, we each enjoyed a salad and entree. Our meals were delicious and the atmosphere was lovely. I'm a sucker for good eats amidst twinkle lights and colorful lanterns!
Our first day in Union Gap ended with dinner so we could rest up for an active day ahead. Read the day 2 post now!
Subscribe in the sidebar to have updates delivered to your inbox! And be sure to check out more photos from this trip on Facebook.
*A big thank you to our host from the Union Gap, Washington Tourism Board for treating us to such a nice trip! And of course to the Union Gap establishments that showed us what Union Gap has to offer. As always, all opinions and photos are my own and based on my experiences, unless otherwise noted.*
If you liked this post, check out these: