---
Written by Jen. Photographed by Tracie.
---
This post continues from the previous one focused on our visits to a few of Vashon Island's best food and beverage establishments. Click here to read that first.
As we continued our tour around the island, the later part of the day brought us to a few of Vashon Island's iconic landmarks. The first one is Vashon's famed bike in a tree. There are several tales as to the origin of the bike in the tree. One of the most common legends says that a soldier left his bike leaning up against a tree in the woods, before heading off to war in 1914. It is unclear where this story started, and a bit strange as it is completely untrue and dates the bike 40 years earlier than when it actually ended up in the woods. Several islanders gave us the real scoop – in 1954 a local boy left his bike in the woods, as it was a girly hand-me-down from his sister. Over time a tree grew around the bike, and it is now elevated and incorporated into the tree.
We had been given directions by our friends at The Seattle Distilling Company, though we still managed to go down numerous paths and roads seeking out the bike. When we did find it, I have to say it was not quite what I had envisioned, and different from photos that Tracie had seen before. An older couple was there at the same time and the man grumbled that it was "disappointing". Tracie and I were both amused by his strong reaction and found the underwhelming-ness of the bike more comical than anything else.
*Update: If you visit the bike in the tree, avoid parking directly in front of the entrance or at the paved area next door. Upon a more recent visit, we were asked not to park there by the owner of the property.
One of our more interesting stops was at the Point Robinson Lighthouse. The lighthouse is located on Vashon's neighboring Maury Island, but is accessed by a road connecting the two islands. Point Robinson marks the center point between Seattle and Tacoma. A surprising fact considering it's proximity to Seattle and how quickly we can get there from our homes. Parking in the upper lot, we made our way down towards the beach where the lighthouse stands. Mount Rainier was hidden by clouds the day we were there, but on clear days the mountain can be seen from the beach and makes an absolutely stunning photo spot.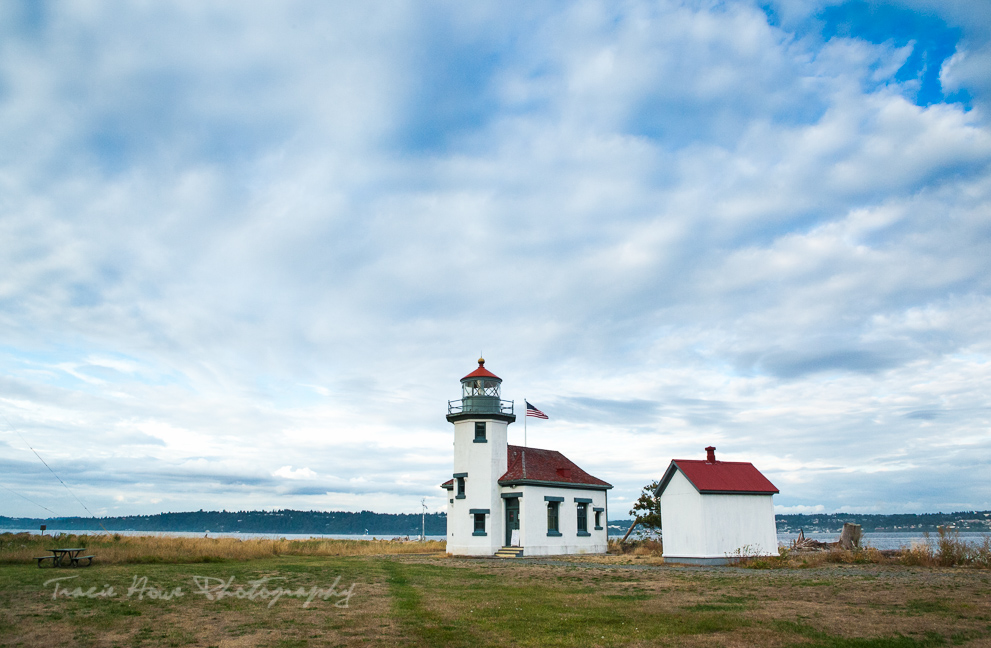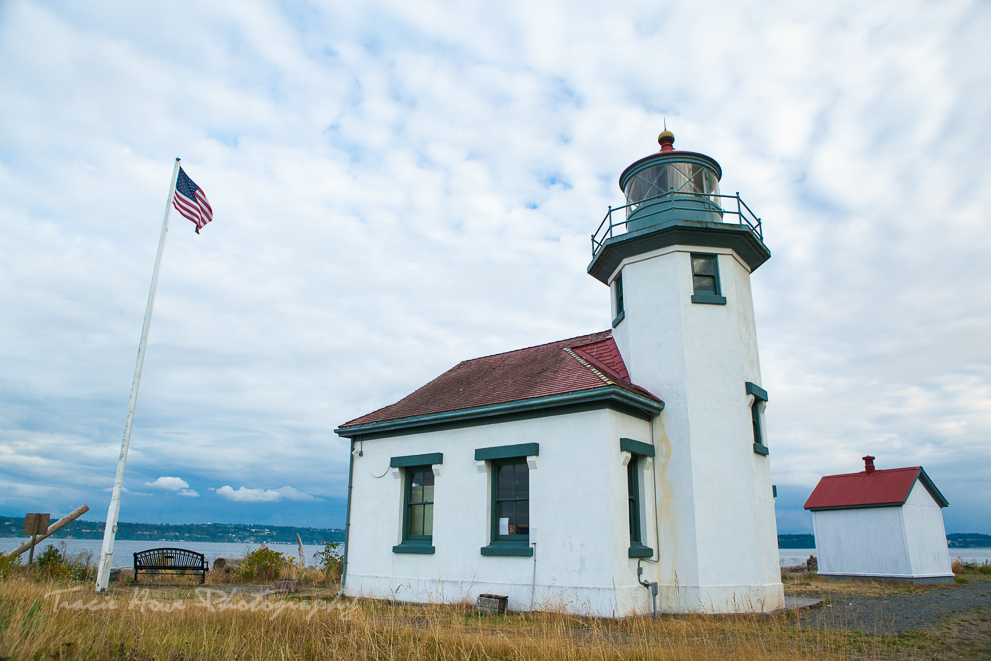 Emily happens to be friends with the lighthouse caretaker, Looby, a fun, quirky fellow. Keen to meet him and perhaps get a lighthouse tour, we set about trying to get his attention. This involved shouting into his window from outside his fenced yard with an audience of beach combers giving us strange glances. We could see that he was inside watching television and Emily insisted he'd be all too happy to have visitors, so we continued to shout his name and crack jokes outside his abode. Eventually, he took notice, walking out to greet us as he finished off his take out food.
Looby shared interesting stories from the life of a lighthouse caretaker as he walked us to the Point Robinson Lighthouse. We played a Northwest geography game trying to pinpoint Des Moines, Three Tree Point and other places we know across the water. We could name a few, and Looby filled in the rest of the blanks expertly. He treated us to an inside tour of the lighthouse which was full of history and memorabilia. Emily, Tracie, and I went up top and captured a few fun snapshots, enjoying the view even without Mt Rainier.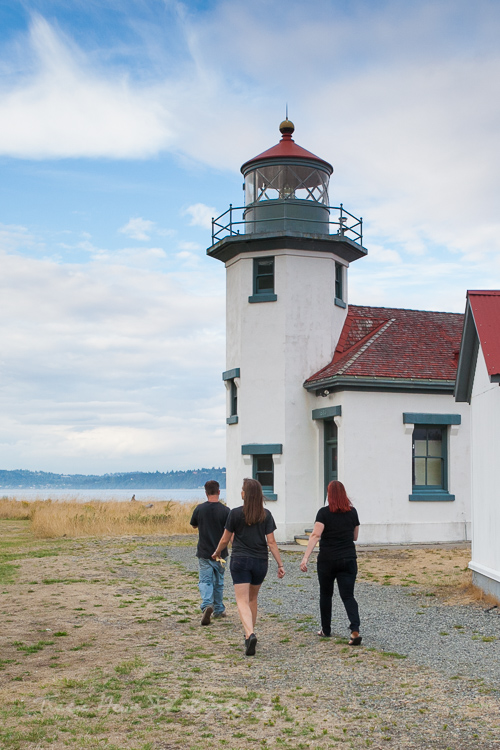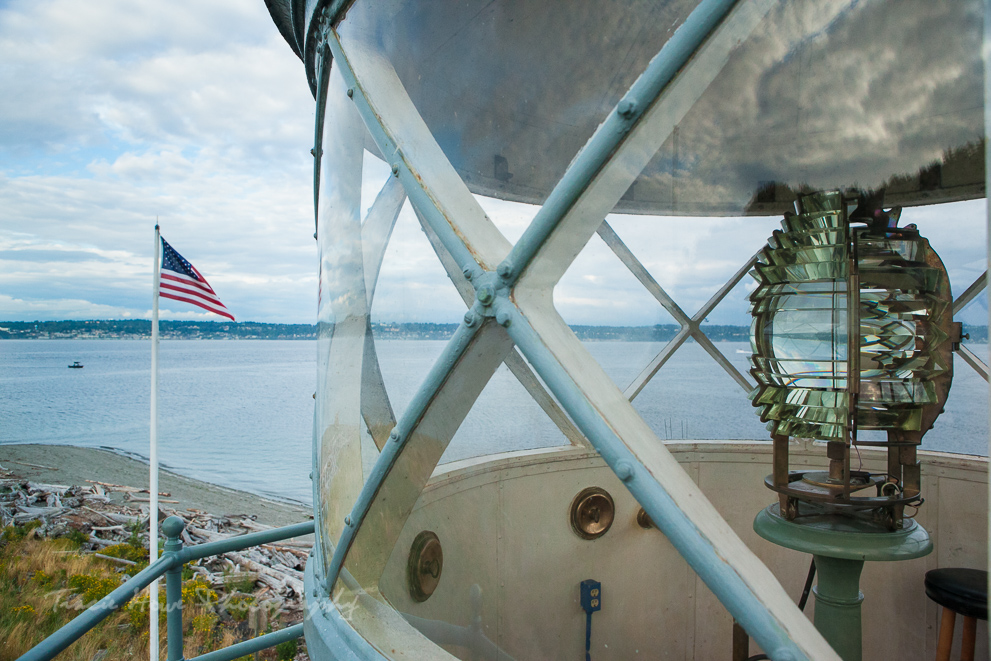 Another highlight of the day was our stop at the famed Portage bikes and exercise equipment viewpoint. Facing out to Tramp Harbor, locals have left an assortment of vintage exercise equipment – mostly exercise bikes (including one model my mom had in the 80's), but also treadmills, nordic tracks, and various other exercise relics.
Tracie and I are both fans of all things quirky and this took the top quirky prize for the day. We felt obligated to get in a work out and photo shoot while we were there. I think the photos below may be the best that Tracie captured during our visit to Vashon Island. Certainly the funniest! Over the years, the equipment occasionally gets cleared away, and when that happens, "new" old equipment pops up in place of the ones removed.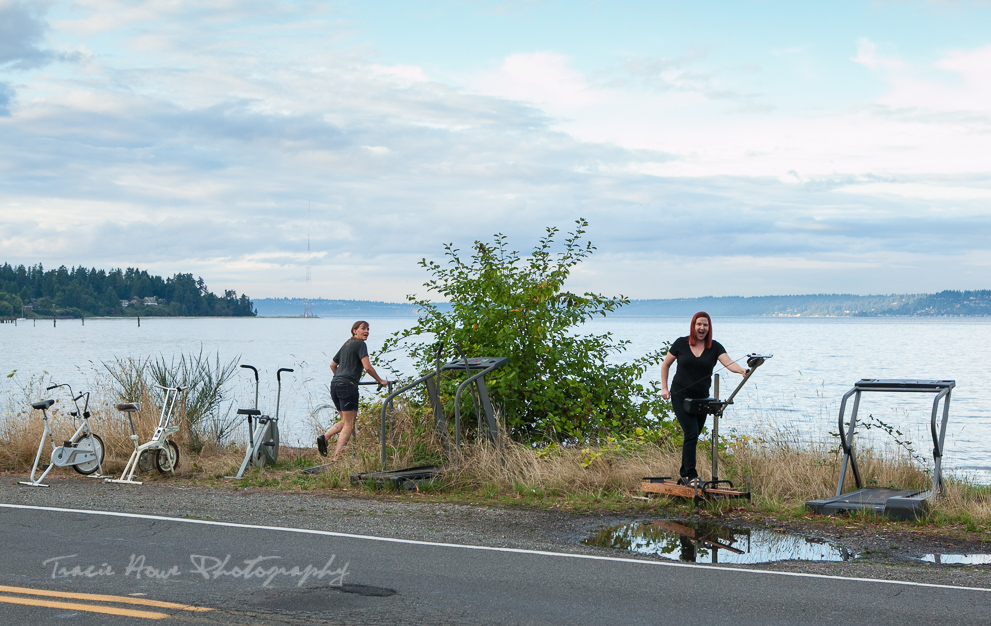 After a very fun, full day, we said goodbye to Emily and the island. We pulled up to the ferry terminal and only had to wait about fifteen minutes before we were on the boat and homeward bound.
One of our biggest take aways from the day was the overwhelming sense of community on the island. All of the business owners we talked to are so happy to be a part of it and to promote other members of the Vashon Island community. Throughout our day, many locals and regulars of the establishments we visited, chatted with us, also sharing feelings of pride in the island community and loyalty to their favorite local businesses. We now have a long list of people and businesses to check out on our next visit. Even the iconic outdoor locations are important to this island community, from Looby taking the time to show off his Lighthouse to friends stopping by, to the ever rotating stock of vintage exercise equipment at Tramp Harbor.
If you love exploring in the Northwest, good food, drinks, and quirky outdoor landmarks – then maybe it is time to visit or re-visit fabulous, community powered and focused, Vashon Island.
---
Written by Jen. Photographed by Tracie.
*All opinions and photos are our own unless otherwise noted*