---
Written by Jen. Photographed by Tracie.
---
The week-long Alaskan Cruise that Tracie and I recently took was full of fun and over all too fast. It seemed that just when we were really getting into the swing of cruise ship life it was time to prepare for disembarkation in Vancouver, B.C.. We spent our final day at sea packing, hanging out with our friends Scott & Inge, and enjoying all of the ship's amenities for the last time.
A day in Vancouver
The Volendam arrived in Vancouver bright and early on a sunny Wednesday. We awoke in a bit of a morning fog. Tracie and I dragged our luggage down the gangway, saying goodbye to crew members as we went. We checked our luggage in the terminal so we would be free to roam for the day, then we met up with Inge to eat at one of her favorite breakfast spots. The De Dutch pancake house was a perfect choice as Inge is Dutch and with the Holland America connection, even more so. Tracie and I had both developed a love of Dutch pastries and pancakes (known as pannekoeken) during our years sailing with Holland America and travels in The Netherlands. The food was tasty, and filling. We hugged Inge goodbye with full bellies.
With hours to go before our train home to Seattle, we decided to rent bikes and soak up some sun in Stanley Park. The weather was perfect for biking and Stanley Park is a fantastic place to explore whether by bike or on foot. There were quite a few other folks riding in the park, and I was glad we were not there on a sunny weekend day, which would surely be a bit too crowded for our taste. The massive park is the oldest in Vancouver and a top tourist destination. It boasts stunning scenery, an impressive trail network, a renowned aquarium and First Nation Artwork – including totem poles and Coast Salish Gateways. We managed to circumnavigate the entire, massive park before our 2 hour time limit on the bikes ran out.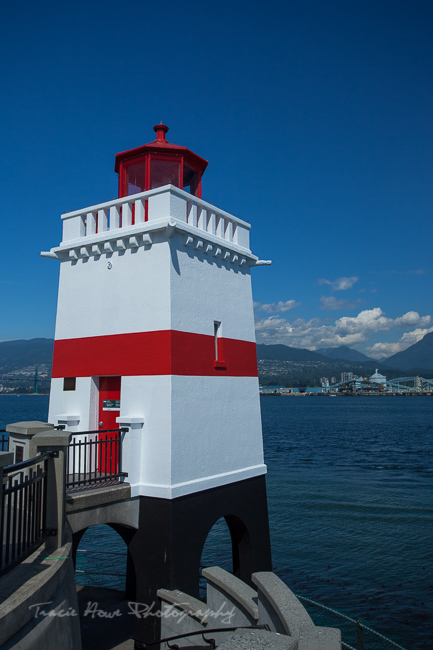 The rest of the afternoon was spent enjoying coffee in the sun and catching up with our friend Phil, who used to work on ships and now lives in Vancouver. We arrived at the train station with time to spare, and much to our a delight, a farmer's market was in full swing right in front of the train station. We tried some locally made, uniquely flavored popsicles and picked up some baked goods for the train ride home.
The train from Vancouver, B.C. to Seattle
Our return journey with Amtrak Cascades began with a painless boarding procedure that we both appreciated.  As you journey from Vancouver, B.C. to Seattle, the train has an awesome vantage point for viewing the sunset over the water. Despite leaving well before sunset, we were unfortunate in missing most of the spectacular views due to having to stop for a long time to wait for another train to pass. Luckily, Tracie snapped quite a few scenic shots on the morning train we had taken to Vancouver, and still managed to get just a few late sunset shots on the way back.
Such delays are not uncommon, and are part of the charm of riding the rails. Sure, it can be annoying to be held up, but then again, on the train you have a bar within a couple of cars, and a glass of wine or beer while you travel certainly beats sitting in traffic without the freedom to relax.
Tracie and I both found ourselves wishing we were on a longer train trip, one that would require a sleeper car, allowing more time to enjoy the romance and nostalgic magic of train travel. So many travelers have trained this way in foreign countries, but extended train travel in the U.S. doesn't seem to be as common. A longer train adventure – possibly to California, or out to Chicago is now on our travel wish list. Our friend Scott took an Amtrak train from Seattle to the Mid-west a couple weeks after our cruise, when he finished his contract. He absolutely loved his multi-day train adventure, and hearing about it made me all the more keen to take a longer trip on the rails.
After the sun fully set and we were free of scenic distraction, Tracie and I spent some time discussing the blog posts we'd be doing about our Alaskan Cruise adventure. With our hands and minds free we used the time to review photos, read, drink and nosh, listen to podcasts and nap. The trip had been so exciting and full of fun that we were both exhausted and ready to get home and recover. Of course, that would only take a couple days and then we'd be itching for more adventure, whether by boat, plane, train or automobile.
*All opinions and photos are our own and based on our experience aboard Amtrak Cascades from Vancouver, B.C. to Seattle. We were not financially compensated for this post. 
---
Written by Jen. Photographed by Tracie.