Visiting Plitvice Lakes National Park is one of those bucket list things that I've wanted to do from the moment I saw my first photo of it. Like most places that I've dreamt about visiting for any length of time, the reality was different than I imagined.
It was even better!!
Seriously, this place blew me away. It's a real life fantasy land featuring 16 aqua blue lakes that tumble one into the other through a series of beautiful waterfalls. I lost count of how many waterfalls I saw in just a couple of hours on my first day. The second day I saw even more!
Despite my appreciation for this magical place, my visit wasn't without its challenges. Hopefully I will save you a little trouble by explaining how you can make the best use of your time based on my experiences there. Whether you're simply taking it all in or trying to get the best photos possible, here is your guide to visiting and photographing Plitvice Lakes National Park.
Tips for visiting Plitvice Lakes National Park
Take a detour
First, do yourself a favor and stop at Rastoke for a quick detour on the way to or from the lakes. If you're heading down from Zagreb to Plitvice, you'll be passing right through the little town. It's a convenient stop for lunch and quick sightseeing, if not an overnight stay. There are old mills dating back to the 17th century (you'll have to pay), but there are also several waterfalls to see for free. If you haven't yet been to Plitvice Lakes, it will be the perfect place to take a break from driving and get you pumped up for visiting the park!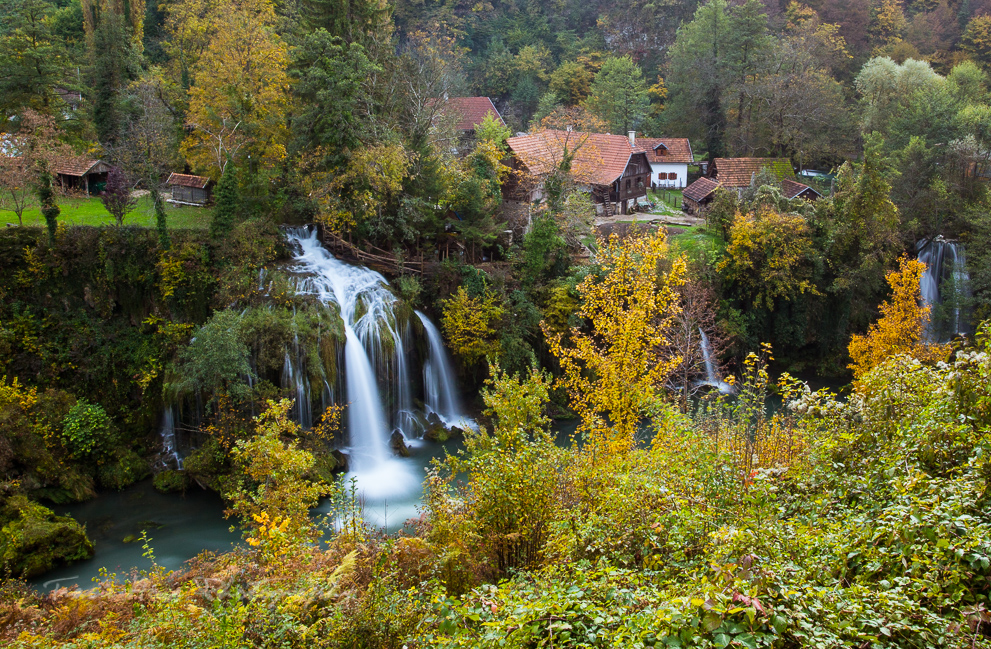 Visit responsibly
Plitvice Lakes National Park is currently a Unesco World Heritage site. If conservation efforts continue, it will be for a long time, but we need to do our part when visiting. Don't litter, don't go off the trail or boardwalk, and don't swim. Yes, the water looks inviting and you see people swimming there in photos, but it is 100% not allowed. Don't be that guy! The only creatures that should be swimming in the crystal clear water are fish and ducks.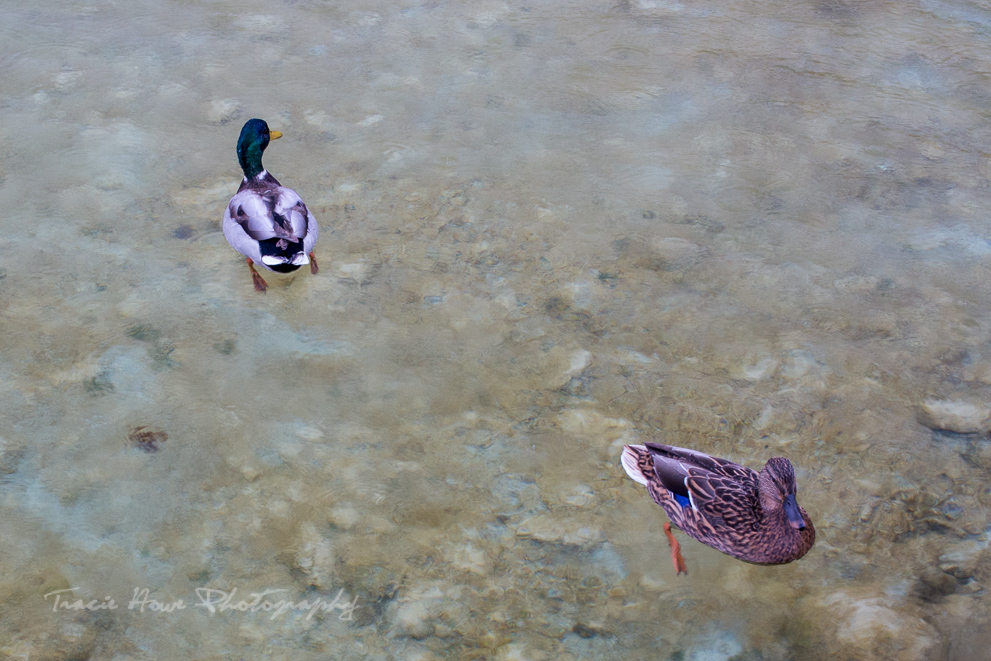 Please try not to support the hotels, cafes, and shops inside the park unless you're desperate. This will only lead to more development within the park and over-visitation, which is already pushing the limits according to the park's Unesco World Heritage status in 2016. Besides, when one is forced to eat the food, one might find it to be mediocre.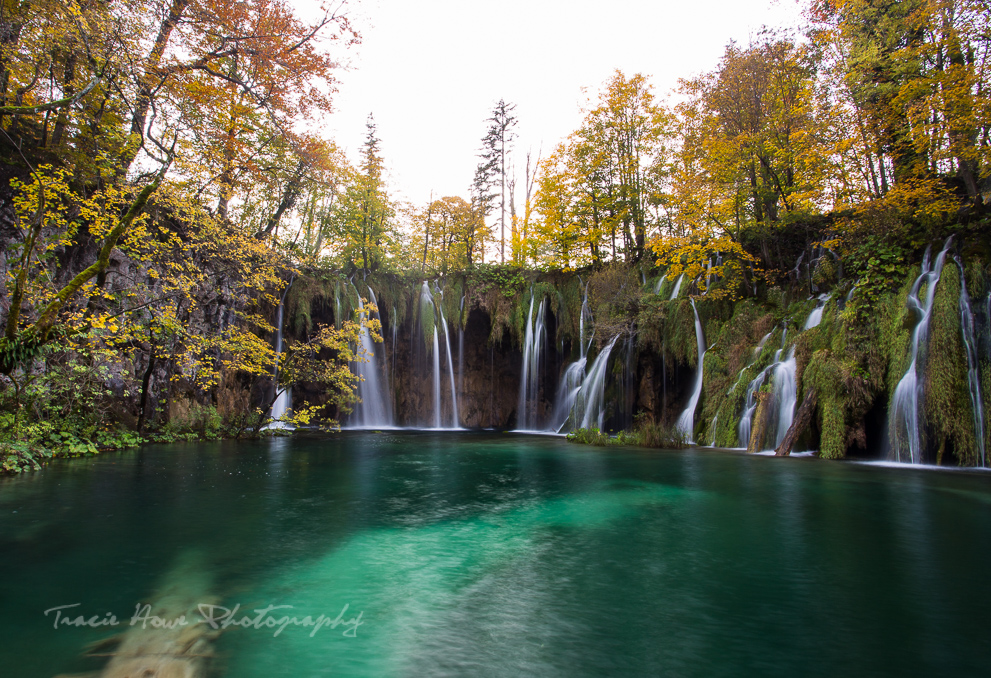 Two days vs. one day 
There are two entrances to the park. Entrance 2 takes you to the upper lakes and Entrance 1 takes you to the lower lakes. You can choose to visit the park for one day and see just one set of lakes, but in my opinion that would just be silly!
A less silly option would be to spend one day seeing both sets of lakes. It can all be done in 6+ hours, but considering my obsession with this place it may be no surprise that I recommend two days. Spreading out your visit over two days is a great way to take your time and thoroughly explore the lakes and the surrounding forest if you choose to. Personally I could have spent an entire week there… who am I kidding, I could live there!
Whether you choose to spend one day or two+, I highly recommend an overnight at Falling Lakes Hostel. Even if you're not a hostel/dorm sort of traveler, they have lovely private rooms for you. They have a great atmosphere, friendly staff, and the place is impeccable! I went back just to stay there on my return trip north. Tell them Tracie sent you if you end up staying! :)
Avoid the crowds
I was at Plitvice Lakes in the fall and the crowds were tolerable (except that one never ending stream of people when I was trying to take a photo on the path). Tour groups are the biggest culprit when it comes to crowds here, or anywhere for that matter. I only saw a handful of big groups come through, but I would have seen more if I hadn't been moving around so much myself. I have heard that summer crowds are worse, so time your visit accordingly if crowds are not your thing.
Speaking of timing, arrive right when the park opens. You may be the only one there for a little while, which is a very peaceful way to spend a morning. <3
Take photos of the maps
There is a small map on your entrance ticket, but please don't rely on that alone. You will see many different maps of the park posted. Probably displayed where you're staying, at the entrances, and at the tram and boat stops. I suggest taking a photo of every single one since they vary in the amount of information that they provide.
Some of them have suggested routes (called programs) depending on how much time you have. I chose to ignore those because I had a photo agenda, but you might be able to make better use of them. Each route is labeled with a letter.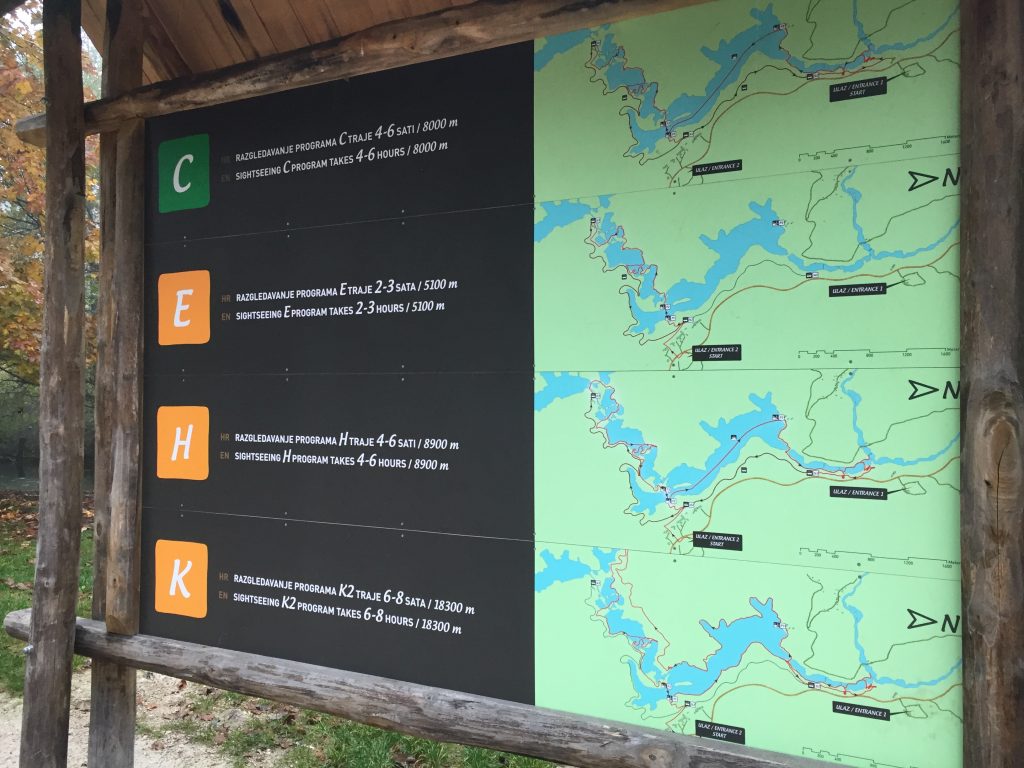 If you plan to see all of the lakes in one day, I would suggest going from the top down. This might save you some rushing uphill later in the day when you're trying to finish up your visit by a certain time. Take the tram all the way to the uppermost lake and start your walk down and around the upper lakes from there, then continue to the upper end of the lower lakes.
Don't trust the signs completely
As much as I adore Plitvice Lakes National Park, I feel that the signage could be improved. It seems as if they have the right intention, to make things easier, but they ended up oversimplifying to the point of complicating things. Too many different map signs, no "you are here" points on those maps, and very little explanation of things. At least the signs showed some words in English in addition to Croatian.
I figured out that "St" on the map meant there was a tram stop (Station?) and "P" meant that there was a boat stop. I feel that it would have made more sense to simply label them as "tram stop" and "boat stop", but that was not the case. At least the signs that were posted frequently alongside the trails were labeled with a little picture of trams and boats. The addition of extra letters confused me even more because in the beginning I didn't know that there were suggested routes designated by letters. Again, I think "route H" or "program H" could save people the trouble of guessing what "H" refers to.
As frequent as they are, these signs are not as helpful as they could be even when you know what all the letters stand for. They point towards the next boat or tram stop, but they don't necessarily say how far away those are. There was also no signage that I saw (even on my little ticket) mentioning the times of the last departing boats and trams. For someone who decided to push her luck one day, this knowledge would have been helpful…
Don't leave too late
On that note, don't make the many mistakes I made on my first day. I was so anxious to see the park that I opted to use up one of my two days as soon as I arrived in the area. This only left me a couple of hours that day, which for me was not nearly enough. I also heard that it was supposed to rain the next day, so I wanted to make the most of my bad timing.
So I arrived around 4pm and rushed through the upper lakes. Well, I admit that the only rushing (uphill!) I did was towards the end when I realized how close I was cutting my return to the entrance which was supposed to close at 6pm. At a certain point I made the bad decision to head towards the mysterious tram that I kept seeing signs for, even though I had no idea how far it was. You see, I knew about how far back the boat was because I had arrived on it. But, like I said, I was pushing my luck trying to see as much as I could. I was being greedy!
I knew that the last boat left at 6pm, and I made the mistake of assuming that the last tram also left at 6pm. It didn't. I arrived at the tram stop at 5:45pm, 15 minutes after the last one left and too late to get back to the boat in time. In my panic at that moment I began recounting all the survival skills that I had learned from Bear Grylls over the years, wondering if I could make it through the night. When I calmed down I realized that even though I arrived on a boat, I could just follow the tram road back to the entrance. Duh!
Come prepared
Treat a visit to Plitvice Lakes as you would a long hike. Plan to be out for most of the day and bring what you might need. If it rains, you don't want to have to go all the way back to your hotel to get an umbrella or rain jacket. Fortunately, I was well prepared for the hours upon hours of rain that I experienced on my second day. Bring lots of water, snacks, and sunscreen (when the sun is actually out). There is food available at the entrances and various transportation stops, but be prepared to eat mostly gross sandwiches and burgers if you must eat there.
Make sure you have a charged cell phone with an active SIM card! In Zagreb I had gotten a new SIM card, but something was wrong with it. I didn't realize that until I was desperate to avoid that overnight in the woods. Even though I made it back okay, a working phone would have allowed me to follow a digital map or make an emergency call had I needed to.
Tips for photographing Plitvice Lakes National Park
Careful with that tripod
If you want those beautifully blurred cascades of water, then you'll definitely need to bring a tripod. You only need an exposure of a couple of seconds, if that. Just be forewarned that many of the waterfalls will require you to set up your tripod on a boardwalk and you'll need to share that narrow space with people passing through. Please be courteous and pull up your tripod to let them pass.
If not for your manners, do it for your photos! People walking anywhere in the vicinity can vibrate the boardwalk, so you'll want to be aware of those tiny vibrations that could ruin your photos.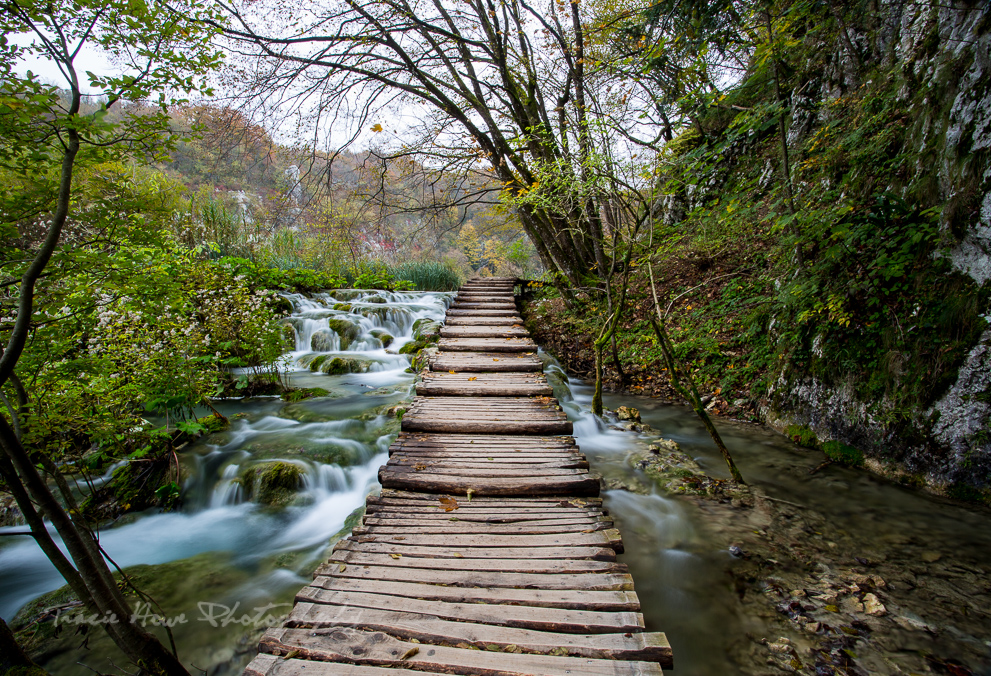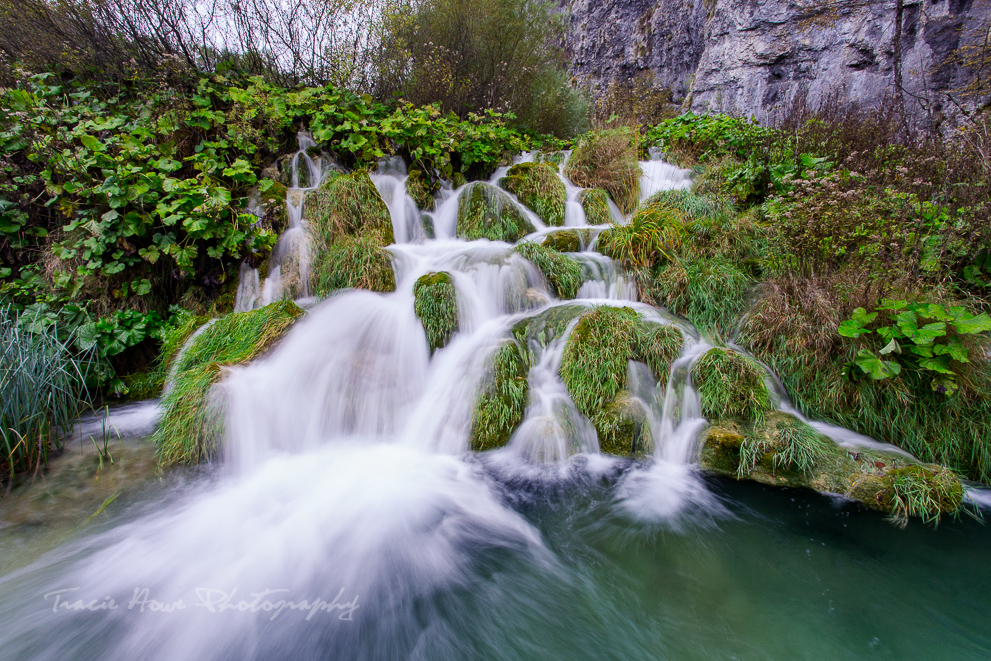 Filters are fun!
You might want your entire arsenal of filters for a visit to Plitvice Lakes National Park. I was lucky in some ways because the darker, overcast sky made it easier to shoot longer exposures for those silky waterfalls. I had no need for my neutral density filters because the scenes were never very bright.
Occasionally I did need a graduated neutral density filter when the contrast between the foreground and sky was too extreme. A graduated neutral density filter darkens part of the image only, allowing you to evenly expose the entire image.


I timed my visit well for the height of the colors of autumn, but I was not so lucky with the rain. Despite constantly trying to keep my camera (and lens!) dry, one benefit of the rain was the wet foliage. A polarizing filter was all I needed to tone down the shiny highlights on leaves and bring out the color already made richer from the rain. The result was naturally saturated colors all day long, with no sun creating harsh shadows and highlights.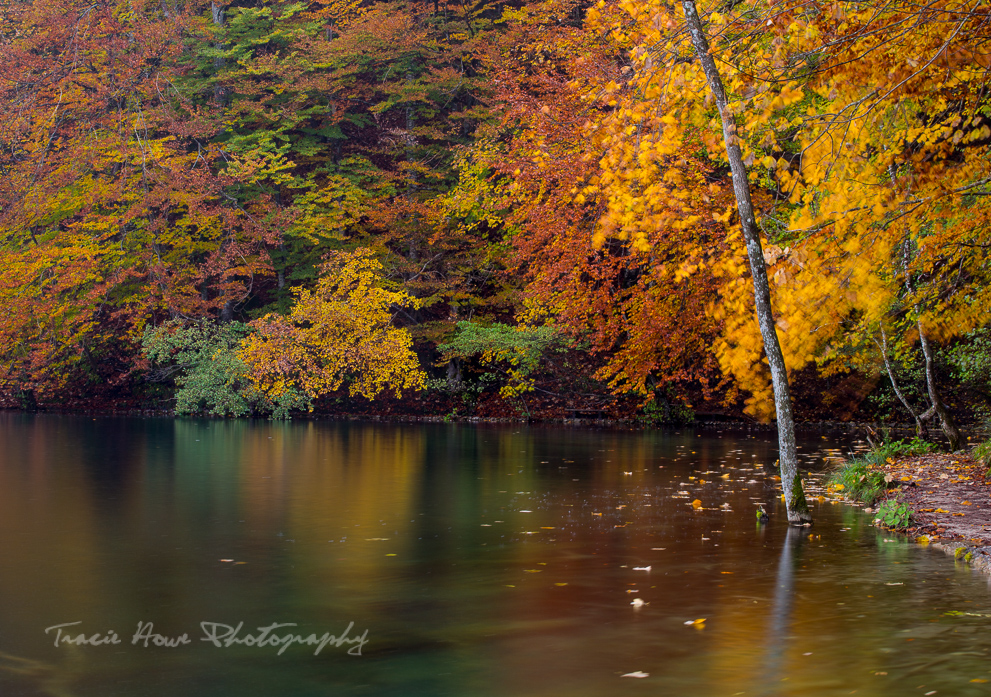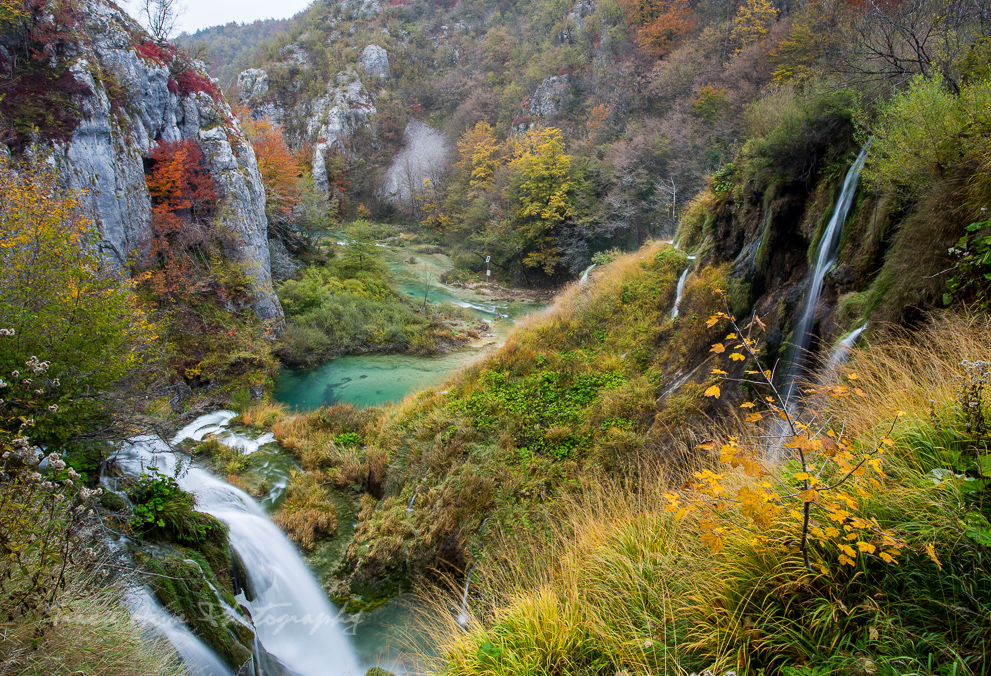 Shooting in the rain
I certainly hope a little old thing like water pouring from the sky wouldn't stop you from exploring and photographing such a gorgeous place as Plitvice Lakes National Park. You can still shoot in the rain, but you might need a few pointers if you're not used to it.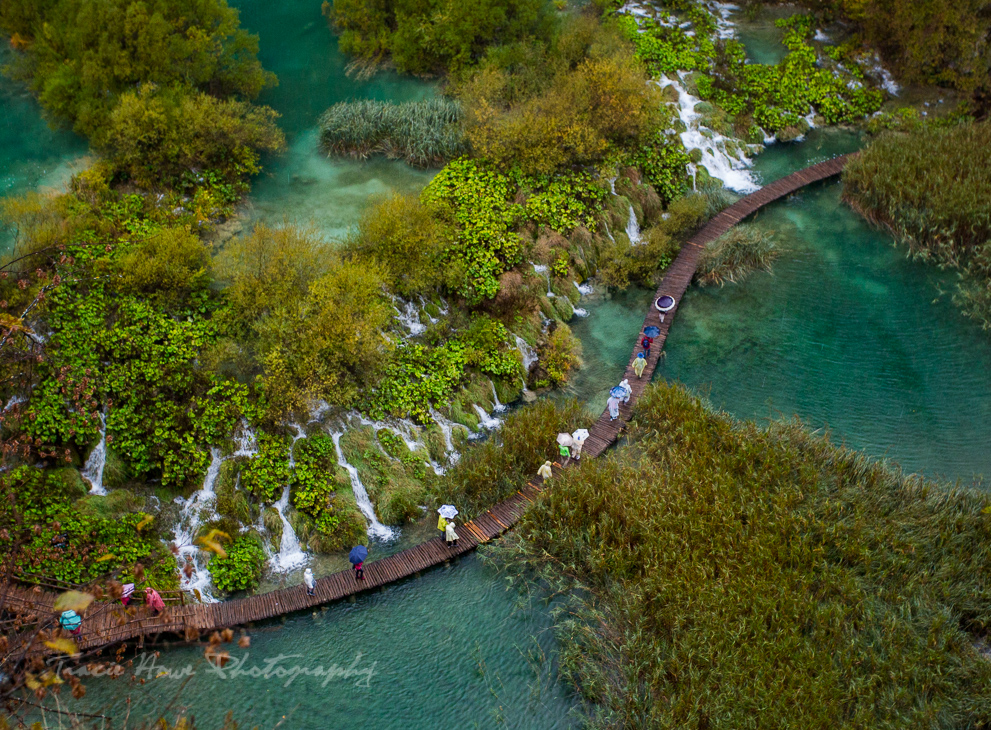 Lens hoods do not only block rays of light, they can also shelter your lens from rain drops. If your hood doesn't extend out very far, it may not do much to protect your lens, so some other covering may be necessary (if I traveled with an umbrella, this would have been ideal). No matter how big your lens hood is, it's best to check your lens for drops of water after each shot.
If your lens is dry, be sure to cover it with a lens cap right away. If it's wet, carefully wipe off the drops until completely dry and then cover with a lens cap. You may need several lens wiping cloths because eventually they will be too soaked to do you any good. There are some that are more absorbent than others, so be sure to ask before buying.
Even though I was prepared for the rain, I was out in it for so long that I still got soaked through. Me and everything with me. It would have helped to have a cover for my backpack (which I simply could not find before I left) and an extra towel or something to cover and wipe down exposed equipment. I made do for a while with a soft scarf, covering my camera as I carried it on my tripod from place to place and using it to pat dry my camera when it was getting too wet. When I was done for the day, I dried everything off the best that I could and then let it all air dry out in the open in my room, including my bag and my tripod. Closing up expensive equipment in a moist environment is no good!
Contrary to my last statement, if it's pretty cold out and you're moving your equipment into a warm place, DO close it up. Ideally this won't be in a wet bag, but that may be a better temporary solution than fogging up your camera with the sudden temperature change. If this happens it could trap moisture in your camera that will damage it. Place your camera in a cold (hopefully dry) bag before bringing it into the warmth of a room and bring it out again when everything has a chance to gradually warm up a bit.
Manual mode
For most landscapes I shoot with a high number aperture (like f16 or f18). This is to ensure that the entire scene is sharp. In many cases this means that I will be shooting in manual mode. Meaning that I have full control of everything like shutter speed and ISO which will result in a perfectly exposed image. In other modes like aperture priority or shutter priority, the camera makes its best guess but it may be confused by extreme darks that are next to extreme brights.
Shooting in manual not only guarantees that you'll get the exposure that you're going for, but it helps you to slow down and think carefully about what you're doing. It's good to practice this with landscapes when you're learning photography.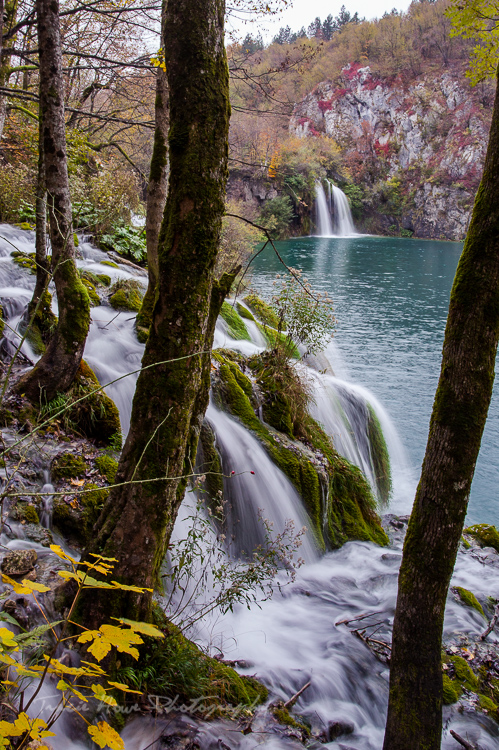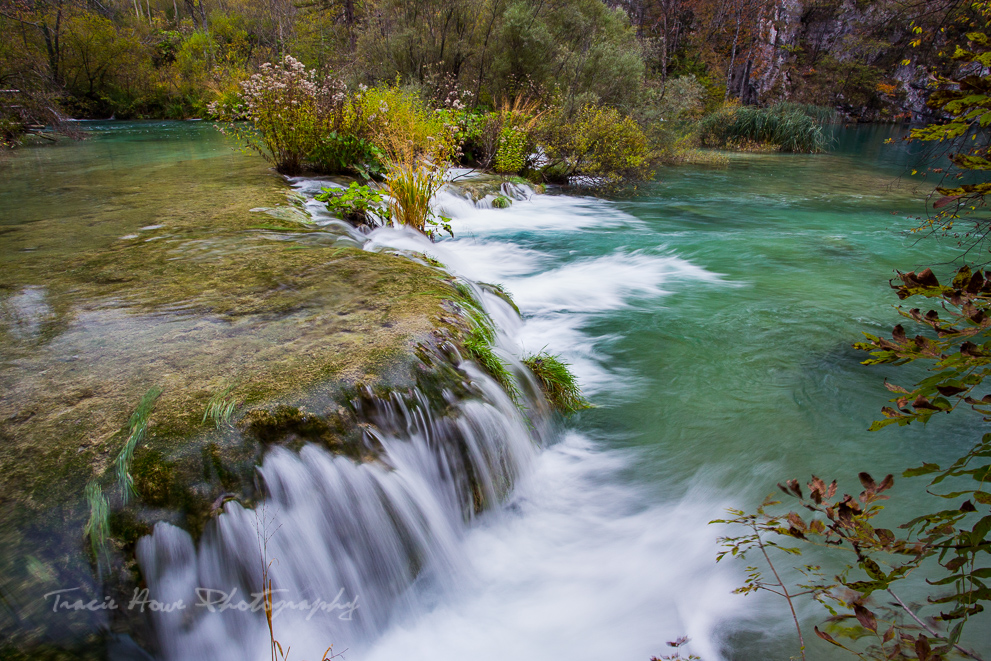 Manual focus
Normally when I need a tripod to shoot something, it's usually too dark for the camera to auto focus so I have no choice but to set the lens to manual focus. By the way, Live View is a great tool for checking focus on your camera's LCD screen!
However, when I'm shooting waterfalls I'm using a tripod, but it's also light enough for the camera to auto focus. In this case I decide what to do based on the situation. If the scene is far away without much depth, I am probably safe autofocusing. If there is depth to the scene with a close foreground, I can either selectively auto focus (by directing my focus point where I want it) or manually focus on the foreground (which is hopefully around 1/3 of the way into the scene) if I want everything in focus like in the next photo. If I don't want the foreground in focus, I'll focus on the background, such as in the second photo below. I find manually focusing to be my safest bet because leaves and foliage can be tricky to focus on. Foreground leaves can blend in with background leaves, confusing the camera's auto focus sensor even if I've pointed it where to focus.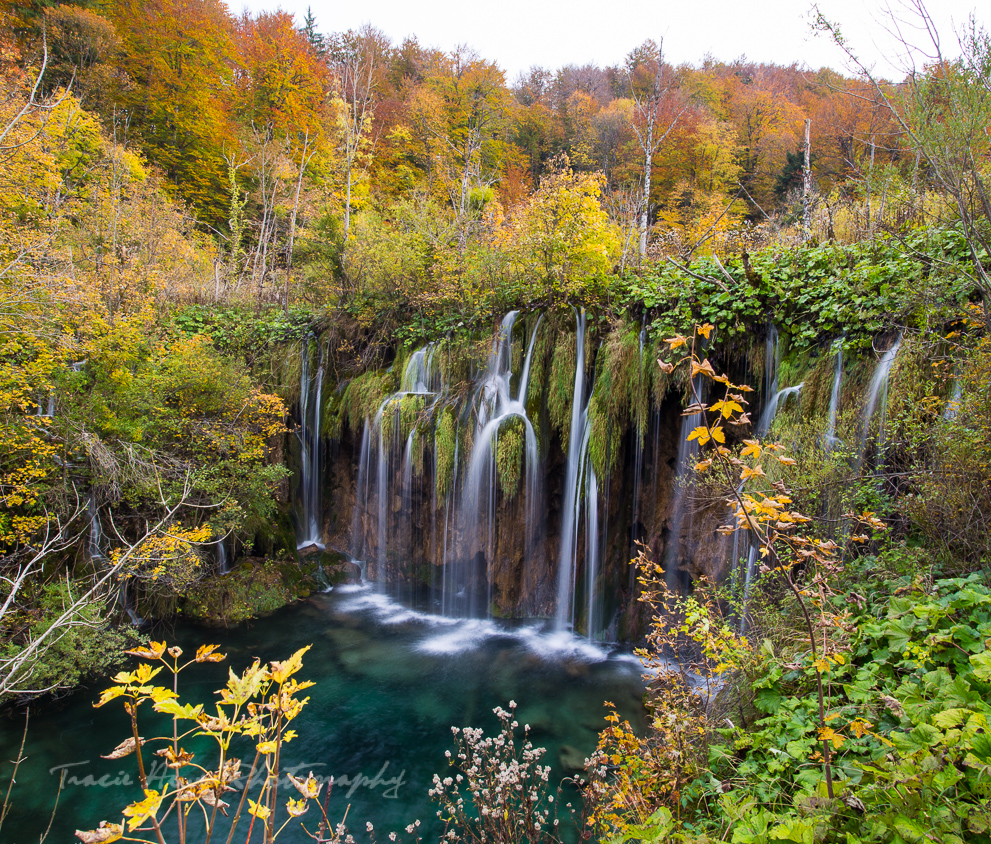 I suggest only using manual focus when you have a tripod so that you can digitally zoom in on the scene to make sure that the focus is where you want it. Much harder to do when you're holding the camera and trying to manually focus at the same time!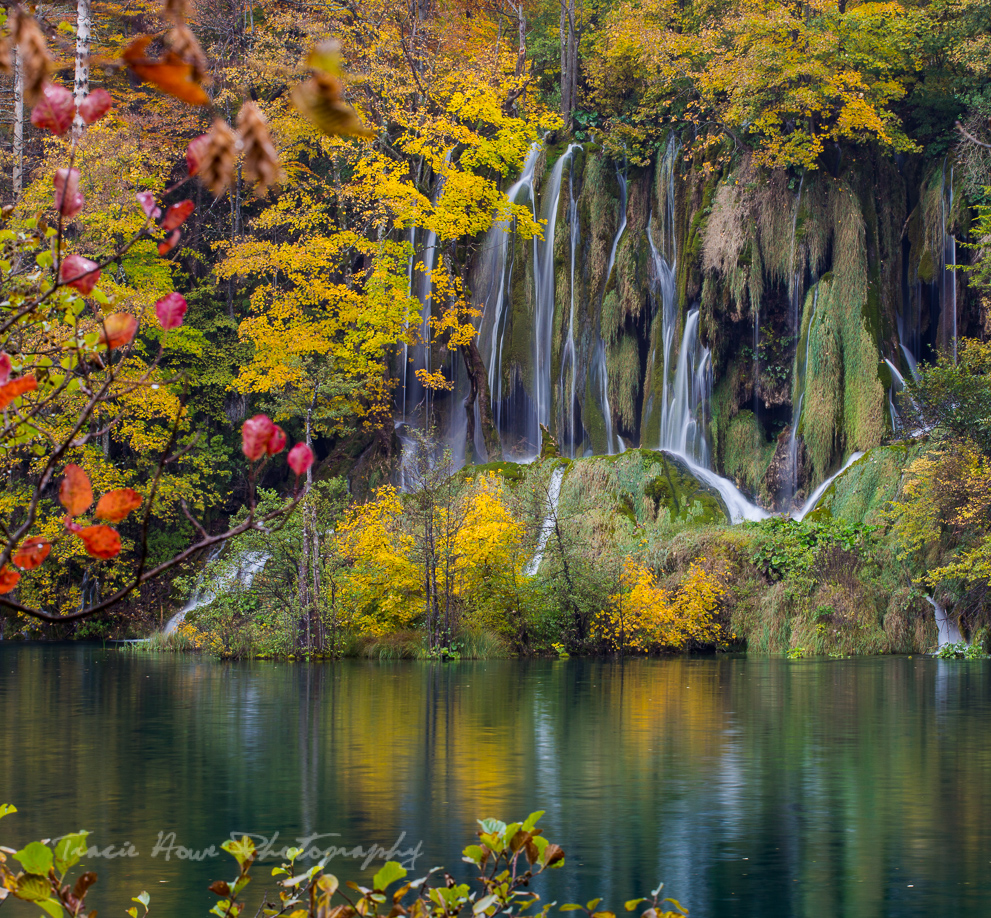 Hopefully this post will help you when visiting Plitvice Lakes National Park, whether you'll be taking photos or not. If you want a more in depth guide to photography, you might want to check out my non-technical photography tips series:
Introduction Post – 13 Non-technical Photography Tips for any Camera
Part 2 – Point and Shoot Cameras
Part 3 – Intro to DSLR Cameras
Part 5 – Desktop and Mobile Editing
Want to know more about Croatia in the low tourist season?

Check out this post at World Travel Connector about

visiting Croatia in the winter.
*As always, all opinions and photos are my own and based on my experiences. I was not financially compensated for this post.